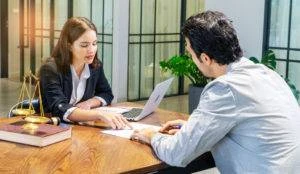 If you or a member of your family was physically or fatally injured in an accident caused by an Uber driver's negligence, Morelli Law Firm can help you pursue financial compensation. We handle evidence collection, obtain, complete, and submit insurance forms, as well as carefully calculate your recoverable damages.
With guidance and support from our Buffalo, NY, Uber accident lawyers, you can seek compensation from the insurance company representing Uber or its driver. Every car accident will result in different injuries and financial damages, so we treat you like a person, not a case file, and fight to resolve your case with a fair financial settlement.
If a settlement cannot be reached, we prepare your case for trial and represent you in court.
Reporting an Uber Accident to the Rideshare App
The first question that may come to your mind when you get into an Uber accident is: how do I report an accident to Uber? The answer depends on if you were in an Uber accident while riding as a passenger or if an Uber driver hit you.
If you were a passenger when the accident occurred, you can report the accident when the app asks you to rate your experience. Your accident report will go directly to Uber, and the company will contact you.
If the Uber accident was a result of an Uber driver hitting you, you can call Uber directly and report the accident. You should be prepared to give your name, location, license plate number, the Uber driver's license plate number, and the model and make of the car.
Actions an Uber Accident Attorney Will Take to Prove Your Case
When you have our Uber accident attorneys on your side, they can conduct an independent investigation into the cause of your accident. This entails more than collecting evidence that supports your case – the evidence will be used to:
Identify the Uber driver's

negligence

Prove their operational status at the time

Identify the right insurance company to pursue

Obtain, complete, and submit claim forms
Our Uber accident attorney in Buffalo, NY, can also study Uber's policy to understand its coverage and how to contact its insurer on your behalf.
Review the Damages Uber's Insurance Policy Covers
After an accident with a rideshare driver, we can help you seek compensation from the company's insurance provider. If the Uber driver who caused your accident was not on-duty, signed into the app, waiting for, en route to, or transporting a passenger, coverage for your damages will have to come from the driver or their insurance company.
If the driver is signed into the app and waiting for a passenger request, Uber provides the following coverage:
$50,000 in bodily injury protection per person

$100,000 in bodily injury protection per accident

$25,000 in property damage per accident
If the driver is on the way to a passenger or has a passenger in their vehicle, Uber provides the following coverage:
$1,000,000 in third-party liability protection

Uninsured or underinsured motorist bodily injury protection

Contingent comprehensive and collision
Our Uber accident lawyer in Buffalo, NY, can help you prove the driver's status and Uber's responsibility to compensate you. If the driver was off duty, we can also help you pursue their private insurance company for coverage.
Our Law Firm Makes Your Case a Priority
Our case results page has a history of settlements and verdicts we have obtained for previous clients. It also contains reviews and testimonials like the following:
"They won the case in court, obtaining a significant settlement… Attorney David Sirotkin was amazing. He always kept me informed and was available to me whenever I needed to speak with him. I would recommend the Morelli Law Firm to anyone who needs a top-flight law firm." – Dillon John

"David was always on top of the situation through the whole process and made sure I received what I was due from my injuries… I will be forever grateful, David, for your help and understanding… Thank you to all at Morelli Law Firm." – Brian Busche
Your case is important to our law firm, so we fight hard to ensure you get responsive, supportive service from every member. One of our Uber accident lawyers in Buffalo, NY, can help you navigate your case so you can recover compensation.
How We Place a Monetary Value on Your Uber Accident Claim
We take assigning a monetary value to your Uber car accident case in Buffalo seriously. To ensure the value is correct, we obtain copies of your:
Medical bills

Property repair bills

Property replacement value

Paycheck stubs

Travel receipts
Our Uber car accident lawyer will ensure your compensable damages are listed and proof of their value is documented. We also make sure nothing is left off your list and that your case is not undervalued or underpaid.
Calculate Your Economic Damages
The economic damages we help you recover typically have substantial proof of their past, current, and future value. When we assess their value, we are careful to include any costs you might incur after your case is resolved. Doing so ensures you do not have out-of-pocket expenses. These damages include:
Medical bills

Medical devices

Lost wages

Travel expenses

Property damage
We also include the costs of anticipated physical therapy and rehabilitation. Our goal is to ensure your expenses are covered until you reach maximum medical improvement and can get back to your life and family.
Calculate Your Non-Economic Damages
Like economic damages, the at-fault party and their insurer are responsible for your non-economic damages. Unlike economic damages, non-economic damages are complex. They can be challenging to define and assign a value on your own. These damages include:
Physical impairment

Physical disfigurement

Pain and suffering

Mental trauma

Emotional anxiety
If applicable, we also help your family recoup compensation for the loss of a loved one, including funeral and burial expenses. In addition, you can also receive compensation for your loss of consortium, companionship, and comfort.
One of our Uber accident attorneys in Buffalo, NY, can look over your accident details and tell you what damages you may be able to recover. You may be able to collect more damages than the ones above if your injuries qualify you to do so.
Compliance with New York's Statute of Limitations
The state of New York allows you to pursue an at-fault driver if their negligence caused your accident. It also limits the time you have to do so accordingly:
The personal injury statute of limitations is generally

three years

.

The wrongful death statute of limitations is generally

two years

.
Complying with the filing deadline is a critical part of your case. If it expires, you will not be permitted to file your lawsuit at all, your lawsuit will be dismissed immediately, and you will have no additional legal avenues to compel the at-fault driver to compensate you.
If the Uber accident requires more time for investigation or has another special condition, you may have more or less time to file than you thought. This can make it difficult to know when to file. But an Uber car wreck attorney from our firm can tell you exactly how long you have to file.
Why You Should Hire an Uber Car Accident Attorney
There are several benefits of hiring an Uber car accident attorney. If you try to hold an Uber driver accountable without a lawyer, it can be a long and difficult process. One of the ways our Uber injury attorneys can help is by informing you of how Uber accident settlement amounts are determined.
In addition, they can give you an estimate of the damages that you may be able to recover. Another benefit of having a lawyer by your side is you have unlimited access to legal advice. One of our attorneys can help you understand what happens if your Uber gets into an accident and help you avoid any issues with your claim.
When you get in an accident with an Uber, you may have to face the driver's insurance company or Uber's insurance company itself. This can be a difficult process, and if you aren't careful, you could lose your settlement.
We can be there to negotiate and defend you and your rights to compensation. We won't let the insurance claims adjuster use their tactics to try to deny you the settlement you qualify for.
Contact Morelli Law Firm to Request an Evaluation of Your Uber Accident Case Today
Were you or someone you love hit by an Uber driver in Buffalo? If you were, our law firm can help you request financial compensation from the at-fault party. We have years of experience dealing with rideshare accidents, and we're ready to help you recover compensation.
Call us or fill out the contact form on our website to get a free case evaluation at Morelli Law Firm.