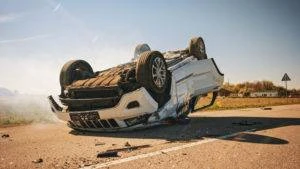 The National Highway Traffic Safety Administration (NHTSA) reports that a vehicle with a high center of gravity is more likely to roll over in the event of a crash. Examples of vehicles with high centers of gravity include commercial trucks, sports utility vehicles (SUVs), and 18-wheelers.
A rollover accident can leave you with severe injuries, resulting in long-term impairments and extensive medical treatment. If you or a loved one suffered injuries as a result of a rollover accident, a Buffalo rollover accident lawyer can help you pursue compensation against the at-fault party.
When you get in touch with Morelli Law Firm, we can listen to the facts of your situation and determine whether you have the basis of a viable personal injury case. Dial (212) 751-9800 to begin a free, no-obligation consultation.
A Buffalo Rollover Accident Lawyer Can Help You File a Claim
You may have many questions regarding what a lawyer from Morelli Law Firm can do for you. Our most important goal is to recover compensation for you and your loved ones. We can help you navigate the claims process, handle all correspondence with the liable insurer, and itemize the cost of your collision-related expenses.
Some of the other services that your personal injury lawyer can provide include:
Negotiating with the liable party and their insurer for a fair settlement offer
Reviewing the details of the involved parties' insurance policies
Evaluating the cause of your collision
Naming all potentially liable parties
Drafting, writing, and submitting your demand letter to the insurance company
Per New York's Civil Practice Law & Rules (CVP) §214(4), in the state of New York, claimants typically have three years to file a rollover accident lawsuit. While the American Bar Association (ABA) asserts that most personal injury cases are resolved before they make it to court, we are prepared to see your case through to trial, if necessary. You can call Morelli Law Firm today to learn more about our legal services.
Contributing Factors to Rollover Car Accidents
To help you recover fair compensation, your lawyer will first determine the contributing factors to your accident. Several factors can increase the likelihood of a rollover crash.
These factors include:
The Types of Vehicles Involved
We mentioned earlier that some vehicles, like SUVs, are more prone to rollover accidents. According to the NHTSA, a vehicle's design can increase its susceptibility to an accident. If your accident was caused by an inherent flaw in a vehicle's design, you could have a case for compensation against the vehicle's manufacturer.
Unsafe Roadway Conditions
Unsuitably maintained roads in Buffalo can increase the likelihood of an accident. Unsafe road conditions, such as potholes, cracks, and uneven pavement, pose a threat to all road users. If your collision was caused by poor roadway conditions, you could have a case for compensation against the government department or municipality responsible for its upkeep.
Speeding
Speeding, particularly when the motorist is making a sharp turn, can intensify a car's odds of rolling over.
Negligent Driver Behavior
Negligent behaviors, such as driving while texting and driving while intoxicated, can increase the possibility of a rollover accident.
You may not see the cause of your collision listed here. Still, Morelli Law Firm wants to hear from you. To get in touch with our legal team, dial (212) 751-9800.
Types of Injuries in Rollover Accidents
A rollover accident can leave a victim with a myriad of injuries, some of which are life-threatening. It would be best if you sought medical attention for your condition if you have not done so already. Not only can this help you get better, but the documentation you collect throughout the duration of your medical care can serve as evidence.
Some injuries that you may be dealing with as a result of your Buffalo rollover accident include:
A traumatic brain injury (TBI)
Whiplash
Internal bleeding
Organ damage
Spinal cord trauma
Cuts and lacerations
Paralysis
Broken or fractured bones
If you are considering legal action following a rollover accident in Buffalo, contact Morelli Law Firm. A Buffalo rollover accident lawyer can consult with your health care team to learn more about the nature of your condition. From there, they can build a case that secures compensation for you and your loved ones. To get in touch with a member of our team, call us today. Your first case review is performed at no cost or obligation.
Compensable Losses Following a Rollover Accident
The victims of rollover crashes may be eligible to obtain monetary compensation for the various economic and non-economic damages they suffered.
Some recoverable damages in your situation may include:
Lost Earnings
If your rollover accident caused severe injuries, you might have missed work for a prolonged period. You can seek compensation for lost wages due to your injuries. Moreover, if your injuries are debilitating and impact your ability to work, you can seek compensation for your lost future earning capacity.
Medical Bills
Rollover car accidents can result in life-threatening injuries. You could include the cost of your health care expenses into the value of your personal injury claim.
Costs Associated with Wrongful Death
Unfortunately, a rollover accident can lead to the death of a loved one. Suppose you lost a family member in a car crash. In that case, you could claim payment for damages such as burial expenses and loss of consortium. You can also recoup compensation for your loved one's medical expenses before they passed away.
This is not a complete or exhaustive list of recoverable damages following a rollover accident in Buffalo.
Contact Morelli Law Firm to Get Started on Your Case
The trauma of being in a rollover accident can negatively impact many different areas of your life. We can help you get justice and compensation by holding the at-fault parties accountable for their actions. If you are interested in filing a personal injury claim or lawsuit, consider how a Buffalo rollover accident lawyer can help you.
Contact Morelli Law Firm at (212) 751-9800 for guidance throughout the entire legal process.