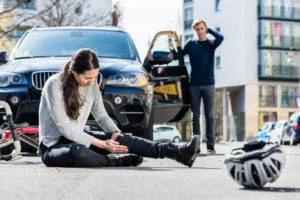 Personal injuries can be scary, painful, and expensive. Medical bills and lost work can drain your bank account, all while you're trying to recover from your accident. If you were injured because of someone else's negligence, you may be eligible for compensation.
The Paterson personal injury attorneys from Morelli Law Firm help clients just like you recover damages. We handle car accidents, slips and falls, and wrongful death claims. Let us work with the insurance companies on your behalf to get you a fair settlement.
What Qualifies as a Personal Injury Case in New Jersey
In New Jersey, you can sue a person or business for your personal injuries if their negligence directly led to your accident. That means they failed to meet a duty of care, whether that applies to driving their car, making a product, or keeping their business safe. Types of personal injury cases that our law firm handles include:
Whether you've been injured in a bike accident or a dog has bitten you, we've got you covered. We have handled every type of personal injury claim, so if you've been injured by negligence, reach out to a personal injury attorney in Paterson to find out how we can help.
Is Getting a Personal Injury Lawyer Worth It?
If you try to carry out a personal injury claim alone, it will be an uphill battle. Insurance companies have tricks that they regularly use to reduce your settlement. An experienced personal injury attorney will know what to do to keep you from being bullied.
Being in an accident can already cost you time and money. You want to be focusing on your recovery, not handling legal details. Our Paterson accident lawyers have recovered more than a billion dollars for our clients, and we won't take any fees up front, so it's worth getting in touch.
Damages You Can Recover in a Personal Injury Claim
When it comes to defending your rights, you want an attorney that understands your situation and can provide an adequate legal service to meet your needs. A Passaic County personal injury attorney can advocate for you and engage with the insurance company on your behalf.
Lost Wages or Future Income
Whether you have been out of work for a few weeks or are permanently disabled, our lawyers can help you recover your lost wages or help you maintain your disability income and benefits. We can work with your employer to determine the total amount of income you have lost.
Medical Treatment and Care
The type of injuries you received may have required extensive medical care. As a result, you may have expenses that include:
Surgical procedures

Hospital stay

Prescription medication

Doctor visits

Consultations

Physical therapy
You may also require long-term or in-home care. In cases of serious, disabling injuries, you may even have to modify your house or vehicle. These costs can add up, but our Paterson personal injury attorneys will negotiate for the full value of your damages.
Pain and Suffering
Pain and suffering compensation is meant to pay for your physical and emotional distress. New Jersey law allows you to account for physical suffering or emotional trauma you went through as a result of the accident. We can also explore other damages such as loss of companionship or loss of joy of life.
Wrongful Death
If you lost a loved one in an accident, then you may also be eligible to pursue compensation for all related damages. You may have amassed a large amount of debt from burial costs, funeral expenses, pre-death medical treatment, or pain and suffering of the deceased. Our law firm can manage your case, allowing you and your family time to grieve.
Our lawyers work hard to get you the maximum compensation possible based on the extent of your losses. The value of your case depends on how the accident occurred, who was at fault, and your total economic and noneconomic losses.
What Our Law Firm Can Do for You
As your attorneys, we are committed to helping you get the best outcome possible according to the facts of the case. Whether you are settling out of court or taking your case to trial, we provide solid representation based on your needs and wishes. Our law firm provides a comprehensive legal service that includes the following:
Providing legal consultation throughout your case

Corresponding with all parties on your behalf

Obtaining evidence of fault and liability, as well as case value

Gathering and submitting all documents to the insurer

Negotiating a fair settlement with the insurance company

Preparing your case for court, if necessary
How to Prove the Other Party Is at Fault for Your Accident
Determining legal responsibility for an accident may rest on whether the other party was negligent or careless. We conduct an extensive investigation to uncover evidence such as:
Photos or Videos of the Accident
In today's media-driven world, photos or videos can come from an array of sources. We look at security cameras, photos from accident reports, or photos/videos that you captured of the accident and your injuries. We can use videos as solid evidence that supports your claim.
Medical Reports
Although medical reports may not prove who is responsible for your accident, they can establish a correlation between the accident and your injuries. We can review medical reports to determine the severity and nature of the injuries.
Eyewitness Statements
A witness statement is a document that records what a witness saw during the accident. Witness statements may be gathered by insurance companies, police officers, property owners, or employers. They are useful in corroborating your story and supporting our claim.
Expert Witnesses
We may hire or use expert witnesses who may be willing to testify on your behalf. Our law firm can work with medical experts or accident reconstruction experts. Their testimony may help your personal injury claim.
When You Should Get in Contact With a Passaic County Lawyer
According to New Jersey Statute 2A: 14-2, the statute of limitations in New Jersey is two years from the date of the accident. That means you have two years to file your claim. If you wait longer than that, the court will most likely refuse to hear your case.
Don't wait too long, though. Your attorney will need to get on the case as soon as possible to get reliable evidence and eyewitness statements.
Talk to a Personal Injury Attorney in Paterson Today
The dedicated legal team at Morelli Law Firm is here to help you with every aspect of your case. In your consultation, we will discuss your case, answer questions, and get started with your claim. Contact us today to get a free case evaluation.