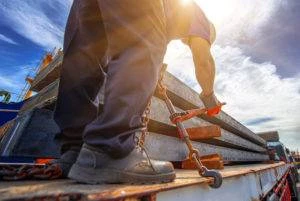 When large steel trucks are involved in motor vehicle accidents, it can result in serious property damages, injuries, or even death. If you were injured in a steel truck accident in Buffalo, New York, and it was caused by someone else's wrongdoing or negligence, you may be able to pursue legal action against that party.
After a car accident with a steel truck, you may be left with many losses and out-of-pocket expenses, known as damages. With a Buffalo steel truck accident lawyer, you can fight to earn justice and potential compensation that covers these damages.
At Morelli Law Firm, we can guide you as we file an insurance claim or personal injury lawsuit on your behalf. If you are still healing from severe injuries, our firm can handle the entirety of your legal claim on your behalf while you spend time recovering.
Call us as soon as possible so that we can start building your steel truck accident case. For a free case evaluation, call Morelli Law Firm today at (212) 751-9800.
A Buffalo Steel Truck Accident Lawyer May Perform Several Legal Services
Once you begin to work with a Buffalo steel truck accident lawyer, you might begin to relieve some stress off your mind as they begin managing your case. While you spend time recovering from your injuries, your lawyer can begin investigating the accident. If you struggled to obtain evidence from the accident, your lawyer may use their resources to collect certain pieces of evidence.
A steel truck accident lawyer might help your legal case by:
Handling the entirety of your steel truck accident claim
Determining how much compensation you may be entitled to collect
Obtaining evidence of your damages
Negotiating an insurance settlement on your behalf
Filing a personal injury lawsuit on your behalf and according to the statute of limitations written in the New York Civil Practice Law & Rules (CVP) § 214, if needed
Answering your legal questions
Consulting with medical experts about your injuries and obtaining relevant copies of your medical records
Strategizing how to pursue compensation on your behalf
Your lawyer may also help you prove fault and liability against the defendant. If you have a copy of a police report from the steel truck accident, it may already list fault against the defendant. Once you have established fault, you will still need to be able to prove the defendant should be held liable for your injuries and subsequent damages.
To hold a defendant liable, your Buffalo steel truck accident lawyer may collect evidence that shows how the defendant acted negligently, which caused the accident. Negligence is "a failure to behave with the level of care that someone of ordinary prudence would have exercised under the same circumstances," as explained by the Legal Information Institute (LII).
Some forms of negligence may be more common than others, such as distracted driving. According to the National Highway Traffic Safety Administration (NHTSA), an estimated 400,000 Americans were injured from distracted driving in 2018.
Morelli Law Firm Can Handle Communications and Negotiations with Insurance Companies
A Buffalo steel truck accident lawyer can also handle all communications and negotiations with the insurance companies. Once you call your insurer to report the steel truck accident, our law firm can become the point of contact with your insurance company and the defendant's insurer.
This can be helpful for several reasons, particularly when negotiating a settlement. Insurance companies tend to offer the minimum policy amount as their initial settlement offer. With an attorney in your corner, you can get legal advice on how fair a settlement offer is if one is submitted to you. The way you know how fair an offer might be is by monetizing and combining the values of your damages, which your attorney can help you do. Just note that, though your attorney can advise you on when to accept or reject a settlement offer, the choice to do so is ultimately yours.
Additionally, a steel truck accident lawyer in Buffalo can help you avoid giving a statement of fault to an insurance company. When insurers try to contact you after an accident, they may be looking to persuade you to admit even a small percentage of fault. If you admit to any percentage of fault over a recorded telephone line, your settlement offer might be impacted.
To learn more about Morelli Law Firm and how we can help you with your case, call us today at (212) 751-9800.
Our Team Can Help Determine Which Damages You Might Be Entitled to Collect
Determining how much compensation you might be entitled to receive involves reviewing the total value of your damages.
If you or a loved one was injured in a steel truck accident, you may be able to recover compensatory awards for the following damages:
Lost wages
Limited earning capacity
Lost future wages
Medical expenses
Property damage
Auto repair expenses
Pain and suffering
Loss of enjoyment
Emotional distress
Loss of consortium
Wrongful death damages, such as funeral service costs
Collecting Evidence to Prove Your Damages
As mentioned, a police report is an invaluable piece of evidence that can potentially reveal how a defendant caused an accident. However, other pieces of evidence may strengthen your steel truck accident case, in that they can reveal the extent of your damages as well.
For instance, photographs can be a powerful piece of evidence that can paint a picture of your accident, injuries, and recovery process. You and your lawyer may want to collect photographs of your injuries, the steel truck driver's insurance information and license, property damage to your vehicle and the defendant's, and of the entire accident scene.
Some photos may even add credence to your claims of the defendant's negligence. Other evidence may include surveillance videos, eyewitness testimony, medical documentation, and all other related reports associated with your steel truck accident in Buffalo.
Morelli Law Firm Wants to Help You with Your Truck Accident Case
In 2018, the National Safety Council (NSC) found that approximately 4,862 large trucks were involved in fatal crashes. These vehicles include both commercial and noncommercial large trucks, such as steel trucks.
If you want to pursue compensation after being injured in a steel truck accident in Buffalo, New York, call Morelli Law Firm at (212) 751-9800 to begin building your case.