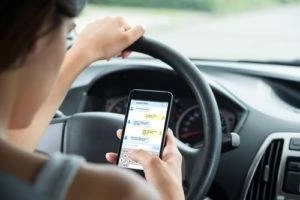 The habit of texting while driving is becoming a significant safety concern on the roads. When people use their cell phones while driving, they do not focus on the traffic around them, increasing the risk of an accident.
If you suffered injuries in a car accident related to mobile phone use while driving, contact a Buffalo texting while driving accident lawyer for help in claiming financial compensation for your injuries. Call Morelli Law Firm at (212) 751-9800 for a free evaluation of your case.
How Texting While Driving Leads to Car Accidents
Texting is a big distraction for drivers, as it takes their concentration away from the road. It combines the three forms of distractions:
Visual distraction: Making you take your eyes off the road
Cognitive distraction: Taking your mind and concentration off driving
Manual distraction: Removing your hands from the wheel
New York has forbidden the use of smartphones and other gadgets that can allow you to text while driving. Despite this ban on texting while driving, accidents related to this behavior still occur in Buffalo and beyond. Most drivers mistakenly believe they can text while behind the wheel without consequences. In reality, it endangers thousands of people's lives every year.
If you have suffered damages because of a texting driver, contact our law firm. Our injury lawyer can be a great ally in your fight to secure the financial compensation you deserve.
Pursuing Compensation After a Texting While Driving Accident
New York law allows victims of accidents involving texting while driving to receive coverage from their own no-fault insurance policies. This process involves providing your insurance company with information about the collision and the extent of your damages. Medical expenses and other damages arising from the accident should not burden you.
Yet, there are circumstances in which your own policy may not be enough to cover your damages. Namely, injuries that surpass a certain level of severity can qualify you to file a personal injury lawsuit against the driver responsible. In this case, an attorney can help you prove that the at-fault driver was texting while driving, and this led to your collision and injuries.
With a strong enough case, you can collect compensation for a variety of damages. An accident attorney can review your case and determine if this option may be available to you.
Injuries in Texting While Driving Accidents
Someone who decides to text while driving can leave innocent parties suffering severe injuries. There are many different injuries you may experience in such an accident. However, only injuries that surpass New York's serious injury threshold may qualify you for a lawsuit. According to NY Insurance (ISC) § 5102, the following are examples of injuries that meet this threshold:
Permanent disability
Loss of function in a bodily system, organ, or limb
Loss of a fetus
Dismemberment
Fractures
Disfigurement
Temporary disability (lasting 90 days or more)
If you are suffering from one of these or a similar injury, an attorney may be able to help you file a lawsuit in a Buffalo court. Get in touch with Morelli Law Firm for a proper case assessment so we can review your options. Call (212) 751-9800 to speak to one of our team members today.
Possible Damages in Texting While Driving Accidents
Damages are monetary valuations of any injuries or losses that resulted from the accident. They are the basis of your injury claim. All accident-related losses to which you can assign a dollar value are damages. Common damages in texting while driving collisions include the following:
Medical expenses
Lost income and lost future earning abilities
Pain, suffering, and mental anguish
Travel expenses
Wrongful death
Punitive damages
A Buffalo texting while driving accident lawyer can help you account for all of your damages during a thorough investigation of your case. Some damages may be easier to evaluate, such as medical expenses. Others, like pain and suffering, may require a specific formula to arrive at a fair value.
How a Buffalo Texting While Driving Accident Lawyer Can Help
Attorneys from our firm help clients through every step of the process to claim compensation for their injuries. This often includes:
Contacting witnesses to secure written statements, where possible.
Getting a copy of the police report.
Facilitating access to appropriate treatment.
Assessing the extent of damages for injuries and financial losses.
Accessing copies of certificates of disposition.
Handling insurance carriers in a manner that protects our clients' interests.
During this process, we aim to prove that texting caused or contributed to the collision either directly or indirectly. If necessary, we may subpoena the at-fault's phone records to confirm the driver received or sent a text while behind the wheel.
Our team also makes sure to file these lawsuits on time. According to New York's statute of limitations under NY Civil Practice Law & Rules (CVP) § 214, victims of personal injury accidents must file within three years from the date they suffer injuries. Otherwise, they forfeit the right to do so entirely.
Contact Morelli Law Firm for Support
Reach out to our firm to start the process of filing for compensation. If you delay taking action, the court may prevent us from helping you, no matter how much evidence there is to support your case.
Our team is ready to offer you the legal counsel you need to seek justice. If we work together, a Buffalo texting while driving accident lawyer with our firm will strive to win you the compensation you deserve. Call Morelli Law Firm at (212) 751-9800 to get started.