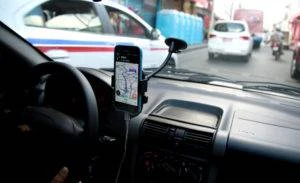 If you or someone you love was injured in an accident involving an Uber driver, our legal team could show you how to seek monetary recovery with a personal injury insurance claim or lawsuit. By acting on your behalf now, we can ensure your case complies with the statute of limitations and ensure your right to recover your medical bills, lost income, pain and suffering, and more.
At Morelli Law Firm, our Albany Uber accident lawyer will help you recover from the financial aftermath of the accident. We collect evidence to prove the Uber driver was at fault, prove their driver status at the time of the accident, and establish your right to monetary compensation. We will also negotiate with the at-fault party or their insurance provider for a financial settlement or take your Uber car accident case to court.
Determining the Liable Party in Uber Accidents Can Be Complex
When our Uber accident attorney handles your compensation request, we ensure your potential lawsuit is filed on time to safeguard your right to sue in court if a settlement agreement cannot be reached. In New York:
The personal injury statute of limitations is generally three years, according to CPLR § 214
If the accident resulted in fatal injuries for someone you love, the wrongful death statute of limitations generally entitles you to two years to file a lawsuit, according to EPTL § 5-4.1
In addition to meeting the filing deadline after an accident with a rideshare vehicle, it can be difficult to know who to sue for compensation. Therefore, when we handle your compensation request, we review Uber's insurance policy and the driver's policy to identify the right party to pursue.
Find Out What Uber's Insurance Policy Pays for Accidents
After an accident, we will review Uber's insurance coverage to determine where to turn for compensation. Depending on the driver's on-duty or off-duty status, Uber provides the following coverage options:
An off-app driver will turn to their private insurance policy for coverage
An on-app driver awaiting a ride request is covered by Uber's third-party liability coverage if the driver's private policy does not provide coverage.
A driver who is on-app and on the way to pick up or is actively transporting a passenger is covered by Uber's third-party liability coverage.
We will explain coverage amounts and help you prove the driver's on-app or off-app status by obtaining your car accident report and other beneficial evidence that proves your right to compensation.
Types of Financial Compensation Available for Victims of Uber Accidents
You do not have to resolve your Uber accident case on your own. Our Uber accident lawyer will manage every aspect of your case. When we represent you, we take care of the following case-related details for you:
Compile and organize your evidence
Create and submit your demand letter
Assign a favorable value to your case
Negotiate an appropriate financial settlement
Whenever possible, we strive to settle your case without the time and expense of a court case. We weigh every offer you receive and advise you on its feasibility, but the final decision is always yours to make. If we cannot reach an agreeable settlement, we will not hesitate to take the at-fault party to court.
Economic Damages
If you or a loved one was injured in the accident, your expenses start adding up right away. We can help you recover the fixed, economic damages that resulted from your accident, including:
Past and future medical bills
Past and future loss of wages
Loss of future earning capacity
Property damage or total loss
In-home medical support
You do not have to evaluate your economic damages on your own. We will collect your medical records and bills, proof of income, property, and proof of your additional expenses to assign a value to your Uber claim. We also make sure your compensation request does not inadvertently omit any compensable damages.
Non-Economic Damages
After an accident, you are also entitled to recover many types of different non-economic damages. On your own, these can be difficult to calculate because they are intangible and do not usually have accompanying bills and receipts. They include:
Physical disability
Physical disfigurement
Pain and suffering
Mental anguish
Emotional distress
Non-economic damages do not typically contain any out-of-pocket cost but compensate you for the changes the accident causes in your life. We will explain how we use the accident's severity, its impact on your future and lifestyle, and your prognosis for the future to determine the value of your non-economic damages.
Our Law Firm Will Handle Every Phase of Your Uber Claim for You
Our Uber accident attorneys help injured clients in Albany get the monetary compensation they are entitled to for the at-fault driver's negligence. We handle every phase of your case, including:
Consultation
Investigation
Assessment
Negotiation
We never stop fighting for you or for the settlement or verdict that provides you with the best possible outcome of your case.
Our Entire Legal Team Fights for Your Compensation
Every client we represent gets the individual attention and attention to detail they deserve. Clients our law firm helped in the past said:
"Vicky Has been FANTASTIC!! She always responded in a timely fashion… They were helpful, patient, & kept me informed in all steps. I would hire them, again." – Janice Miles
"Michael Schlesinger was excellent in every way… empathic, smart, helpful, and a great communicator. Michael's team was first-rate as well. I am so appreciative." – J Moses
"Morelli Law Firm represented me… they won the case in court… Attorney David Sirotkin was amazing… I would recommend Morelli Law Firm to anyone who needs a top-flight law firm." – Dillon John
Read more from other clients on our client reviews page and see a sample of our settlements and verdicts.
Get in Touch with an Uber Accident Attorney for Help Today
If you or someone you love in Albany was injured in an accident with an Uber, we could help you fight for compensation. Contact Morelli Law Firm by calling (212) 751-9800 to find out how an Uber accident lawyer can help you.