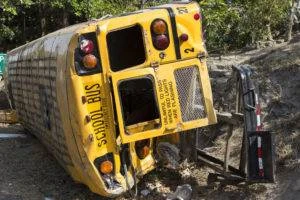 When you send your child to school, you might worry about what type of grades they will get or if they will have any issues getting along with their peers. You might not expect to have to think about them getting into an accident on the way to school.
Getting into a school bus accident can be a devastating and unexpected situation. Whether your child is elementary school age or middle school age, it can be traumatic if they get into an accident on the way to or from school. Not only can physical injuries occur, but the emotional and mental anguish can be traumatic, too.
Because buses are large, heavy vehicles, colliding with a school bus can cause substantial damage. It can be even more devastating if a bus accident occurred due to someone failing to obey the traffic laws, driving while impaired, or driving while distracted.
If you or your child was injured in a school bus accident in Buffalo, New York, a Buffalo school bus accident lawyer from Morelli Law Firm may be able to help you pursue compensation. At Morelli Law Firm, we offer legal services to people who have suffered personal injuries and damages from accidents. Whether your case involves extensive damages or minor ones, we want to help you fight for the compensation you need to recover your damages.
Get in touch with one of our law firm representatives and start a free, no-obligation case consultation. Call Morelli Law Firm today at (212) 751-9800 for more information.
School Buses and Drivers Must Keep Passengers Safe
A school bus driver must fulfill certain requirements to be eligible to work in that position. The New York State Department of Labor states that bus drivers must meet the following eligibility requirements:
Be 21 years of age if driving a school bus
Pass a qualifying physical examination
Have at least 20/40 eyesight in each eye, with or without corrective lenses
Must possess a Commercial Driver's License (CDL), with a School Bus (S) endorsement
Take and pass a 30-hour safety course to get a certificate within the first year
Pass a criminal background check
Pass a drug test
Complete additional exams for school bus drivers
There are many rules and regulations involving driving a school bus because the driver is responsible for transporting children to and from school. Therefore, added precautions need to be taken.
School Bus Accidents Can Lead to Passenger Fatalities
School bus accidents are inevitable, just like any other type of vehicle accident. The National Highway Traffic Safety Administration (NHTSA) states that from 2006 to 2015, 324,710 motor vehicle traffic accidents resulted in fatalities. Of those crashes, 1,172 (0.4 percent) were categorized as school-transportation-related.
These crashes resulted in 1,313 people being killed during that time frame, averaging 131 fatalities per year. When it comes to school bus accident fatalities:
School bus occupants accounted for nine percent of the fatalities
Nonoccupants, such as pedestrians and bicyclists, accounted for 20 percent of the fatalities
Occupants of other vehicles accounted for 72 percent of the fatalities
School Bus Accident Injuries
Injuries that school bus accident victims might sustain include:
Broken bones
Bruises or lacerations
Head injuries
Neck or shoulder dislocation
Whiplash
Spinal cord injuries
In addition to these injuries, accident victims might experience mental pain and suffering. If you or a loved one was involved in a school bus accident, get in touch with our legal team at Morelli Law Firm. We can explain your litigation options for pursuing compensation for your damages. Contact us for a no-obligation consultation by calling (212) 751-9800.
You Might Be Able to Recover Damages After a School Bus Accident
There are personal injury laws that may allow you to collect payment for your accident-related injuries. Whether your injuries are moderate or serious, you might have the right to recover compensation for the damages you or your child sustained from a school bus accident.
A Buffalo school bus accident lawyer will work hard to fight for you to recover your damages. Recoverable damages may include some or all the following:
Lost wages from being out of work
Medical expenses
Pain and suffering
Loss of consortium, if applicable
Your attorney may gather information and evidence to support your case. Evidence may include:
Hospital and clinic release forms
Medical records
Eyewitness interviews
Police reports
Income data for lost wages
You Must File Your Case on Time
The New York Civil Practice Law & Rules (CVP) §214 states that you have a limited timeframe to file your personal injury lawsuit. Also known as the statute of limitations, this law states that civil action generally must commence within three years. Contact our law firm right away so that you file your case on time, or you might lose your opportunity to pursue compensation.
A Buffalo School Bus Accident Lawyer Can Help You with Your Case
When you reach out to our law firm, a team member can go over your case with you and discuss your options. You do not have to worry about paying for this consultation. At Morelli Law Firm, our team provides free, no-obligation case reviews so that you know where you stand.
Start working with a Buffalo school bus accident lawyer at Morelli Law Firm and let them fight for compensation on your behalf. Call (212) 751-9800 for a free consultation today. We may be able to represent you on a contingency-fee-basis with no up-front payments necessary.