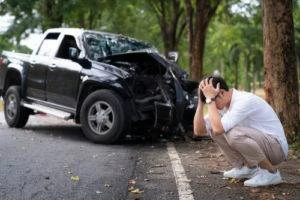 Car accidents can cause fatal injuries that take victims away from their families too soon. In addition to living with the pain of losing a loved one, many families also endure financial hardships because of these accidents. If this is your situation, we are sorry for your loss. A Long Island fatal accident lawyer with Morelli Law Firm will review the accident to see how we can hold the liable party responsible and fight for your financial recovery.
We understand that money cannot make up for the loss of your loved one. However, compensation can make it easier for you to provide for your family and cover bills generated by your loved one's untimely passing. You should not have to take on these costs after someone's negligence brought injury to your family. When you are ready, we will review your legal options and next steps during a free consultation.
How We Can Help with Your Long Island Fatal Car Accident Case
We represent accident victims who suffered harm from negligent acts. Sometimes, unfortunately, carelessness and recklessness lead to fatalities, and those responsible for negligent accidents should be held accountable. If you hire us, we are ready to take legal action on your behalf.
We will manage your wrongful death lawsuit and request damages from the liable party to compensate you for your loved one's passing. We also will do all the following and more:
Provide prompt legal counsel and regular case updates

Explain all applicable laws and answer all your questions and concerns

Investigate the fatal accident on Long Island to determine what took place

Collect and review evidence that supports your case

Identify all liable parties, even those not at the accident scene

Interview witnesses to get their accounts about what happened

Determine your case's value, assessing the cost of each loss you and your loved one endured

Manage all communications with all parties and represent you

Handle settlement negotiations with the liable party's insurers

Prepare and file your wrongful death lawsuit

Take your case to trial if a settlement with the liable party is unreachable

Handle all case paperwork and meet all deadlines
You Don't Have to Pay up Front for Us to Work on Your Case
When we take your case, this means you can focus on other matters while we handle your legal action. We will seek the maximum compensation we can, and we will do it on contingency. This means you will not have to pay us a retainer up front. We will start and complete your case without any initial fees. We get paid only if we recover compensation for you.
Our fee would be an agreed-upon percentage that we take from your final settlement or court-ordered award. During your free consultation, we will review how payment arrangements work and go over the wrongful death filing process.
We Start with Learning More About Your Case
When you call our office, our first step is to listen to your account of the accident. If you have a viable case, we will begin investigating your crash. This investigation may include visiting the scene, finding witnesses, and collecting documentary evidence.
What is the purpose of this investigation? There are two: to prove the liable party was mostly, if not entirely, responsible for the crash and to prove that your loved one and your family suffered as a direct result of the liable party's actions.
Recoverable Damages After a Fatal Car Accident on Long Island
What goes into a lawsuit? How long will it take to get your money? That all depends on how complicated your loved one's accident is and whether the liable party's insurance company is willing to cooperate with your family's compensation demands. No matter how challenging your case is, the Morelli Law Firm is ready to fight on your behalf.
Economic and Non-Economic Damages
Your loved one's death likely affected you and your family in many ways. Our legal team will uncover all damages you could recover. We also will review your evidence that could help us build your case. You likely have two sets of damages—economic (financial) and non-economic (non-financial) that you could recover.
For emotional and physical suffering, you may seek non-economic damages. Common examples of non-economic damages include:
Pain and suffering:

Your loved one's injuries caused them physical and/or emotional distress.

Reduced quality of life:

After the accident, your loved one could no longer care for themselves or participate in activities they used to enjoy.

Loss of society or companionship:

You lost someone very dear to you and now do not have their love and support.
For monetary losses, you may seek economic damages. Common examples of economic damages include:
Medical bills:

Your loved one received medical care, which may have involved hospital stays, surgeries, prescriptions, and physical therapy.

Funeral, burial expenses:

You paid to give your loved one a proper funeral and burial and settled their estate.

Loss of financial support:

Without your loved one's income, you are finding it hard to make ends meet.
We know it may be difficult to think about your loved one's death in enough detail to create a complete and recoverable list of damages. However, it is a necessary step toward receiving financial compensation. We're here to help you in any way we can. If you find this or any other legal task challenging to cope with alone, consider hiring our Long Island fatal accident lawyer, who will handle it for you.
Two Ways to Receive Compensation: Through Negotiations or a Trial
Negotiating a pretrial settlement tends to be the quicker way of receiving money. Your lawyer may sit down with the liable party's insurance company and try to convince them to compensate you for your damages. If they agree, we will make sure their offer is fair before you accept it. If not, we can take the case to court on your behalf.
You Must File a New York Wrongful Death Action by a Certain Time
If pursuing legal action is right for you and your family, we encourage you to do it as soon as you can. New York State, like other states, sets a statute of limitations deadline on injury cases.
Per EPT § 5-4.1, you have two years from your loved one's death date to sue the liable parties for the accident. Once this deadline passes, it may be too late for you to recover damages. Each case is unique, however, so exceptions may apply. Our lawyer can review your situation and let you know if the timeline differs.
If your loved one died in an accident involving a government official, such as a city or county employee, your filing deadline could differ from the two-year window. If you decide to sue a municipality, GMUL § 50-3 requires you to send a written notice of your intention to sue. You must do this within 90 days. This rule could mean you have less time to take action. In either case, you must act quickly. We will advise you on how much time you have after completing our initial review.
Proving Liability, Negligence in a Long Island Fatal Car Accident
Determining who caused a car accident and why is important when determining who is liable and if negligence was a factor. Motor vehicle accidents happen for various reasons, including driver error. According to the National Highway Transportation Safety Administration (NHTSA), 36,560 people died in motor vehicle accidents in 2018.
How do such accidents happen? In many cases, human error is a critical factor, such as in accidents involving:
Drinking and driving

: According to the NHTSA's report, 10,511 people died in alcohol-related accidents in 2018. That is just under 30 percent of all traffic fatalities reported that year.

Driving while distracted

: Texting, changing the volume on the radio, and turning to talk with someone else in the car while driving are just a few ways that a driver may be distracted long enough to make a fatal mistake.

Disregarding traffic signals

: Traffic lights and signs exist to keep everyone safe. Anyone who refuses to obey them is gambling with their life and yours.
Driver Error Does Not Cause Every Car Accident
Sometimes, factors beyond the other driver's control cause accidents. For example, a driver might lose control of their vehicle if their engine suddenly stops working or their brakes or tires give out. No matter who is responsible—be it a driver, an auto manufacturer, or another party—you might be able to sue for compensation in the wake of your loved one's passing.
We Must Show How Negligence Caused the Accident
All injury cases must have four elements of negligence to prove how a party's actions brought harm to someone else. Our Long Island fatal car accident lawyer will review the facts and circumstances of the crash to see how:
The liable party owed your loved one a duty of care.

We must prove the motorist or other party that caused your loved one's fatal car accident owed them a duty of care to keep them safe.

The liable party breached that duty.

This means we must show how the defendant acted in such a way that breached their duty of care. For example, if the offending driver failed to heed a red light and struck your loved one's car, this is a breach of duty to observe the rules of the road.

The breach caused the accident, fatally injuring your loved one.

Failure to stop at the red light led to an accident that caused injuries that caused or contributed to your loved one's death.

The accident caused your loved one to suffer damages.

Your relative suffered injuries that led to their death. Your loved one, had they lived, could sue for medical expenses and other damages. This is why a wrongful death action allows the family to recover losses on their behalf.
Call Us Today to Start on Your Long Island Fatal Car Accident Case
Unexpected deaths can bring grief, financial hardships, and more on the families left behind to deal with their loss. If you recently lost a family member after a fatal car accident on Long Island, please reach out to us for legal help. We know that this is a tough time for you and your family. Feel free to call us with your questions or concerns.
Our Long Island fatal accident lawyer will do the legal work so that you can focus on your family during this trying time. On behalf of everyone at the Morelli Law Firm, we are deeply sorry for your loss. If you would like help with your wrongful death lawsuit, call us at any time at (212) 751-9800.