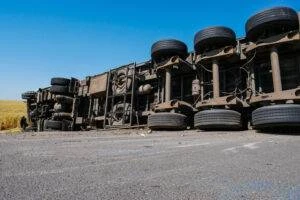 Truck drivers operate high-risk vehicles. That's why trucking agencies require their drivers, independent or employed, to pursue regular training. Constitute license checks and training opportunities ensure that drivers operate safely when navigating Buffalo's many highways.
Unfortunately, there are some accidents that additional training can't get ahead of. If a truck driver's negligence results in a fatal crash, you and your loved ones can pay the price of that driver's oversight. Fortunately, you can seek justice. Morelli Law Firm's fatal truck accident attorneys in Buffalo, NY, can help you file a personal injury claim on a loved one's behalf.
New York Limits Families' Rights to File Wrongful Death Claims
If you lose a loved one to a fatal truck accident, you have every right to seek justice for that person's loss. That said, New York can restrict a family's right to file a lawsuit against the offending party. According to New York Consolidated Law §4-1.1, only certain family members can take a claim to civil court on behalf of a departed or permanently disabled loved one.
Before you can begin investigating your loved one's death, you must prove that you are the deceased's:
Child
Parent
Spouse
Personal representative
If you do not fall into any of these categories, you must inform the appropriate bodies that they are the only ones who can take action in civil court. Any attempt of yours to file a claim on behalf of the departed will be turned away from a Buffalo civil court.
Other Injured Parties Can Pursue Independent Personal Injury Claims
Anyone involved in the same truck accident that resulted in a loved one's passing retains the right to their own personal injury lawsuit, regardless of their relationship with the deceased. If you don't have the right to file a fatal accident claim, you can still bring up a loved one's passing in an individual personal injury claim.
That loved one's passing may qualify you for damages, including wrongful death, emotional distress, and mental anguish. If you relied on the deceased for help supplementing your income, child support, or other forms of economic support, you can work with a personal injury attorney to include those losses in an estimate of your total losses.
When to Bring a Wrongful Death Claim Forward
Whether you choose to file an independent personal injury claim or pursue a fatal truck accident claim on behalf of a departed loved one, you have a limited amount of time in which you may do so. You must bring your claim forward within New York's personal injury statute of limitations as defined by New York Law §5-4.1.
This statute of limitations states that you have only two years to investigate your loved one's death and present your claim to a civil judge. The clock limiting your investigation can start ticking either on the day your accident takes place or on the day of a loved one's passing. You can discuss your specific circumstances with a Buffalo fatal truck accident attorney.
What Information to Include in a Wrongful Death Claim
Once you've determined whether or not you have the right to move a fatal truck accident case forward, it's time to start composing your fatal accident claim. This claim needs to identify the person or party you want to hold responsible for your loved one's death. In the wake of a fatal truck accident, that liable party may be an individual driver or a trucking company.
Liability in fatal truck accident cases hinges on the contracts that exist between applicable parties. For example, independent contractors must represent themselves in court, regardless of whether or not they were on duty at the time of the accident. Comparatively, trucking agency employees may benefit from a corporation's protection.
Once we've determined who we can hold liable for your loved one's passing, we can assert the overall value of your case. Our attorneys determine the economic value of your fatal truck accident claim by finding the sum of your and your loved one's economic and non-economic losses.
We can then fight to ensure you receive the support you need to address the financial gap your loved one left behind.
Working With a Fatal Truck Accident Lawyer in Buffalo, NY, Can Make a Case Easier
Contending with the unexpected loss of a loved one is, for many, unimaginable. Morelli Law Firm sympathizes with the pain you and your loved ones are undoubtedly experiencing. We want to give you the opportunity you need to grieve and restructure your life around the hole that a loved one's passing left behind.
That's why our attorneys offer to spearhead your case. We do not make you relive traumatic experiences, nor do we push you outside of your comfort zone. You can choose to be as involved in our investigation into your losses as you want to be. All the while, our team can:
Bring together evidence establishing fault for your loved one's death
Identify the party we can name as liable in your civil claim
Estimate the total value of the lawsuit you bring to court
Speak with bystanders and arrange testimony from expert witnesses
Prevent a liable party from intimidating you out of legal action
Intervene if a liable party attempts to offer you an insufficient settlement
What's more, we give you control over how you want your case to proceed. If a court approves your claim for further consideration, you can choose to either negotiate for a fatal truck accident settlement or go to trial. Neither of these processes is more effective than the other. If the need arises, we can even alternate between the two.
You can learn more about negotiations, trials, and the legal path that suits you best during an initial case consultation with a truck accident wrongful death lawyer in Buffalo.
Let Morelli Law's Fatal Truck Accident Lawyers in Buffalo Stand Up For You
Fatal truck accidents permanently change you and your family's lives. Contending with the grief of someone's death demands time – time that you deserve to spend with the people you love and not belaboring the finer points of civil law. That said, you also deserve compensation for the wrongs your loved one had to endure in their fatal truck accident.
Buffalo fatal truck crash attorneys help you walk the line between grief and action. You can count on Morelli Law Firm to pursue an investigation into your loved one's accident while you celebrate your loved one's life. For more information about the fatal accident services that our attorneys offer, request a case evaluation through our contact form or by calling our office.