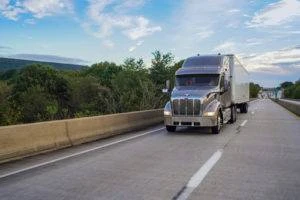 Motorists must have commercial driver's licenses (CDLs) and undergo training to operate 18-wheeler trucks. They must also meet all state requirements put in place to maintain road safety and usability. Despite these rules, accidents involving 18-wheelers are still common in New York, and these accidents can lead to bodily injuries, fatalities, and property damage.
You might be eligible to seek compensation from the party at fault and potentially recover your damages if you suffered injuries after an 18-wheeler accident in Buffalo, New York. Our team at Morelli Law Firm can help determine if you qualify to file a claim or lawsuit. If so, we can have a personal injury lawyer work on your case.
Our Team can Fight for the Compensation You Need to Recover Damages After Your 18-Wheeler Accident
Getting into an auto accident with an 18-wheeler can lead to drastic consequences beyond bodily injuries and property damage. For many accident victims we work with, their injuries created a domino effect of financial setbacks, physical pain, and emotional turmoil.
We want to help you fight for the compensation you need to start recovering from your truck accident. We can assess what kind of damages you can claim for compensation based on how they affected your life in Buffalo. For example, some damages you may claim include:
Current and future medical care expenses
Property damage costs, such as to repair or replace your vehicle
Current and future pain and suffering
Current and future income loss
Reduced earning potential
Emotional distress
Permanent disability, including loss of hearing or vision
Physical disfigurement, including burn marks or scarring
Diminished quality of life
This is only a sample of damages you might claim, so we may suggest other damages not listed here in a future consultation after we review your case. Once we calculate the approximate value of your damages, we will use this as a goal to pursue compensation on your behalf.
Truck Accidents that Lead to Fatalities may Entitle You to Different Damages
According to the Centers for Disease Control and Prevention (CDC), fatalities among truck occupants increased between 2012 and 2015. When trucks collide with passenger cars, the damage to cars can be more significant because trucks are larger and heavier than they are.
If your loved one passed away because of their accident-related injuries, you may be eligible to file a wrongful death action on their behalf to recover compensation for injuries they suffered as well as injuries you and the surviving family suffered. For example, damages for your loved one's unexpected death may include:
Costs to arrange their funeral service
Additional costs for burial or cremation services
Current and future loss of financial support now that your loved one can no longer contribute to the family
Loss of consortium and other losses related to relationship dynamics, such as for the surviving spouse and child(ren)
Our team wants to help you get through this difficult period in your life, so if you have further grievances to claim about your loved one's death, we are ready to listen to your story and fight for you.
Let Our Law Firm help you gather the strong evidence you need to build a strong claim
When you work with a lawyer from our team, you don't just work with that lawyer. Our team works together to manage your case for you so that you can relax and put your focus more on your physical and mental recovery. We'll work on your financial recovery.
In our dedication to serving you as our client, we offer to do the following legal services to help you prepare your claim or lawsuit:
Investigate your accident with the 18-wheeler truck to identify the at-fault and/or liable party or parties involved
Retrieve any evidence we discover during our investigation
Interview witnesses who may be able to testify for your case
Consult expert witnesses who can provide analysis for your case, be it on the accident or your injuries (e.g., accident reconstruction analysts or medical professionals)
Prepare legal paperwork and submit them within their legal filing deadlines
Calculate your damages to negotiate a potential settlement deal with the insurance company
Represent you in court if necessary
Our team is also available to provide legal advice at any point in your legal journey. We will also update you as new developments occur in your case.
Truck Drivers Operating 18-Wheelers must Follow Federal Regulations
The Federal Motor Carrier Safety Administration (FMCSA) applies some rules to control commercial vehicles, such as hours-of-service regulations. These regulations are set in place so that truck drivers are discouraged from driving while fatigued or impaired.
Other federal requirements truck drivers must abide by include:
Stricter BAC level limits: The FMCSA also states that truck drivers should not have more than 0.04 percent as their blood alcohol concentration (BAC) level when driving. Failure to comply with this standard may lead to a CDL suspension.
Routine vehicle inspections: Semi-truck motorists must also inspect their vehicles before every shift and avoid carrying cargo beyond the allowed limit.
If we discover that the truck driver or trucking company liable for your accident violated federal regulations, we may use this as leverage to argue why they should compensate you for your damages.
How to Determine Liability in 18-Wheeler Accidents
Determining the party responsible for a semi-truck accident is often a complex process because more than one party can be liable. In some instances, a driver may be the only one at fault if they failed to follow road safety rules. They can also be held accountable if they were under the influence of drugs or driving while distracted.
Owners must follow up on repairing faulty parts to ensure that their vehicles are in the right working conditions. Hence, if a company fails to fix a defect that later causes an accident, the injured party may be able to hold the company liable for damages.
Types of Evidence we can Use to Support Your Case
A personal injury lawyer from our team can assess various details about your 18-wheeler accident in Buffalo to establish the cause. They may then develop a strategy to fight for damages and collect the evidence they need to argue your case.
Your lawyer may use the following pieces of evidence to support your claims:
A police report on the accident
Photographs of the scene
Witness statements
Medical report showing the injuries caused by the crash
A forensic expert report to indicate the speed of the vehicles during the collision
Surveillance or traffic camera footage that shows how the accident occurred
If you suffered damages in an 18-wheeler accident, you might be eligible to claim reimbursement from the at-fault party. Our team at Morelli Law Firm can start working on your case after we review it in a free consultation.
Common Causes of 18-Wheeler Accidents that You Can Sue For
The following are some common causes of truck accidents in New York:
Driving While Distracted
One of the most common causes of semi-truck accidents is driving while distracted by other activities. These activities may include:
Eating or drinking
Using a cellphone
Adjusting the radio
Setting a GPS
Talking with other passengers in the vehicle
Speeding
Since most 18-wheeler trucks transport cargo, truck drivers often work on a deadline, influencing them to speed.
Unfortunately, speeding can make it challenging for a driver to control their truck if there is a sudden need to stop. It may also increase the impact force when a crash occurs, leading to severe damage and injuries.
Driving while Under the Influence of Alcohol or Drugs
State laws forbid drivers from operating their vehicles while under the influence of alcohol and drugs, which includes some prescription medications.
Yet, according to the Journal of Preventive Medicine and Hygiene, truck drivers often use stimulants to enhance their ability to drive for longer hours, despite them reducing their driving skills and causing overall impairment.
Other Causes of Truck Accidents You Can Include in Your Claim
Other common causes of truck accidents include:
Tailgating
Inadequate vehicle servicing and maintenance
Malfunctioning vehicle parts, such as defective wipers and brakes
Failure to obey traffic light signals
Other drivers' failure to give trucks right of way
Carrying hazardous goods, such as flammable liquids
Drowsiness
Smaller cars driving in trucks' blind spots
Contact the Attorneys at Morelli Law Firm Today for an 18-Wheeler Accident Case Assessment
Accidents involving 18-wheelers may result in severe physical injury and material damage. At Morelli Law Firm, we can help you determine who should be held responsible for the collision that injured you. A personal injury lawyer from our team can also negotiate with insurance adjusters on your behalf and fight for an appropriate settlement amount.
If you or a loved one got injured in a semi-truck accident in Buffalo, you might be eligible to claim compensation. Reach out to Morelli Law Firm today for a case assessment.