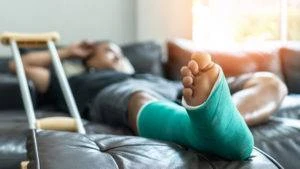 If you were injured because of another party's negligence, our legal team at Morelli Law Firm wants to review your case. The North Bergen personal injury lawyers from our team can help you pursue a payout for the damages you suffered. We help people hold negligent parties accountable for the wrongs they've caused.
Our offer to review the case is free of charge, and there is no obligation to retain our services, so you have nothing to lose and can learn more about what legal options are available. Should you decide to work with us, we offer several services to help build your case.
We Can Help Fight to Recover Your Damages in a Personal Injury Case
Our team can investigate your accident in North Bergen and build a case that supports your statements about the injuries and damages you suffered. As we obtain more evidence about these damages, we can calculate their value and list them when filing a claim or lawsuit.
Below are some factors we may consider when pursuing compensation for your damages.
Pursuing Compensation Through an Insurance Claim
Securing damages through an insurance claim based on the at-fault party's liability insurance policy may be possible in some cases. Depending on how the accident occurred, this could include:
Auto liability coverage
Homeowner's coverage
Business liability coverage
Umbrella policy coverage
Our team can review any relevant insurance policies to see if pursuing an insurance claim is a viable option for you. If necessary, we may suggest preparing a personal injury lawsuit against the liable party or parties to fight for compensation, in which case, we can explain which compensable damages you may be able to claim.
Calculating Damages
As we build your case, our team will want to document your physical injuries, economic expenses and losses, and pain and suffering to put a fair value on your damages. This can give us a guideline to know what a just settlement may look like and thus allow us to go to court with evidence to support the claim.
You may be entitled to compensation for current and future losses related to your:
Medical treatment and care
Ongoing support, medical devices, and medication
Time away from work and reduced earning ability if you cannot go back to work
Property damages
Out-of-pocket expenses
Pain and suffering
Mental anguish
Permanent disability or disfigurement
Diminished quality of life
Our team may also be able to build a case for wrongful death damages if you lost a loved one in an accident caused by negligence. Wrongful death damages may include funeral expenses, loss of consortium, loss of financial support, and other emotional losses.
Our team understands the difficulty with handling legal matters while grieving, so we can manage the case for you while you take time to recover.
We Offer Case Management Services so That You Can Focus on Recovery
At Morelli Law Firm, we provide case management services to each client we work with, as it allows us to give each case the attention to detail it needs while also giving clients the space they need to recover privately.
If you decide to work with a North Bergen personal injury lawyer in from our legal team, we offer to do the following to help put your personal injury case together:
Conduct a separate investigation into your case to identify the liable party or parties, the cause of the accident, and evidence that can support your arguments against the defendant(s)
Coordinate communications with interested parties, such as insurance companies or legal attorneys, which allows your case to remain protected while also putting other motions in action
Handle administrative tasks to prepare your case, such as paperwork
Attend court hearings and/or negotiation meetings on your behalf and fight to get you fair compensation
Answer any questions you have throughout the litigation process and provide advice when you face decisions in your case, such as on whether to accept a settlement offer
If you would like to learn more about our legal services, we offer free initial consultations. During this discussion, one of our team members will also discuss our fee agreement system, which is based on a contingency fee. Our team does not charge attorney's fees unless we secure compensation for you.
How Our Contingency Fee Payment System Works
Contingency fee payment systems are common among personal injury lawyers. The idea is to be able to provide all accident victims with the qualified legal assistance necessary to recover fair compensation after an accident. There is no risk in hiring a personal injury attorney from our firm. You will never pay a single penny out of pocket.
Instead, before you hire us to represent you in your personal injury case, we will agree upon a percentage that we will take as our fee from the money you receive from the liable party. If we are unable to secure you compensation, we don't get paid.
This system offers our clients peace of mind in two ways. First, you won't have to be concerned about not being able to afford to pay your attorney because you don't pay them directly. Second, you can feel confident that your lawyer will do everything they can to ensure you get as much money as possible for your injury since the more you receive, the more they get paid.
Personal Injury Cases in New Jersey Have Statutory Deadlines
As mentioned, another option to pursue compensation includes filing a personal injury lawsuit. However, should you decide to go this legal route, you must do so within the legal filing period, as mandated by New Jersey's state legislature.
According to NJ Rev Stat § 2A:14-2, you generally have two years from the date you were injured to file a lawsuit against the party who caused your injury. If you are filing on behalf of a deceased loved one, NJ Rev Stat § 2A:31-3 states you must file the wrongful death lawsuit within two years of your loved one's death.
You should consider filing as soon as possible because:
Evidence you might need to support the case may be unavailable after a certain amount of time
If you miss the case's filing deadline, it could get dismissed, meaning you would have to pay for the damages out of pocket
Filing late also gives grounds for the opposing party to contest the lawsuit and have it dismissed
Our North Bergen personal injury lawyers can help you prepare the case so that it meets its legal requirements and can be submitted on time.
Protect Yourself Against Insurance Companies
Another reason to get a lawyer and get started on your case early is to protect yourself against the insurance companies. Insurers tend to go to great lengths to avoid paying out the full value of a claim. They have many tricks they will use to attempt to deny or devalue your claim. Your best defense is to hire an experienced personal injury lawyer to fight back.
Once you hire an attorney, they can take over all direct communication with the insurance company. The biggest weapon that the insurance company has against you is their experience versus your inexperience when it comes to personal injury claims. Having a personal injury attorney on your side helps to level the playing field.
Do not give any statements to the insurance company or agree to any settlement deals until you have hired legal representation.
We Can Help You Build an Argument as to How the Other Party Was Negligent
All personal injury cases require the plaintiff to prove negligence and liability. The type of evidence necessary to do so depends on how you sustained injuries, the available proof, and other factors.
To prove negligence, you may need to gather evidence to prove:
The other party had a duty to do something or not do something to keep you safe
They failed to do or not do the aforementioned action
That failure led to your accident
You sustained physical and financial harm as a result
Our personal injury attorneys in North Bergen can help you retrieve evidence to support these arguments.
When Multiple Liable Parties Exist
In some straightforward cases, proving negligence may be enough to hold the at-fault party or company liable and recover a payout. However, in other cases, another party may be vicariously liable, or there are other hurdles you must clear before taking legal action.
For example, a trucking company may be vicariously liable if their driver caused an accident by acting negligently behind the wheel while working. Negligent driving may include being distracted by eating and drinking, texting, or messing with the stereo, according to the National Highway Traffic Safety Administration (NHTSA).
While these cases may be more complex, our team knows what it takes to prove negligence in a personal injury case in New Jersey. We will investigate the incident and gather evidence to help prove your claim or lawsuit if necessary.
Types of Personal Injury Cases We Handle in New Jersey
There are many ways negligence may lead to injuries, so a lawyer can review your case to determine if they can help. Our team at Morelli Law Firm handles the following types of personal injury cases:
Truck and auto accidents
Slip and falls or trip and falls
Pool accidents
Boating accidents
Defective drugs and medical devices
We also accept cases that may involve complex claims, such as those against the State of New Jersey Office of the Attorney General (OAG), if your injuries occurred as a result of a state agency or on state property. This may be the situation in railroad or bus accident cases or after a fall at a public park or a government building.
In addition, our team handles cases that involve:
Employment discrimination
Sexual harassment
Mass torts and consumer class action
Speak to an Attorney at Morelli Law Firm Today
Consider reaching out to the team from Morelli Law Firm as soon as you can following your injury accident if you are interested in filing a claim. You can discuss your situation with a North Bergen personal injury attorney during a free case evaluation. Call us or contact us online to learn more.