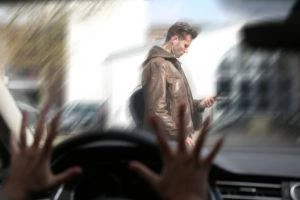 When pedestrians get injured in accidents involving motor vehicles, the damages they sustain are often severe. Pedestrians typically don't have any protection in these types of accidents, which is why permanent disabilities and fatalities occur at a high rate. Treatment can be expensive, and without financial compensation, many accident victims have limited options.
At the Morelli Law Firm, we have helped countless accident victims recover the compensation they need after an injury. Our team of Buffalo pedestrian accident lawyers is ready to take on your case and ensure that you get the money you need and deserve to recover from your damages.
What Steps Will a Pedestrian Accident Lawyer Take?
After you hire a pedestrian accident lawyer, they will get to work straightaway building your case. They will begin by conducting an independent investigation into your accident. The aim of this investigation will be to prove liability and collect evidence to support your compensation claim. Steps your attorney will likely take in this investigation include:
Visiting the scene where your accident occurred to take photos and gather evidence
Interviewing any witnesses to the accident
Speaking with various experts
Obtaining a copy of the official accident report
Going over your medical files related to the injuries you sustained
Once your attorney has completed their investigation, they will use the information they have collected to assess the total value of your damages. After that, they will discuss the strength of your case with you and advise you about the next steps. They will then likely either file a claim with the liable party's insurer or file a lawsuit with the court.
If you choose to pursue a personal injury lawsuit, your attorney will go through the steps of the pretrial process as they prepare to fight your case in court. Throughout the process, your lawyer will be in discussions with opposing counsel, attempting to negotiate a settlement deal.
A settlement is often the best option, as it offers the quickest way to get compensation and avoids the uncertainty of a courtroom trial. However, if the other side is not willing to agree to a fair deal, your attorney will fight for the money you deserve in court.
Damages in a Pedestrian Accident Lawsuit
When a person gets hurt in a pedestrian accident, they are likely going to be eligible to recover a variety of damages. These damages can be divided into the larger categories of:
Economic damages
Non-economic damages
Punitive damages
Economic Damages
Economic damages are fairly straightforward. These are the losses you suffer that directly impact your financial situation. Economic damages include not only money that you had to spend because of your accident, but also money that you missed out on collecting. These damages can cover both present and future losses.
Economic damages that often apply in pedestrian accidents include:
Medical bills
Future medical expenses
Property damage
Lost wages
Diminished earning capacity
Non-Economic Damages
Non-economic damages are a bit more complex. These cover any losses you suffered, that can not be replaced by money. Because many economic damages result in a permanent loss, the compensation awarded for these damages is often significant.
Some common non-economic damages include:
Permanent disability
Lowered quality of life
Loss of consortium
Mental anguish
Punitive Damages
In a small percentage of pedestrian accidents, the victims may also be eligible to recover punitive damages. Punitive damages are different from the damages mentioned above. Rather than compensating accident victims for their losses, the focus of punitive damages is on punishing the at-fault party.
Punitive damages are only awarded when the actions of the liable party were either criminally negligent or carried out with willful and wanton disregard for the safety of others.
Pedestrian Accident Attorneys Charge Based on Results
One of the biggest concerns that most people have with hiring a lawyer is in regards to cost. People often think that they will not be able to afford an attorney, so they choose to represent themselves. While it can be a challenge to pay a lawyer for many other types of services, you should not have to worry about this when it comes to hiring a personal injury lawyer.
Unlike other attorneys who charge based on the amount of time they spend working on your case, personal injury lawyers charge based on results. Your attorney will get paid a preset percentage of the money you recover from the liable party. If you don't get compensation, your attorney doesn't get paid.
This setup ensures that your pedestrian accident attorney in Buffalo will do everything in their power to get you as much money for your injuries as possible. It also enables anyone to hire a lawyer after getting hurt in an accident, since you will never pay a single cent out of your own pocket.
File Your Lawsuit Before Time Runs Out
When filing a pedestrian accident lawsuit in Buffalo, it is essential to be aware of how long you have to file the required paperwork. In New York, injury victims generally have three years from the date of their accident to submit a lawsuit against the liable party under CPLR § 214. Missing this window will likely result in losing your chance to recover compensation.
However, you should note that certain circumstances can shorten or extend the statute of limitations for a personal injury lawsuit. By hiring a pedestrian accident lawyer as soon as possible after your injury, you can ensure that all deadlines will be met and that your options for recovering compensation will be protected.
Contact a Pedestrian Accident Attorney in Buffalo Today
At the Morelli Law Firm, our team of pedestrian accident lawyers in Buffalo knows how challenging it can be to move forward with your life after an accident without financial compensation. We have a proven track record of getting positive results for our clients.
Give us a call or fill out our online contact form to schedule a free case evaluation today. We will review your case and advise you of your legal options.