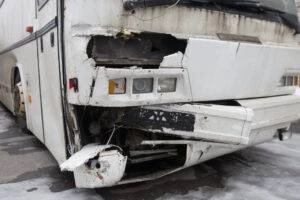 A lawyer can establish fault in a bus accident by looking at the bus driver's actions, determining the behavior of other drivers, and investigating the physical shape of the bus itself. With this evidence collected, a lawyer is better positioned to fight for the rights of the victims.
Being involved in a bus accident can be a life-changing event for anyone. It's a time filled with questions and the need for clear answers. One of the most crucial steps in this process is to have a New York bus accident lawyer by your side, someone who can help make sense of the legal aftermath and fight for your rights.
We at Morelli Law are committed to providing that support. We understand the challenges you're facing, and we're here to help you seek compensation and get your life back on track. This article will guide you through how a lawyer can assist in establishing fault in a bus accident and what that means for your case.
Different Types of Bus Accidents
A bus accident can happen in an instant, but its impact can last a lifetime. Knowing what you're dealing with is the first step to moving forward:
Collisions:

This includes crashes with other vehicles or stationary objects.

Passenger Injuries:

These can happen even without a collision, such as sudden stops or turns.

Pedestrian Accidents:

When buses hit people walking or biking.

Rollovers: These are less common but can be very serious when a bus tips over.
Determining Fault in Bus Accidents
Figuring out who is at fault in a bus accident is not always straightforward. There are many pieces to put together:
First,

we look at the bus driver's actions

. Was the driver following the rules of the road? Were they paying attention and driving safely? The answers can help show if the driver was at fault. In that case, you may be able to

sue the bus driver

.

Next,

we consider other vehicles involved

. Sometimes, another driver does something wrong that causes the bus to crash. If that's the case, that driver could be at fault.

Finally,

we check the bus itself

. Was it in good shape? Were all its parts working right? If not, the bus company might be responsible.
The Role of Morelli Law in Your Bus Accident Case
When you hire us, we take specific steps to build your case and fight for your rights.
Case Evaluation
We start by looking at all the details. We review police reports, talk to witnesses, and gather facts. This helps us understand what happened.
Evidence Collection
We collect evidence like photos from the scene, bus maintenance records, and driver logs. This information is key to proving who is at fault.
Expert Consultations
Sometimes, we need to talk to experts like accident reconstruction specialists. They help us understand the technical parts of the accident.
Claim Filing
We handle all the paperwork to file your claim. We make sure everything is done right and on time.
Negotiation With Insurance Companies
We talk to the insurance companies for you. We work to get a settlement that covers your needs.
Litigation
If we can't settle, we're ready to go to court. We prepare a strong case to present to the judge and jury.
Compensation in Bus Accident Cases
Compensation after a bus accident is an important question for victims. If you're in a bus accident, you might wonder what kind of financial help you can get. Here's a breakdown:
Medical Bills:

This is for the cost of your treatment and any hospital stays.

Lost Wages:

If you can't work because of the accident, you might get money for the pay you miss out on.

Pain and Suffering:

This is for the physical and emotional pain caused by the accident.

Loss of Normal Life:

If you can't do the things you used to do, you might get money for that change in your life.

Punitive Damages: If someone caused the accident on purpose or by being very careless, you might get extra money.
Statute of Limitations for Bus Accident Claims
After a bus accident, one of the most important things to keep track of is the deadline for filing a lawsuit. These deadlines are called statutes of limitations and they are very strict. If you miss them, you might not be able to sue at all. We make sure you know these deadlines and help you meet them.
For example, in New York, you usually have three years to file a personal injury lawsuit because of a bus accident. This rule comes from the New York Civil Practice Law & Rules (CVP) §214. It's a general rule that applies to many cases, but it's super important for protecting your right to sue.
But, if your accident involved a school bus run by a city or state, things get more urgent. The New York General Municipal (GMU) §50-E says you have to let them know you might sue in just 90 days.
That's a really short time, so talking to a lawyer fast is key. We're here to help you understand these rules and make sure you do everything on time.
Why Hire a Bus Accident Lawyer
Why should you hire a bus accident lawyer? After a bus accident, you need someone who knows the law and can stand up for you. Here's what a lawyer can do:
They Know the Rules
A lawyer knows all the legal rules that apply to your case. They can use these rules to help you.
They Speak for You
A lawyer can talk to insurance companies and in court for you. They make sure your side of the story gets heard.
They Do the Hard Work
There's a lot of work that goes into a lawsuit. Your lawyer does all of this for you so you can focus on getting better.
Hiring a lawyer means you have someone on your side who wants to help you win your case.
Contact a Bus Accident Attorney Today
Bus accidents are serious. They can change your life and you need to deal with them right away. If you or someone you care about is hurt in a bus accident, contact us at Morelli Law. We're ready to listen and help you figure out your next steps.
We can fight for you and make sure you get the money you need to help with your recovery. Don't wait, because there's only so much time to act. Contact us today and let's start working on making things right for you today.