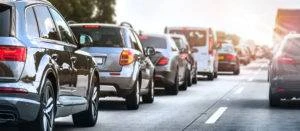 Rideshare drivers are held to certain standards on the road. When you get into a rideshare, you want to know that your driver will uphold area safety laws. Unfortunately, this isn't always the case. Whether another driver causes your accident or your Uber driver is irresponsible, someone else can rapidly cause problems for you and your loved ones.
Uber accidents in Union City can be legally complex thanks to their variable liability. Fortunately, you don't have to try and pursue compensation – or insurance payments – without support. Turn to an Uber accident lawyer in Union City at Morelli Law Firm instead. Together, we can fight for the financial support you need.
What to Do When You've Been in an Uber Accident
New Jersey is a no-fault state. As such, you'll need to file a claim with your own insurer shortly after an Uber accident. Only once you have your claim in action can you consider your other legal options.
Even then, you have a limited amount of time to file a civil complaint. New Jersey Statutes section 2A:14-2 gives you two years to compose and submit your claim. If you don't bring your concerns to a county clerk within that two-year period, you won't have the opportunity to pursue financial support through New Jersey's civil court.
Note that submitting a complaint doesn't mean that you're going to trial. Rather, if you abide by the state's statute of limitations, you can fight for the legal backing you need to request compensation. A Union City Uber accident attorney can manage your negotiations or represent you in court.
Fault and Liability in New Jersey
Fault in an Uber accident describes the responsibility one or another person had for the extent of all parties' losses. While New Jersey doesn't consider fault to be all-encompassing from an insurer's perspective, civil courts will still consider responsibility when assessing an Uber accident claim.
More specifically, fault has everything to do with duty of care in an Uber accident. Uber drivers, alongside the other drivers on the road, owe the people around them a duty of care. This duty demands that New Jersey residents follow the rules of the road and act reasonably while driving.
Anyone who wishes to bring an Uber accident case to court needs to argue that they owed a duty of care and that a specific party violated that duty.Professional witnesses, bystanders, and private investigators can help the filing party assert this claim. The question remains, though: who can be held liable for an Uber accident?
Uber's Liability
In accidents that implicate an Uber driver, Uber takes a stand for its drivers. Any individual that wants to file a civil claim against an Uber driver must actually take up their complaint with the ridesharing company.
That said, Uber only protects its on-duty drivers. If an Uber driver isn't using the Uber app or driving passengers at the time of an accident, that driver can be considered independent in the eyes of the law.
In a similar vein, passengers can take up suits against Uber in accidents where an Uber driver can be held at fault. However, Uber is often quick to offer injured passengers settlements. If you've been offered a settlement, be sure to compare the offer against compensation calculations made by a personal injury lawyer.
Drivers' Liability
Independent drivers can be held liable for losses in an Uber accident if evidence dictates that they contributed the bulk of the accident's fault. In these cases, both passengers and Uber drivers can take independent drivers to civil court.
That said, Uber won't give its drivers or passengers the resources they need to pursue a civil claim. Rather, any party interested in taking a claim to civil court must contact us on their own time. Fortunately, our attorneys are here to help.
Uber Passengers and Liability in Lawsuits
Passengers can rarely be held liable for an Uber accident. The only incidents in which a passenger may be liable for such an accident would involve the assault of a driver or other inappropriate behavior.
Rather, passengers have the option to assert liability in Uber accidents. Accidents wherein the Uber driver appears to be at fault can see injured passengers file insurance claims with Uber. In turn, those passengers can take Uber to civil court if they don't receive a settlement offer.
Similarly, passengers can file independent civil claims against an unaffiliated driver at-fault for an Uber accident. These suits proceed without interference from Uber and can be considered standard car accident cases. Passengers with questions can contact our Union City Uber accident lawyers for more information about their legal options.
Requesting Financial Support for Uber Accident-Related Losses
Your losses after an Uber accident are wholly unique to your circumstances. Even so, you can reference previous Uber accident cases to determine what kind of settlements other injured parties have fought for.
In most cases, your requested compensation can cover tangible and intangible losses. These can include:
An accident's medical expenses

Post-accident comfort

Damaged property in need of repair or replacement

Lost opportunity for work

Pain and suffering

Wrongful death, if applicable
If you're not sure whether or not you qualify for certain types of compensation, ask our team. We'll assess the state of your accident and find additional ways to increase your personal injury settlement.
Morelli Law Firm Is Here for You
Don't resign yourself to the expenses associated with an Uber accident. If you believe someone else may be liable for your losses, contact an Uber accident attorney in Union City. Our team can walk you through your legal options and represent your best interests.
To learn more about the compensation to which you may be entitled, schedule a free case evaluation with Morelli Law Firm today. You can reach our team by phone or through our online contact form.