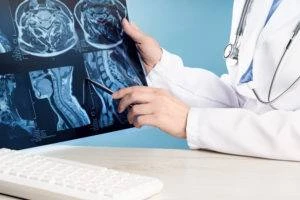 A spinal cord injury can be very serious, causing extensive complications and long-term disability. However, if you believe another person's careless actions caused your injuries, you can hold that person accountable.
At Morelli Law Firm, we can help you recover damages for the medical treatment and care you need after such a severe injury. A Buffalo spinal cord injury lawyer will protect your legal rights and build a strong case for you.
Spinal Cord Injuries May Qualify for Compensation
If your injury or a loved one's injury was the fault of another person, you are likely eligible for compensation. A spinal cord injury attorney from our firm can confirm your eligibility and hold the at-fault party accountable for the accident.
There are many types of accidents that could have caused your injury. For example, we work with clients who suffered such injuries in car accidents. Rear-end, side-impact, and head-on collisions can all injure the spinal cord. We also help clients who were injured in other types of accidents, so you can contact us for help regardless of the injury you suffered.
Spinal cord injuries can cause partial or total paralysis, paraplegia, or quadriplegia. According to the National Spinal Cord Injury Statistical Center (NSCISC), people who suffer neurological damage have a small chance of full recovery. Some people even have a lower life expectancy. Therefore, anyone who suffers a spinal cord injury is deserving of compensation.
Determining the Value of Spinal Injuries
The monetary costs associated with spine-related injuries are significant. Some people incur costs totaling millions of dollars over time. For example, the NSCISC states that medical expenses for the first year of treatment and care after a severe spine injury can exceed $1 million. For a person in their mid-20s, the cost throughout their lifetime could be over $5 million.
In addition to these costs, a person with a spinal injury may require home care or relocation to a facility. The person may also lose mobility and require special equipment and transportation services. As a result, they could lose their independence.
Your lawyer for spinal cord injuries will consider the following costs when determining the value of your claim:
Your current medical, rehabilitation, and care costs and your future costs
The wages you lost and may lose in the future
Any loss of future earning capacity
The pain and suffering you endured
Any loss of enjoyment of life you experience
Proving Liability for Spinal Cord Injuries
We will use any relevant evidence to help establish the other party's fault for the accident. Your lawyer may use the legal standard of negligence to hold the other party responsible. To legally prove negligence, your attorney will address several key matters.
Whether the Other Party Owed You a Duty of Care
A duty of care is a legal obligation for individuals to adhere to a standard of reasonable care while doing certain things that could potentially harm others. For example, motorists must observe traffic and safety laws to protect other drivers and pedestrians.
Whether the Other Party Breached Their Duty of Care
A breach of a duty of care is when a party acts or fails to act in a way that puts someone else at risk for an accident. For instance, if a motorist drives while under the influence, other drivers and pedestrians are at risk.
If the Breach of Duty Caused Your Injuries
If an individual or a representative can demonstrate that another party's breach of duty caused their injuries, they can hold them liable. For example, if a drunk driver caused the accident in which you suffered your injuries, they are responsible.
If Your Injuries Resulted in Provable Damages
Finally, an individual or legal representative must prove the victim suffered actual damages due to the incident. An attorney from our firm can help you show you suffered actual damages. We can provide proof of your medical bills, care costs, lost wages, and more.
Sometimes, a breach of duty is egregious, and your attorney may be able to prove gross negligence. In this situation, a court may award punitive damages to punish the at-fault party for their particularly bad behavior.
Why You Should Consider Getting a Spinal Cord Injury Lawyer from Our Firm
A spinal cord injury attorney from our firm can determine your eligibility for compensation, your claim's value, and the other party's liability. We can help you pursue the total compensation you deserve to pay for the care you need.
Your lawyer will seek out all the evidence needed to build a strong, solid case, and will handle communications with the other party's insurance company, so you don't have to. You can focus on other matters like your wellness and your family. You can be confident your lawyer will negotiate a fair settlement and won't accept an early, lowball offer.
New York Law Limits Your Time to Take Legal Action Against the At-fault Party
There are filing deadlines for spinal cord injury cases in Buffalo, New York. If you or a family member suffered injuries, or if a family member was fatally injured, then the following statutes determine your deadline:
The personal injury statute of limitations, which is generally three years, per CPLR § 214
The wrongful death statute of limitations, which is generally two years from the date of death, per EPTL § 5-4.1
When you get a spinal cord injury attorney from our firm involved right away, it allows us ample time to comply with the statute of limitations. It also allows us to collect evidence before it becomes obsolete. Then, finally, we have more time to negotiate your settlement.
Discuss Your Claim with a Spinal Cord Injury Attorney from Our Firm Today
Contact Morelli Law Firm at (212) 751-9800. We can discuss your legal options and let you know more about how we can help. Your consultation will be free of charge. You can browse our results page to read about the settlements and verdicts we secured for our clients.
You don't have to handle your claim alone, and you don't have to deal with the insurance company alone either. Our firm's spinal cord injury lawyer in Buffalo would be proud to represent you and help you secure the damages you deserve. Contact us today.