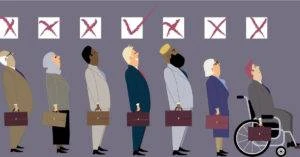 Do you think your employer has subjected you to employment discrimination? If so, it is critical to understand why you should always protect your rights at the workplace. Depending on the complexity of your case, the services of a New York personal injury lawyer from our law firm may be helpful.
Morelli Law Firm explores various matters you need to understand when hiring an employment discrimination attorney. We offer free case evaluations so prospective clients can learn what their legal options are.
How an Employment Discrimination Lawyer Can Help You with Your Case
Our employment discrimination lawyers in New York advise employers and employees on proper legal work ethics. They also base their arguments on state and federal employment laws.
As such, our team ensures every employee receives fair treatment and that employers comply with the stipulated workplace regulations in the country on labor laws and issues, such as those found on USA.gov.
Our Legal Team Will Manage Your Case for You
Filing an employment discrimination claim can get complex, especially if you are unsure if you are within your rights to take civil action. Our team can review your case and identify whether you have grounds to file a claim, and then manage your case for you.
Our Legal Services Cover Your Entire Case
Our case management involves:
Identifying the liable party for discrimination

Gathering evidence to support your claims about how you or another coworker was wrongfully discriminated against

Filling out paperwork your case requires and submitting it on your behalf

Handling statements to interested parties, such as your employer, legal attorneys, and representatives of the U.S. Equal Employment Opportunity Commission (EEOC)

Attending court hearings on your behalf and presenting your case

Negotiating an out-of-court settlement if possible

Handling legal disputes should they occur
Our team is also available for legal counsel once you become our client. So, if new forms of employment discrimination occur, such as your employer firing you once they hear about your case, then we can include evidence and information to support new claims in your case.
Our N.Y. Employment Discrimination Lawyers Work for a Contingency Fee
Before you begin working with our firm, we will explain how we charge for our legal services. Our fees differ depending on the decisions you make as the case progresses. If your situation is complicated or takes longer to settle, you may incur higher charges. For example, drafting a letter and sending it to your employee costs less than when an employment discrimination lawyer in New York represents you in court.
That being said, our law firm works on a contingency fee basis, so you will not be expected to pay for attorney's fees unless we win your case. We will take our percentage out of the back pay you receive if we win compensation for you. This allows you to benefit from our services without paying for them yourself.
We Can Help You Fight for Damages in Your Case
According to the EEOC, victims of workplace discrimination are within their rights to pursue compensation for damages they suffered as a result. These damages may include:
Loss of income, both current and future

Out-of-pocket expenses related to looking for a job (e.g., mileage costs for driving to interviews)

Medical expenses if applicable

Pain and suffering and inconvenience

Mental anguish

Loss of enjoyment in life

Psychological trauma

Legal fees (e.g., reimbursement for attorney's fees, court fees, and expert witness fees)
You may qualify for other compensable damages not listed here, depending on your case's circumstances.
Our legal team will discuss your situation in greater detail during your consultation so that we can reach an accurate estimate of how much compensation to pursue on your behalf. Once we settle your case, we will not be able to pursue additional compensation.
Some Plaintiffs May Receive Punitive Damages
Victims of workplace discrimination could also receive punitive damages. These intend to punish employers for their discriminatory practices and discourage such practices from happening again.
Keep in mind that compensatory and punitive damages have legal caps on them, as the EEOC explains.
Our Team Can Help You Gather and Present Evidence for Your Case
It can be difficult to unmask your employer's intentions. Remember, most employers will not readily accept your discrimination claims. To convince the judge that your employer's actions victimize you, we will gather evidence to prove your case.
Examples of evidence we may collect on your behalf include:
Recent job performance reports

Witness statements, such as from other workers at your place of employment

Expert witness statements

Photographs and video footage that captured the discrimination

Official business documentation that supports your claims
Our New York employment discrimination attorneys encourage you to bring forward any information or evidence you may have as we build your case. We will keep you updated on your case's progress.
We Can Review Your Case to Identify Whether Employer Discrimination Occurred
Do you think your employer mistreated you? One thing to note is that unfair treatment may not necessarily mean illegal discrimination. Your claim must fall under anti-discrimination state or federal laws for it to be unlawful discrimination, such as those under LAB § 201-D.
What Employment Discrimination Can Look Like
Some examples of employment discrimination include:
An employer fires a pregnant woman to avoid giving her maternal leave.

An employee is harassed because of their gender, race, religion, sex, disability, national origin, or another protected class they're in.

An employee is denied a workplace change to accommodate their religion or disability.

An employer asks improper questions about an employee's medical or genetic information.

An employer retaliates against an employee who filed a discrimination complaint.
These are general examples, but many discrimination cases are much more nuanced, which is why some plaintiffs may be hesitant to bring their cases forward. We understand employment discrimination laws in New York, so we offer free case reviews to help prospective clients understand their rights and legal options.
Being in a Protected Class Does Not Automatically Give You a Legal Advantage
Keep in mind that falling under a protected class category does not necessarily translate to winning a lawsuit. The challenging part is proving that the employer took discriminating actions against you.
As a complainant, it is on you to prove the employer's intention of taking extreme actions against you is due to your protected status. Our legal team can help you build a case that establishes how your employer discriminated against you.
Work with an Employment Discrimination Lawyer in New York
Employment discrimination lawyers can be valuable assets in your case. If the experiences you had with your employer were daunting, a lawyer from our firm can help you take legal action. Closure can come from telling your side of the story during the trial or an informal settlement with your employer. At this point, you can focus on other things, like hunting for a new job.
At Morelli Law Firm, our New York employment discrimination lawyers can help you fight for your rights and aim for a civil settlement. We advocate for employees of all types and aim to seek compensation for the discrimination they've faced in their careers.
Our law firm also manages other types of cases, such as commercial litigation and personal injury cases. Contact us today at (212) 751-9800 for a free case evaluation.