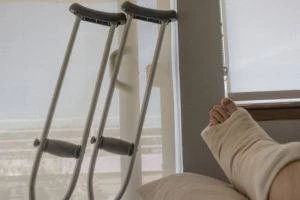 Morelli Law Firm wants to help you and your loved ones overcome the aftermath of a negligence-based accident in Jersey City. If you need legal representation, a Jersey City personal injury lawyer can handle the legal work involved with your case while you concentrate on your recovery.
Our law firm has won million- and multimillion-dollar financial compensation and verdicts for injured victims, so we are prepared to fight for the compensation you need to recover from your damages. If you would like to learn more about our services, we also offer free initial consultations to prospective clients like you.
Our Jersey City Personal Injury Lawyer Has Helped Victims Win Millions in Financial Compensation
Our personal injury attorneys in Jersey City, NJ, work hard to fight for fair compensation for our clients. Some of our case results for personal injury cases include:
$30 million for a 40-year-old man who lost both of his legs after falling into subway tracks

$22.5 million for a Wall Street executive who contracted polio from his daughter after she received an oral polio vaccine

$12 million for the surviving estate of a man who died after being hit by a bus

$7.4 million for a delivery man who endured losses after being hit by a truck while riding his bicycle

$5.5 million for a pedestrian who was hit by a vehicle while crossing the street
Our team can assess your damages and calculate how much compensation you should pursue based on those totals.
Cases Our Personal Injury Lawyers in Jersey City Handle
Our firm's Hudson County personal injury attorneys work with clients in all types of cases, including:
Car accidents

and/or related auto accidents

Premises liability

Product liability

Slip and falls
If another party's negligence caused you harm, you may qualify for a lawsuit.
How to Compose a Jersey City Personal Injury Claim
Whether you're contending with the aftermath of a construction accident, brain injury, or similar loss, you can work with injury accident lawyers to determine whether or not you have the right to legal action. Specifically, you need to file a civil complaint if you want to garner the right to bring your concerns before a judge.
The first thing you'll want to do is, within several days of your accident, schedule an initial consultation with an experienced attorney. Our team can assess the nature of your case and help you calculate to what compensation you may be entitled. We can then help you compose a complaint that you can later submit to a county clerk.
To ensure that your claim complies with state expectations, you need to take care to address:
The identity of the party you think may be liable for your accident losses

The maximum compensation to which your losses may entitle you

Evidence supporting both claims
You and your fellow personal injury victims can only move forward with your personal injury claim if a county clerk and related parties choose to move your complaint forward. With that in mind, working with a team of Jersey City personal injury lawyers with a record of success bringing a wide range of legal claims before Hudson County judges is important.
Plaintiffs Must Prove How Another Party's Negligence Harmed Them
Personal injury cases often require victims to prove why another party should be held liable for a victim's losses. A personal injury lawyer in Jersey City, NJ, from our team can help you shape your case argument, which may involve the following elements:
The Other Party Failed to Provide a Duty of Care
A "duty of care" generally involves keeping others from harm. Parties that may have a duty of care toward you include:
Other drivers on the road as they should be obeying traffic laws

Property owners and managers as they should keep their premises safe for guests

Product manufacturers, designers, distributors, and sellers, as they should ensure these products are safe for sale and use

Medical professionals as they should ensure they administer proper medical care
Our team can investigate a personal injury victim's case to determine whether the at-fault or liable party owed you a duty of care.
If a party that owed you a duty of care committed an action that violated this duty, they may be held liable for your damages in an accident. Once we can connect how the other party's actions or inactions caused the accident that harmed you, we can then establish the damages you suffered during and since the harmful event.
Damages Are Unique in Every Personal Injury Case
Damages are the losses you experienced after your accident, making each personal injury case unique in its value. Our team can help you assign value to your damages and calculate your case's worth.
Most damages fall into two categories: economic and non-economic damages. Together, these losses may include:
Pain and suffering

Physical disfigurement or permanent disability

Lost wages and benefits

Future loss of earnings

Medical expenses

Property damage

Diminished quality of life

Emotional distress
When you first start fighting for financial support after an accident, you want to know that your attorney has a track record of success behind them. Our Jersey City injury lawyers can help you calculate the value of your case and ensure that you have the means to secure the monetary compensation you deserve.
Damages Related to Death May Be Pursued in Wrongful Death Cases
If another party's negligence caused fatal injuries to your loved one, you may be able to recover a different set of damages in a wrongful death claim or lawsuit. Wrongful death damages may include:
Funeral and burial costs

Medical expenses

Lost household income

Loss of parental guidance and companionship

Loss of consortium
Our team can help you fight for the maximum compensation possible to better contend with the expenses tied up in a loved one's passing.
What You Can Expect From a Jersey City Personal Injury Lawyer
When you hire a personal injury lawyer in Jersey City from our firm to represent you in your case, we can develop a legal strategy and manage all the details of your claim while you recover from your losses. You can count on our team to help you by:
Communicating With All Related Parties
Our experienced attorneys can correspond with all parties, including the at-fault party, law enforcement, defense lawyers, medical specialists, and the insurance company when we represent you.
Investigating the Accident
We can investigate the accident and look at all the facts to verify your personal injury claim. This may include gathering evidence, locating and interviewing witnesses, hiring experts to testify in your defense, and requesting information on your behalf.
Preparing Your Case
Our legal team can gather all documents, prepare your case, and submit the required paperwork. This can include collecting evidence that establishes the other party's liability and evidence that establishes the extent of your damages.
Negotiating a Settlement
You do not have to accept the insurance company's initial settlement offer. If you feel that the offer does not reflect your losses, we can negotiate a fair settlement on your behalf.
Taking Your Case to Trial
If the insurance company offers a low settlement or if they deny your claim, you may have the option to take your case to trial. Our lawyers can represent you and present your case before the judge or jury, if necessary.
With the help of a capable legal team of personal injury lawyers in Jersey City, it may be possible to recover compensation for your injuries and other damages.
How New Jersey's Statute of Limitations Affects Your Case
If you are considering legal action after an accident, do not delay. New Jersey puts a strict statute of limitations, or legal time limit, on various types of lawsuits. These deadlines are as follows:
Per

N.J.S. 2A:14-2

, New Jersey enforces a general two-year time limit for most personal injury cases.

Per

N.J.S. 2A:31-3

, New Jersey enforces a general two-year statutory deadline for wrongful death cases.
There may be exceptions to these deadlines based on the circumstances of your case. Our team can review your case to determine its filing deadline and take appropriate actions to file it on time.
Contact Our Jersey City Personal Injury Lawyers Today
You may be entitled to collect compensation if you were injured in Jersey City due to another party's negligence. A personal injury lawyer in Jersey City from Morelli Law Firm can represent you in your case and help you fight for financial recovery. Call us today to get a free case evaluation with a member of our team.