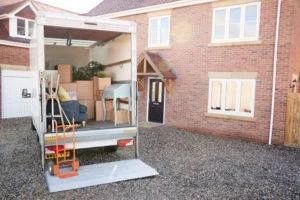 If you were involved in a moving van accident in Buffalo, New York, you might be able to pursue compensation if you sustained injuries and other damages because of it. Plaintiffs can fight to earn monetary awards for their damages from the party or parties who caused their accident.
At Morelli Law Firm, a Buffalo moving van accident lawyer can lead your legal battle for compensation, whether through an insurance claim or personal injury lawsuit. If your moving van accident was caused by negligence, your assigned lawyer can handle the entirety of your legal fight while protecting your rights.
To request a case review with our team, call us today at (212) 751-9800.
Negligent Factors Might Have Caused Your Moving Van Accident in Buffalo, New York
After investigating your moving van accident, your lawyer may determine that negligence may have played a factor in your accident. The Legal Information Institute (LII) states that negligence is "a failure to behave with the level of care that someone of ordinary prudence would have exercised under the same circumstances." This negligent behavior can consist of actions or a failure to act in a way that would have avoided an accident.
Many forms of driver negligence can lead to auto accidents, such as distracted driving. According to the National Highway Traffic Safety Administration (NHTSA), distracted driving claimed over 2,800 lives in 2018. The NHTSA also states that texting while driving is one of the most dangerous and prominent forms of distracted driving.
Other forms of negligent driving may include:
Driving while under the influence of drugs and alcohol
Eating or drinking while driving
Speeding
Failing to yield
Turning improperly
Failing to drive within a designated lane
Making unsafe lane changes
Failing to use hazard lights
Getting distracted while driving, such as from the radio or other passengers
Swerving
Running a stop sign
Tailgating
Suddenly stopping or needing to stop
Failing to use a turn signal
Failing to dim high beams
After your Buffalo moving van accident lawyer determines if negligence contributed to your accident, they may build a case to potentially hold the defendant liable for your damages.
Earning Compensation from a Moving Van Accident Claim
If you are wondering how much compensation you might earn from a moving van accident insurance settlement or personal injury lawsuit, you must review your total damages. This is because a fair settlement can only be based on the total value of your out-of-pocket expenses and losses from the accident.
Because every moving van accident is different and unique with their own variables, there is no concrete figure that can be used as a basis for earning compensation. Once you and your lawyer have obtained documentation of your damages, your lawyer can begin to monetize and combine their values.
Next, they can begin to negotiate an out-of-court insurance settlement based on this total figure. If negotiations are unsuccessful, your lawyer can file a personal injury lawsuit within New York's statute of limitations, which is generally three years from the date of the accident, according to the New York Civil Practice Law & Rules (CVP) § 214.
You may be able to recover the following damages:
All accident-related medical expenses, including future expenses
Property damages
Auto repair expenses
Lost wages
Future lost wages
Limited earning capacity
Pain and suffering
Emotional distress
Loss of consortium
Wrongful death damages, such as funeral costs, cremation, loss of a parental figure, and loss of financial support
If you or a loved one suffered injuries from a moving van accident in Buffalo, New York, call Morelli Law Firm today at (212) 751-9800 to learn more about pursuing fair compensation.
Work with a Buffalo Moving Van Accident Lawyer to Collect Evidence
A Buffalo moving van accident lawyer can become an asset to your legal battle if you are overwhelmed by other personal concerns in your life. For instance, a lawyer can take charge of the entire legal process of your case while you spend time recovering or spending time with an injured family member after the accident. Additionally, a lawyer may also answer your legal questions throughout your case.
We also let you personally explain your first-hand account of the moving van accident and share any evidence you may have obtained so that we can accurately fight for your interests. If you are struggling to gather evidence, a moving van accident lawyer may also be able to help you to do so.
Evidence for your case might include:
A police report
Photographs of your property damage, injuries, the defendant's insurance information, and the accident scene
Surveillance video
Eyewitness testimony
Medical documentation
What You Should and Should Not Say to Insurance Companies
Your lawyer can also help you navigate communications with insurance companies. If an insurance company wants to speak with you after you have reported the accident, you must try to avoid admitting any fault over a recorded line. Fortunately, your attorney can handle all communications with insurance companies on your behalf.
If an insurance company submits a settlement offer to you, your lawyer may review the offer to determine if it fairly covers your damages. When offers are insufficient, your lawyer may advise you to reject them so that they can continue to negotiate a better settlement offer. If a settlement cannot be reached, your lawyer may advise you to pursue a personal injury lawsuit if compensation still seems viable.
Learn More About Working with Morelli Law Firm
If you or a loved one was injured in a moving van accident in Buffalo, consider calling Morelli Law Firm to learn more about your legal recourse options. After a free case evaluation, our firm may determine your appropriate paths to fight for a financial award to recover your accident-related losses.
Call us today at (212) 751-9800 to speak with a team member at our firm.