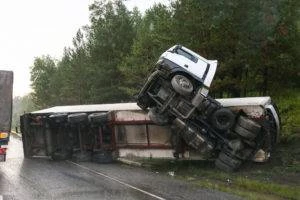 A Buffalo cargo truck accident lawyer from Morelli Law Firm can join your fight for financial recovery. Handling your case alone can be stressful and might be more than you handle if you are also still recovering from your injuries or taking care of your injured loved one. Let us represent your legal interests so that you can focus on healing.
Our team can investigate and identify the party or parties who might be liable for causing you or your loved one harm. Call us now for a free case evaluation at (212) 751-9800.
Reckless Driving Behaviors Can Lead to Cargo Truck Accidents
A cargo truck or van is unlike a box truck. While often similar in size, their structures are different. Cargo vehicles consist of one component. The cab and cargo department are not separate.
One of the primary dangers of cargo vehicles is the lack of a rear window in the back cargo area. Navigating these trucks requires skill and concentration, especially when entering residential and business areas upon arriving at delivery destinations.
A cargo truck driver may engage in risky behavior to make their next delivery. Examples of reckless actions that can put others at risk of severe injuries include:
Aggressive driving: Speeding, tailgating, and blowing the horn at others can escalate into road rage.
Drunk driving: Truck drivers who choose to drink and drive may put people on the road at risk. If convicted of driving under the influence, they might lose their CDL.
Distracted driving: Distracted driving involves doing any activity that takes your attention off driving, such as texting, eating, drinking, fiddling with a GPS device, or changing the radio station.
Drowsy driving: A driver may work more than one job, have an undiagnosed sleeping disorder, or other issues that might cause them to feel fatigued or sleepy as they drive.
If you were in an accident caused by a negligent or reckless cargo truck driver, call Morelli Law Firm now for a free case evaluation at (212) 751-9800. A Buffalo cargo truck accident lawyer can review your case and help you fight for compensation.
Your Case Has a Time Limit on How Long You Have to File
Whether you are in a hospital bed or recovering at home, you might just want to rest. That is what we want for you, too. One phone call to our office can help you learn whether you have a case. Should you decide to work with us, we may:
Begin investigating your accident before evidence becomes lost or memories of eye-witnesses fade
Speak with insurance companies on your behalf
Protect your legal interests
Negotiate a settlement or take your case to trial if necessary
File paperwork on time
According to the New York Civil Practice Law & Rules (CVP) §214, the statute of limitations is generally three years for personal injury cases. This time can pass in the blink of an eye if you have to deal with medical treatment procedures. Claims can take a long time to process, especially during the negotiation stage. So, if you decide to file a lawsuit, you will need to keep track of the statutory deadline so that your case does not get dismissed.
A Buffalo cargo truck accident lawyer can keep track of this legal deadline as part of their services to you.
Insurance Company Tactics
Insurance adjusters work on behalf of the insurance company and have a mission to settle a case without infringing on the company's profit margins. Insurance companies are still for-profit businesses, so it is in their interest to offer you the minimum policy coverage and nothing more.
Their negotiation tactics may serve to use any statements you make against you, and they may deny you compensation if they find a reason to believe you might be partially at fault for the accident. They may also reach out immediately after the accident to offer you a settlement amount. However, this figure might only reflect the policy minimum and may not accurately cover your damages in the long-run.
Accepting a settlement offer without legal representation can result in severe consequences for you later. Once you accept an offer, your case is considered settled and will be closed. If your medical condition worsens and you realize you need additional funds for your care, you may be denied further compensation because your claim against the insurance company would be closed.
If you hire a lawyer, they can review each settlement offer you receive and compare it to the value of your damages to see if it is fair to you.
You May Be Able to Recover Damages from Your Cargo Truck Accident
The types of compensation you may recover will depend on the specifics of your accident. At Morelli Law Firm, we may pursue compensation for the following damages:
Medical expenses, such as for hospital and doctor's fees
Lost wages due to your injuries forcing you to take time off work and heal
Diminished earning capacity if you cannot return to your previous job
Pain and suffering
Contact Morelli Law Firm to Help You with Your Case
Cargo trucks are an integral part of commerce transportation. Road users trust that the cargo truck driver understands how to maintain control of their vehicle and drive responsibly.
If a cargo truck driver caused you harm, contact us. A Buffalo cargo truck accident lawyer can handle several aspects of your case, such as the paperwork, communication with the insurance companies, and collecting evidence.
At Morelli Law Firm, we understand that a cargo truck accident can be both frightening and frustrating. The injuries you experienced might have been preventable had the cargo truck driver used care and respected other drivers' safety.
Our team wants to help you hold the liable party or parties accountable for their negligent actions. We stand ready to get to work on your behalf. For a free case evaluation, call Morelli Law Firm today at (212) 751-9800.