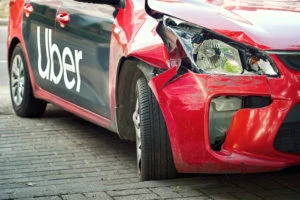 For many people in Englewood and throughout New Jersey, Uber offers a quick and often safe way to arrive at their desired destination. However, car accidents involving Uber vehicles and drivers can leave victims with injuries, large medical bills, and other losses.
If you suffered injuries in an accident involving Uber's rideshare service and need help recovering compensation, Morelli Law Firm could help. We understand the often-complex nature of transportation network company (TNC) accidents and can help you better understand your legal rights for recovery. An Englewood Uber accident lawyer from our team can review the facts of your case, explain your potential options, and help you pursue compensation for your losses.
Who Can I Sue After an Uber Accident in Englewood?
In most cases, who you can sue after an Uber accident depends on determining who's at fault for the crash. Depending on the circumstances of the collision, you could sue:
The Uber driver
The driver of another vehicle
Uber
Other parties
You must account for several different factors when determining liability for the crash and what insurance policy may apply.
Several Insurance Policies Could Apply to Cover Your Losses
One of the most complicated aspects of Uber accident cases in Bergen County is what insurance policy applies to cover crash-related losses. In many cases, the insurance policy that applies depends on the driver's status at the time of the accident.
For example, although NJ Rev Stat § 39:5H-10 requires Uber to provide substantial coverage in the event of a crash involving one of its vehicles, the statute only applies in specific circumstances. Coverage includes:
Up to $50,000 for injury or death per person, $100,000 per incident, and $25,000 for property damage when the driver is logged on to the app and available to take ride requests.
Up to $1,500,000 for injury, death, or property damage; at least $10,000 for medical payments benefits per incident; and $1,500,000 for uninsured or underinsured motorists when the driver is completing a ride request.
A driver's personal automobile insurance policy generally applies in accidents when they have not logged into the app. You may also be able to recover benefits from your personal injury protection (PIP) policy, depending on the facts of your case.
How Our Injury Lawyers Can Help with Your Englewood Uber Accident Case
After a crash involving an Uber, our accident lawyers can take the time to listen to your story to determine your options and advise on a potential strategy. It is essential to correctly build your claim to preserve your right to recover compensation. Many Uber accidents involve severe injuries and require careful calculations to ensure you get the total amount of compensation you deserve under New Jersey law.
We can represent your interests at every stage of your case, including:
Completing all documentation required to process your claim
Reviewing the facts of the case and the specific language of the insurance policies involved
Corresponding with all parties involved and negotiating on your behalf
Gathering evidence such as witness statements, expert testimony, and documents from Uber related to the driver involved
Types of Compensation You Can Seek in an Uber Accident
After an Uber accident, you can seek various damages as part of your claim. The exact types of compensation you can request will depend on your specific losses. However, you could seek the following types of compensation:
Medical bills and other healthcare costs, including expenses for future medical treatment
Lost income, including compensation for diminished earning capacity
Property damage
Pain and suffering
Emotional distress
Loss of enjoyment
In many accident cases, victims may not receive all the compensation they deserve because they are unaware of every available category. Therefore, it is essential to understand all the distinct kinds of applicable damages in your case to ensure you get the total amount of compensation you need for your losses. Our Uber accident attorneys can explain which damages apply to your specific case.
How Much Can I Expect From My Uber Accident Settlement?
How much you can expect to receive in compensation for your damages depends on the facts of your accident. The amount of your settlement will correspond with your injuries and other losses. However, several factors can affect how much you can expect for your Uber accident settlement:
The severity of your injuries
The expected cost of future medical treatment
The impact of the accident on your daily life
The exact amount of your economic damages
The strength of the evidence presented
Our injury lawyers can help you determine how much you can expect in your settlement as you build your Uber accident case. In addition, we'll work with you to understand how specific considerations may impact your case and calculate a fair claim value.
Meeting the Statute of Limitations for Your Uber Accident Case
Although most cases settle outside of court, Uber accidents can involve complicated considerations surrounding applicable insurance policies, liability, and driver status at the time of the crash. Therefore, if you cannot settle your case, you may decide to file a lawsuit to take your case to court.
However, according to NJ Rev Stat § 2A:14-2, you must file your lawsuit within two years of the accident. Otherwise, you might forfeit your right to seek compensation for your injuries. Our Uber car accident lawyers can help you work quickly to ensure you do not miss this critical deadline.
Contact Us Today for Help with Your Uber Accident Case
If you sustained injuries after an Uber accident in Englewood, our rideshare accident attorneys could help with your claim for compensation. We can work to help you build the evidence you need, calculate a fair case value, and meet the deadline to file your claim.
Call Morelli Law Firm at (212) 751-9800 to learn more about how we can help you after an Uber accident.