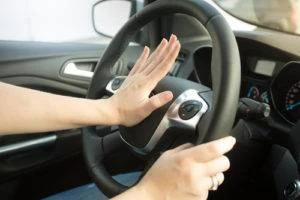 A New York aggressive driving accident lawyer from Morelli Law Firm may be able to help you build a car accident civil case and take action against the aggressive motorist who caused your accident and injuries. Under New York law, you may be able to pursue damages to cover your accident-related expenses and losses in some cases.
Let a member of the New York car accident team from Morelli Law Firm review the facts of your aggressive driving car accident case today for free. We may be able to represent you in insurance settlement negotiations or file a lawsuit on your behalf.
Call (212) 751-9800 to learn more. We handle car accident cases at no upfront expense to our clients, getting attorney's fees only if we recover a payout for you.
Identifying Aggressive Driving Behaviors
The National Highway Traffic Safety Administration defines aggressive driving:
"The operation of a motor vehicle in a manner that endangers or is likely to endanger persons or property."
Aggressive driving, by definition, puts other motorists and vehicle occupants sharing New York roads in danger. If an aggressive driver caused your accident and you or a loved one suffered qualifying injuries, you may be able to pursue a fault-based claim for compensation.
Aggressive driving may include behaviors such as:
Speeding
Distracted driving
Impaired driving
Tailgating
Frequent or unsafe lane changes
Running red lights or stop signs
Cutting other vehicles off
Racing or chasing
Other reckless driving behaviors
In some cases, a careless act may cause a car accident and lead to significant injuries. With aggressive driving, however, these acts may be intentional, reckless behavior. While both may support a civil lawsuit, depending on the circumstances, aggressive driving is generally more than just a mistake behind the wheel.
To learn more about aggressive driving accidents and your right to hold the aggressive driver liable, reach out to a NY personal injury lawyer at Morelli Law Firm now.
Building a Case for Damages Against an Aggressive Driver in NY
A New York aggressive driving accident lawyer from Morelli Law Firm knows how the New York car accident laws work and what it takes to be able to build a case and pursue fault-based damages. If we believe you qualify to do so, we will offer to handle your case at no cost to your family up front. We will only get paid if we can recover payment for you.
If you qualify to take civil action against the aggressive driver, we will take steps to support your allegations with evidence that may include:
Police report
Eyewitness statements
Accident reconstruction
Expert testimony
Physical evidence
Your medical records
Receipts, bills, and proof of expenses
While it may be possible to prove the driver was acting aggressively immediately before the accident, this is not a key factor in our case. We will only need to show they acted carelessly or recklessly behind the wheel leading to the immediate cause of your accident.
To learn more about what it takes to qualify for, prove, and win a civil case against an aggressive driver under New York law, contact Morelli Law Firm today. You can discuss your accident with a member of our team for free by calling (212) 751-9800.
Recoverable Damages in a NY Aggressive Driving Insurance Settlement or Court Award
Morelli Law Firm may be able to recover compensation on your behalf based on the facts of your New York aggressive driving car accident. This compensation may come from a negotiated insurance settlement from the at-fault driver's insurance company or through a court verdict and the accompanying payout.
This compensation may include both economic and non-economic damages. Examples include:
Medical treatment and care costs
Wages lost because of missed work
Reduced capacity to work and earn
Property damages
Miscellaneous expenses related to the accident
Wrongful death damages
Pain and suffering damages
Mental anguish and emotional distress
Other compensatory damages
In some cases, especially when it is possible to prove the at-fault driver acted in a particularly aggressive, extreme, and egregious way, punitive damages may be possible. We can discuss this possibility with you based on the facts of your case and the evidence we gather.
Deadlines Apply so Act Quickly After Your New York Car Accident
New York has statutes of limitations that apply to filing a civil lawsuit after a car accident. In general, the deadlines set by these statutes include:
New York's unique auto insurance and car accident laws may also create other deadlines in your case that you will need to understand and meet. You may have a deadline for filing your no-fault insurance claim, for example. We may be able to help you identify and meet all applicable time limits, but you will need to enlist our representation as soon as you can following your accident.
Discuss Your Case With a Member of Our NY Aggressive Driving Accident Team Today
A New York aggressive driving accident lawyer from Morelli Law Firm may be able to help you seek and secure compensation to cover your medical care, lost wages, injuries, and more following a serious car accident. We will review your case at no cost to you and may offer to represent you based on contingency.
We serve New York City, Long Island, and New York State up to Albany, as well as Northern New Jersey and Philadelphia.
Call Morelli Law Firm now at (212) 751-9800 to learn more about our team and services, to ask any questions about your legal options, or for a free case evaluation with a member of our New York car accident team.