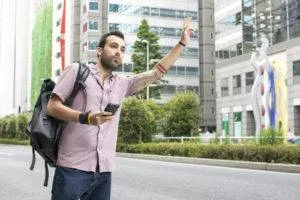 If you suffered injuries in an accident involving an Uber or Lyft rideshare driver, you may be able to pursue compensation by filing an insurance claim or lawsuit against the driver or rideshare company, under certain circumstances. These cases can be especially complex, and we recommend against accident victims trying to sort it out and negotiate a settlement on their own.
If you are not sure what to do or have concerns about paying for your injuries and other losses after a rideshare accident, a New York Uber and Lyft rideshare accident lawyer from Morelli Law Firm may be able to help. A member of our team will review your Uber or Lyft accident case for free today. Call (212) 751-9800 to get started.
You May Have Options for Filing a Liability-Based Claim After a New York Uber or Lyft Accident
New York has complex insurance laws even before considering the complications added from a liable driver operating an Uber or Lyft. However, if you suffered serious injuries, the expenses of your care and other losses may make it necessary to try to pursue compensation beyond what your no-fault policy can provide. This is where the team from Morelli Law Firm may be able to help. Reach out to a NY car accident attorney if:
You were a rideshare rider at the time of the accident, or
A rideshare driver hit your car.
We can review the facts of your case, your injuries, and other factors and help you understand if you are eligible to file a third-party liability insurance claim or civil lawsuit in your case. If so, we can take a deeper look at your case to determine the insurance policy that was in place at the time of the accident, which may include:
The individual driver's auto liability policy
A secondary policy provided by the rideshare company in the event the driver's policy denies the claim
Our team can help you sort out what happened, prove liability, file your claim or claims, and represent you throughout the process so you can focus on healing from your injuries.
Rideshare Companies Do Not Want This Process To Be Easy
Even as a New York Uber and Lyft rideshare accident lawyer from Morelli Law Firm, it was a learning process to figure out how to navigate this type of case as ridesharing became a common way to get around New York, and the laws had to catch up to ensure riders and others remained protected. Today, we know how to navigate these cases and regularly help victims seek compensation.
Today, most residents in the U.S. have access to these services, even in more rural areas outside of the city. There is no doubt about the popularity of ridesharing. Not only is it ubiquitous, however, it has also contributed to the rise in traffic accident fatalities in the United States, according to the Becker Friedman Institute at the University of Chicago.
If you suffered serious injuries or lost a loved one in a New York rideshare accident, call Morelli Law Firm today at (212) 751-9800 to discuss your options with a member of our Uber and Lyft accident team.
Pursuing Compensation in a Fault-Based Case Following a Rideshare Accident
If we can gather the necessary proof to show you qualify to pursue a third-party liability case by meeting an exception to New York's no-fault accident laws, Morelli Law Firm may be able to file an insurance claim and seek compensation on your behalf. If we can negotiate a settlement with the insurance company who represents Uber, Lyft, or the rideshare driver, you could recoup compensation for damages such as:
Medical treatment, rehabilitation, ongoing care, and related expenses
Lost pay because of time away from work
Reduction in earning capacity if you cannot return to work
Property damages
Other related expenses and losses
Pain and suffering damages
Emotional distress
Wrongful death damages
We encourage you to contact us as soon as possible if your injuries have stabilized or on behalf of a loved one with catastrophic injuries. We also offer free case reviews for those whose loved ones passed away in a rideshare accident. There may be deadlines in these cases, including timelines for contacting insurance companies and other actions we can take on your behalf if we know soon enough.
The statutes of limitations that apply to file a civil suit against the liable party or parties, if a fair insurance settlement is not possible, include:
Speak With a Member of Morelli Law Firm Car Accident Team
A New York Uber and Lyft rideshare accident lawyer from Morelli Law Firm may be able to take steps to help you recover damages following a rideshare accident in New York City, Long Island, or New York State up to Albany. We also represent victims of car accidents in Northern New Jersey and Philadelphia.
Let our team:
Review your case to determine if you qualify to take action
Identify the insurance policy or policies in effect at the time of your accident
Build a case on your behalf
File your claim and present the case we build
Represent you to the insurance companies and other interested parties
Fight for the compensation we believe you deserve
Cover all upfront costs for your case and only take our fees after you get a settlement or other payout
Call Morelli Law Firm now at (212) 751-9800 to get started right away.