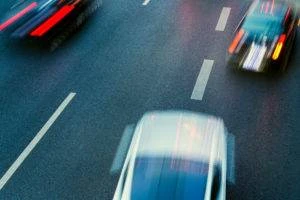 Unsafe lane changes happen when someone dangerously changes lanes or does something contrary to traffic safety laws. This is one of the leading causes of multiple vehicle collisions, which can cause devastating injuries and property damage. If you were involved in such an accident, call a NY car accident lawyer at Morelli Law Firm at (212) 751-9800.
Unsafe Lane Changes Can Cause Great Damage
The National Highway Traffic Safety Administration (NHTSA) defines lane change crashes as accidents that happen when one vehicle veers into another vehicle's path, crashing into them.
New York's vehicle code prohibits drivers from making unsafe lane changes in many situations. Those who do not follow these rules can put others and themselves at risk for accidents, and they may face legal liability if they caused an accident or property damage to another person.
The laws on unsafe lane changes in New York involve the following stipulations:
A driver is not allowed to change lanes until they are certain that it's safe
The left lane is only meant for making left turns or passing
Trucks, buses, and other slow-moving vehicles are required to use designated lanes
Double yellow lines and other markings that indicate hazardous crossings should not be crossed
If you or a loved one has suffered an injury as a result of unsafe lane changes, you may be able to recover damages. Call Morelli Law Firm at (212) 751-9800 for a free case evaluation from a New York accident caused by unsafe lane change lawyer.
Causes of Unsafe Lane Change Accidents
There are many ways a driver can make an unsafe lane change. For instance, not making the appropriate turn signal when changing lanes, changing at an intersection, or changing lanes while driving at high speeds are all unsafe driving practices. Likewise, an accident can also be caused by a driver who engages in unsafe habits.
Examples of habits that may lead to accidents include:
Not checking blind spots
Not checking both mirrors
Drifting to another lane
Texting or using the phone while driving
Not signaling
Driving under the influence
Changing in a lane with diminished visibility
Whatever the situation, unsafe lane changes are considered a traffic violation. New York requires vehicle operators to remain within a single lane and only change lanes when the situation permits.
When drivers do not take proper precautions before they change lanes, they are more likely to be cited by authorities, and when accidents happen because of their wrongdoing, they will be held liable for the damages they caused.
Serious Injuries Caused by Unsafe Lane Changes
Unfortunately, there is a slim chance for someone to avoid getting hit by a car that changed lanes suddenly, therefore making it very challenging to move out of the way.
Because bikes and motorcycles do not protect their drivers physically, they are more at risk of suffering from serious injuries in accidents like this. Even a low-impact crash can result in devastating consequences such as:
Broken bones
Traumatic brain injury
Spinal cord injury
Internal injury
Death
What to Do After an Accident Caused by Unsafe Lane Changes
Drivers who violate the state's rules when they make unsafe lane changes can cause accidents that could seriously be detrimental to the health of pedestrians, cyclists, and other vehicles. If you were involved in an accident like this, here's what you should do.
First, report it to the authorities as soon as you can. This is important because you need to have an accurate and timely record of what happened. You want the report to reflect that the accident happened because of a negligent driver's unsafe lane change.
Next, you need to collect information. Depending on your condition, do your best to take photos and videos, and exchange information with the driver involved. This includes their insurance information, address, and phone number. Also, take note of the security and traffic cameras around, as well as if there are any witnesses.
Third, it is vital to seek medical attention, even if you are not sure if you obtained serious injuries. Sometimes, this may be quite difficult to determine following the accident, but getting checked by a medical professional is important to protect your health and well-being and record your injury officially, including how you obtained your injuries.
Finally, you can seek assistance from an accident caused by an unsafe lane change lawyer. A professional will allow you to explore whether or not you can recover compensation. You may recover your financial losses from a driver who improperly changed lanes, which caused your injury. All accidents are unique, but depending on the circumstances of your accident, you may be entitled to recover:
Lost wages
Past, present, and future medical expenses
Pain and suffering
Lost earning ability
Emotional trauma
You need to act fast, though. According to New York Civil Practice Law & Rules (CVP) §214, the state has a three-year statute of limitations for car accident claims. However, it is not advised to wait to do any of the tasks listed above since it can decrease the likelihood of preserving accurate evidence, which can affect your compensation.
Determining Fault in an Accident
In most accidents caused by unsafe lane changes, there is a driver who was following road safety regulations and one who attempted to change lanes. Usually, the driver who changes lanes is the one at fault, but in some situations, it can be possible for both drivers to share the blame.
On multi-lane highways, two drivers can enter a single lane from either side at the same time. If they crash into each other, a jury has to decide who is at fault. There are also situations where drivers can share fault when a driver changes lanes. If the driver in the rear speeds up to overtake, they can also be held liable for the accident because of speeding. At the same time, the first driver who changed lanes also violated their duty to wait to change lanes if a car was approaching from the back.
A New York Accident Caused by Unsafe Lane Change Lawyer Can Help You
If you or a loved one sustained injuries because of a car accident with a driver that changed lanes in unsafe conditions, you might retain the help of an accident caused by unsafe lane change lawyer. Contact Morelli Law Firm at (212) 751-9800 for a free case evaluation.