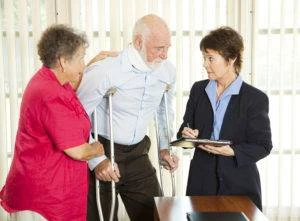 Accidents can disrupt your life in an instant, changing the course of your future and provoking so much uncertainty. When this happens, you need all the help possible to recover all losses and get compensation for the trauma, injuries, and pain you have suffered.
While money won't necessarily fix everything, the settlement from the negligent party's insurance provider will contribute to making you whole again. And to ensure that you get the maximum settlement amount possible, you need a competent and experienced Chesterfield personal injury attorney.
The personal injury team at Morelli Law Firm will fight for your financial recovery. We have helped many injured victims like you in the past with much success. Let our skilled legal team help you get what you deserve today.
How Our Personal Injury Law Firm in Chesterfield, MO, Can Help You
We understand that this is a tough and stressful time in your life. So, when we take your case, we'll fight for you and make sure that you recover and receive all the benefits and compensation that you should get when you file a personal injury claim.
We're committed to making your life easier by taking on the legal process so that you can focus on healing and making a full recovery.
Handling Insurance Negotiations
Have you been approached by the at-fault party's insurance company? If yes, don't take their offer just yet. Talk to a lawyer first. Insurance adjusters are trained to coerce accident victims into taking the lowest possible offer. They often try to reach out to the victim with an offer to get the victim to collect the money and forget about pursuing the case further.
The problem with that is they often make victims a lowball offer. And many injured victims unwittingly take these offers thinking that they have a good deal when in reality, they're getting the short end of the stick.
After handling hundreds of personal injury cases just like yours, we can categorically tell you that initial compensation offers from insurance companies are almost always lower than what they can pay you.
When you hire us, you won't have to worry about where the money for your bills, repairs, medical treatments, and other expenses will come from. We will negotiate with the insurance company, file a lawsuit if they don't agree to pay what you're owed, and do everything within our power to ensure you get your compensation.
Grounds for Filing a Personal Injury Case in Chesterfield, MO
The typical personal injury claim in Missouri is centered around proving negligence. In this case, your injury attorney will try to establish fault and show that the other party is largely responsible for your injuries. To do this, we'll have to prove the following elements of a negligence-based claim:
Duty of care

: There has to be proof that the defendant or accused was meant to act in a manner that would ensure reasonable safety. For example, all drivers are required and expected to drive safely and with consideration for other road users.

Breach of duty of care

: Your lawyer has to show that the accused didn't fulfill their end of the obligation. For example, a driver who engages in reckless driving behavior has breached the duty of keeping other road users safe. As a result, the accused has put other road users in danger through their actions.

Causation

: Through their reckless actions or negligence, the accused caused you harm. For example, because of the driver's reckless driving actions, they ran a red light and T-boned your vehicle.

Damages

: The accused's actions or negligence led to an accident that caused your injuries, damaged your vehicle, and cost you money for treatment. For example, because the driver ran a red light and hit your car, you sustained significant injuries and had to seek medical treatment.
Missouri follows a pure comparative fault system under RSMo § 537.765, which means the at-fault party doesn't need to be 100% negligent for you to receive compensation. Even if you share some of the liability, you can still pursue financial recovery from them.
In other cases, such as defective product injuries, you can file a personal injury claim on the basis of a concept known as strict liability. In strict liability cases, victims merely need to demonstrate that someone had a statutory obligation to ensure their safety.
We know that these concepts and terms can be quite confusing for you. So, let our Chesterfield personal injury attorneys deal with that while you just get healthy and better.
What Constitutes a Personal Injury?
Personal injury law covers a broad range of accidents. At Morelli Law Firm, we can help you seek compensation in a personal injury claim if your case falls under the following categories:
Construction accidents

Medical malpractice

Slip and fall

Premises liability

Defective drugs

Wrongful death
If your injuries were caused by one of these, we might be able to help you recover compensation. Even if your type of accident isn't provided here, we can still help you determine if you have a valid case when you reach out to us for a consultation.
Contact a Chesterfield Personal Injury Lawyer
Personal injury cases often require the unique skills and experience of seasoned personal injury lawyers. This is because only a good lawyer can help you file your claim correctly and within the right time frame, negotiate with the insurance company, litigate on your behalf in court (if it comes to that), recover the appropriate damages, and get the maximum settlement possible.
At Morelli Law Firm, every Chesterfield personal injury lawyer on our team can do all these and more for you. We have won over $1 billion for victims like you, so we know how to win and get you the money that's rightfully yours. So, don't wait until it's too late. Get in touch with us today for a free case evaluation.