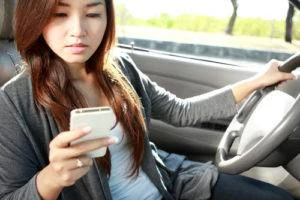 If a texting driver caused your New York car accident and you suffered injuries as a result, you may be able to hold them accountable for your injuries and expenses. This accountability may be possible by filing an insurance claim or taking the case to trial, but you will need strong evidence and documentation of your losses.
A New York texting while driving accident lawyer from Morelli Law Firm may be able to help you build your case and seek compensation. We know how to prove fault and confirm liability, and the types of evidence insurance companies and courts want to see.
Call Morelli Law Firm today at (212) 751-9800 to learn more. We offer free case reviews for victims of distracted driving car accidents in New York.
New York Has Strong Laws Against Texting and Driving
According to New York State Police, New York was the first state to pass a law against handheld phone use back in 2001, even before text messaging was as widespread as it is today. There is also a law against texting specifically, including:
A secondary enforcement law since 2009
A primary offense since 2011
Still, drivers continue to text and drive. Other similar actions may also fall under these laws, including:
Reading articles, messages, or posts
Typing emails
Posting on social media
Other handheld use of the phone to read or enter information
While drivers who text and drive are facing the possibility of getting a ticket, there may be more serious consequences. The distraction caused by reading or sending a text can lead to careless or reckless mistakes that cause accidents. When this occurs, the ticket may not matter. They could face significant civil consequences. Those who suffer injuries in these accidents have a right to hold them accountable by filing a claim or lawsuit.
What this means is that if another driver was texting and caused your accident, you may be able to recover a payout for your related expenses as well as non-economic losses.
To learn more, reach out to Morelli Law Firm today. We can review your case for you and help you understand your options.
Building a Case for Compensation Based on Texting While Driving
If we believe you have a strong enough case to support legal action, a New York texting while driving accident lawyer from Morelli Law Firm can go to work on your case quickly. We will take steps to get a better understanding of what happened, how, and why.
This includes documenting the other driver's negligent action that led to your accident, such as running a red light, failing to stop at a stop sign, or crossing over the centerline. We may also be able to document that they were texting at the time, explaining why this occurred. However, this is not strictly necessary to secure a payout in your case.
Using evidence, we may be able to show the insurance adjuster or judge and jury that the other driver caused your injuries and losses, the value of those losses, and the value of your case. This evidence could entitle you to financial recovery.
Call Morelli Law Firm today at (212) 751-9800 for a consultation with a member of our team. These consultations are always free for accident victims.
Damages Potentially Recoverable in a NY Texting While Driving Accident
If we can prove another driver acted negligently and caused your accident, the texting while driving accident team from Morelli Law Firm may be able to recover compensation on your behalf. Whether it comes from an out-of-court settlement with the at-fault driver's insurer or because of a verdict and award, it may include damages such as:
Pain and suffering and other non-economic losses
Medical care costs related to the accident
Lost wages, both past and future
Reduced ability to earn if permanent injuries keep you out of your previous job
Miscellaneous out-of-pocket expenses
Property damages
Other expenses and losses tied to your accident
There Are Time Limits Set by the State's Statutes of Limitations
Even if you have a strong case proving a driver was texting and caused your New York accident, you could lose the right to file a lawsuit and hold them accountable for your injuries, losses, and other damages if you miss certain deadlines in your case. Under New York law, there are statutes of limitations to pursuing this type of case.
The deadline for filing a personal injury lawsuit is generally three years from the date of the accident under New York Civil Practice Law & Rules §214. If you or a dependent suffered injuries in a car accident, this is the type of case you may need to pursue if you cannot reach a fair settlement with the insurance company.
If a member of your family passed away in a New York car accident, you may only have two years to file a wrongful death action under New York Estates, Powers & Trusts §5-4.1.
Because there are many steps we need to take before filing a lawsuit, we ask potential clients to contact us about their cases as early in the process as possible. An early start allows us to launch an investigation while witnesses remember details, and evidence is still available.
Speak With a Member of Our Team About Your Accident Today
A New York texting while driving accident lawyer from Morelli Law Firm may be able to help you build a case and seek a payout if a texting and driving motorist caused your injuries. In addition to New York City, our legal team also serves Long Island, New York State up to Albany, Northern New Jersey, and Philadelphia.
You can speak to someone from Morelli Law Firm today by calling (212) 751-9800. We offer complimentary case reviews and handle car accident cases based on contingency.