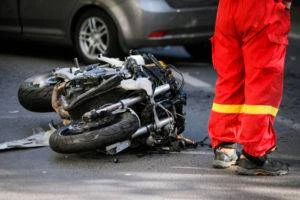 One of the most common causes of motorcycle accidents with other vehicles is drivers not noticing them on the roadway.
When drivers fail to properly examine their surroundings and do not actively protect their fellow motorists, motorcyclists can become victims of extreme injuries and devastating costs. The simplest inaction or distraction can spell disaster for a rider.
You should not be left with the financial burden of paying for your losses due to someone else's recklessness. A White Plains motorcycle accident attorney with the Morelli Law Firm can help you pursue the compensation you need.
Negligence Is a Major Cause of Motorcycle Crashes
According to the National Highway Traffic Safety Administration (NHTSA), motorcyclists are around 28 times more likely to be killed in a traffic accident than individuals in passenger cars. Further showcasing the dangers that riders face daily, motorcyclists account for only 3% of the total amount of registered vehicles on the roadways, yet they make up 14% of all fatal crashes.
Further negligent causes of accidents between motor vehicles and motorcycles may include:
Failing to observe traffic laws

Rideshare and taxi drivers moving erratically to pick up passengers

Driver distraction, such as cell phone use

Loose manhole covers

Excessive speeding

Inexperienced and unqualified drivers

Driving under the influence of drugs,

alcohol

, or other substances

Unsafe lane changes

Tailgating

Driver fatigue

Reckless driving

Failing to adjust to weather and road conditions

Failure to obey traffic signals and stop signs
The laws surrounding liability are complex and many parties may be to blame. Liability is shared in many instances of motorcycle accidents, and some of the liability may be on you. This is why it's important to contact a motorcycle accident injury attorney immediately after an accident.
A Word on Handling Contact With Insurance Companies
You can easily be exploited by insurance company adjusters, so it's important to use caution and keep the small talk to an absolute minimum. Any statements you make are admissible in court and can be twisted to use to their advantage.
Their job depends upon reducing the liability to their company, and they'll work hard to find a way to place the blame on you. Insurance adjusters are always under pressure to keep payouts to a minimum, so any offer they make you are not likely to be the best offer of compensation you can get.
Speaking to the insurance company, offering consent to recorded statements, or signing anything before you consult an attorney can put your claim at risk. Your lawyer will deal with all the communications on your behalf. Take their contact information, and let them know you'll have someone get back to them.
What a White Plains Motorcycle Accident Lawyer Can Do for Your Case
If you choose to retain the services of a White Plains motorcycle accident attorney from our firm, you'll have the benefit of a team of legal professionals with decades of combined experience.
Our attorneys are litigation professionals who understand the legal complexities surrounding motorcycle accident cases. Our primary focus is personal injury law, and we've spent our careers perfecting our knowledge and our practice. Some of the services we provide include:
Courtroom Experience and Legal Expertise
Attorneys need to perform well under pressure. They need to have impeccable negotiation skills and possess the evidence to prove negligence. Often, collecting the right evidence and having a law degree is not enough.
They should have presentation skills that can only be honed by courtroom experience. Our attorneys have intensive litigation experience and will represent you competently in negotiations and in court.
Managing the Insurance Company
In addition to handling all contact with the adjusters, a motorcycle accident lawyer can also save you the trouble of filling out mountains of forms from the insurance company. Often, the insurance adjusters shower claimants with unnecessary paperwork to make things difficult. A lawyer understands which forms are necessary and can put a stop to these games.
Maintain Legal Deadlines
Strict observance of legal deadlines is critical to avoid risking your claim. Having an attorney means that your legal calendar will be managed properly and all forms and documents will be prepared and submitted correctly.
Contact With All Involved Parties
There can be multiple parties, several insurance companies, and numerous attorneys engaged in motorcycle crash cases. The injured victims are often unable to physically and mentally deal with all the correspondence and communication required to pursue a successful claim. Your motorcycle lawyer can take care of these issues for you.
Identify All Sources of Liability
Having an attorney means you have an important resource that can locate and identify all the potential sources of liability. This is important because it may allow access to additional sources of compensation as the liability can be shared by multiple parties.
Determining Liability in a Motorcycle Accident
We investigate the root causes of the accident, which may lead to less obvious sources of liability. While the cause may appear to be clear, underlying factors and other parties who contributed to the crash should be held accountable.
Some other parties we may pursue claims against include:
Other drivers involved in the crash

Your insurance provider

Vehicle and parts manufacturers

Pedestrians or cyclists involved in the accident

Government agencies responsible for traffic signs, signals, and roads
Parts can be defective on a car or motorcycle and that can lead to serious accidents. Drivers can be distracted, pedestrians can enter the roadway unexpectedly, and stop lights can malfunction. Anything can contribute to a motorcycle accident, so it is important to investigate all factors.
In cases where a sufficient settlement isn't reached through negotiations, your motorcycle accident attorney in White Plains will not hesitate to pursue the matter aggressively in court.
Gathering the Right Evidence Is Crucial After a Motorcycle Accident
A motorcycle accident attorney will have the ability to obtain valuable evidence from various sources. They can use a variety of methods to prove liability in motorcycle accident cases, and their ability to gather the right evidence can make or break a case.
Our firm has the expertise to understand what evidence is important to have in a motorcycle crash case, and has the resources to obtain it.
Your attorney will likely review the following to build your case:
Calling upon accident reconstructionists to analyze evidence left at the crash scene, such as skid marks, paint streaks, and forensic evidence

Using cell phone records to show if a driver was distracted at the time of the accident

Looking at police reports from the accident, which can indicate driver impairment or other contributing factors

Documenting eyewitness statements and potentially calling them to testify

Reviewing medical records, which can not only show the extent of the victim's injuries for compensation but may shed light on the angle of impact and speed the offender was traveling

Collection and review of driver records, traffic camera footage
Recoverable Damages in a Motorcycle Crash Case
Calculating the total damages for a bike crash case will be one of the most important tasks your lawyer will perform. This complete and accurate review will ensure that no expense escapes notice.
Our personal injury attorneys have worked with countless motorcycle accident victims all over New York who have had their lives dismantled by the recklessness of other drivers. We know the financial burden that follows a bike crash.
Examples of potentially recoverable damages in these cases can include:
Mental anguish

Punitive damages in some cases

Ongoing care

Lost wages and loss of future earnings

Loss of consortium

Medical expenses and future cost of medical treatments

Mental anguish

Property damage
An experienced motorcycle accident lawyer in White Plains can conduct a comprehensive evaluation of all the damages. This accounting will include consultations with medical and economic professionals to ensure that future costs are appropriately compensated.
Common Motorcycle Accident Injuries
Motorcycle accidents have a severe emotional, physical, and financial toll on their victims. According to studies presented by the New York State Department of Health, 141 motorcycle riders lose their lives each year in motor vehicle traffic-related accidents.
Even for those riders fortunate enough to survive their accidents, 1,558 injured parties require hospitalization each year due to their injuries. While your PIP and health insurance are designed to protect you financially in the event of a crash, severe injury victims can exhaust the limits of their insurance before even leaving the hospital.
People often suffer multiple injuries in motorcycle accidents. These are the most common:
Spinal cord injuries

Paralysis

Nerve damage

Lower extremity injuries

Organ damage

Internal bleeding

Road rash

Abrasions, puncture wounds

Contusions

Concussions

Traumatic brain injury
According to the Centers for Disease Control (CDC), the average cost of medical treatment in the emergency room is $15,211 for non-fatal motorcycle injuries. Considering this fact, it's important to make every effort to secure the maximum amount of compensation possible after an accident.
A motorcycle accident lawyer understands the severity of these injuries and the financial damage you may be facing. Your attorney will account for every expense of your injuries to build a strong case for your restitution of these costs.
Contact a Motorcycle Accident Law Firm in White Plains
The cost of injuries in a motorcycle crash can permanently damage a victim's livelihood in every way. Our White Plains motorcycle accident lawyers work tirelessly to defend the rights of motorcyclists and to secure maximum compensation on their behalf.
We have built our careers on the successful recovery of over $1 billion for our clients, and we may be able to help you. For more information, a representative with Morelli Law Firm will be happy to answer any questions you may have during a free case evaluation. Contact us today; we are here to help.