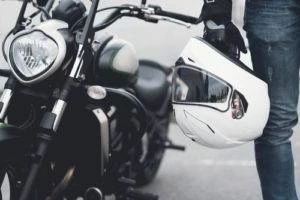 Motorcycle accidents have a variety of causes, including alcohol. According to the Institute for Traffic Safety Management and Research (ITSMR), 3% of motorcycle accidents involved alcohol in New York in 2018. This figure is based on motorcycle injury accidents reported to the New York State Police.
If you were hurt in a motorcycle accident caused by another party's negligence, you may be able to recover compensation for your damages.
Driving Under the Influence and Motorcycle Accident Liability
Driving under the influence of alcohol is dangerous because it affects both reaction time and judgment. The National Highway Traffic Safety Administration (NHTSA) reports that a driver with 0.08% blood alcohol concentration (BAC)—the legal limit for driving—can have reduced muscle coordination and impaired reasoning and perception.
Someone who has been drinking may not be able to brake when needed, stay in their lane, or pay attention to other drivers on the road. This can easily lead to an accident with deadly consequences and costly damages.
If an intoxicated driver's negligence caused your accident, they may be liable for your damages in a personal injury case.
It is important to note that you do not necessarily need to prove that the party responsible for your accident was intoxicated to recover compensation. In cases involving NY motorcycle injury accidents, you may be able to establish liability with evidence the responsible party caused your accident by committing any violation of traffic law, such as:
Failure to yield
Speeding
Illegal turn or lane change
Running a red light or stop sign
Potentially Recoverable Damages
If you or a loved one were injured in a motorcycle accident caused by another party's negligence, you may be able to recover compensation in an insurance claim or lawsuit.
Depending on the details of your case, the potentially recoverable damages may include:
Medical Bills
Medical costs can rise quickly after any motor vehicle accident. You may be charged for extended hospital stays, doctor visits, prescriptions, and more. In a personal injury case, all current and future accident-related medical bills may be covered.
Lost Wages
If you're out of work for an extended period of time while healing from your injuries, this could mean missed paychecks. Your damages may cover lost wages as well.
Property Damage
Property damage, including repair or replacement of your vehicle, may be recoverable.
Wrongful Death Damages
If your loved one perished due to the irresponsible behavior of another driver, you may be able to sue for wrongful death damages. These damages may include things like funeral and burial costs, pre-death medical care, and more.
How Quickly a Lawsuit Needs to Be Filed
New York imposes a statute of limitations, or legal deadline, on certain types of lawsuits. Per New York Civil Practice Law & Rules (CVP) §214, you generally have three years to file a personal injury lawsuit. For a wrongful death lawsuit, there is a general two-year statute of limitations, per New York Estates, Powers & Trusts (EPT) §5-4.1.
In either type of case, waiting too long to file a lawsuit could mean that your case gets dismissed and that you are unable to recover compensation for your damages.
How a Lawyer Can Assist You
You do not need to hire a lawyer to pursue damages after a motorcycle accident, but a lawyer may be able to assist you in a number of ways.
A lawyer can protect your right to sue by filing your case within the legal deadline. A lawyer can typically gather evidence, identify the liable parties, and fight for compensation on your behalf in settlement negotiations or on trial.
While you focus on your recovery, a lawyer can also handle all communications for you and keep you updated on your case.
Call Morelli Law Firm for a Free Consultation
If you or a loved one have suffered an injury in a motorcycle accident involving alcohol, you may have options for financial recovery. A personal injury lawyer from Morelli Law Firm may be able to manage all aspects of your case when we represent you. We also handle wrongful death lawsuits.
For a free case review with a member of our team, call Morelli Law Firm today at (212) 751-9800. We can tell you more about your legal options during this call. If you qualify, we may be able to offer you representation on a contingency-fee-basis with no up-front payment necessary.