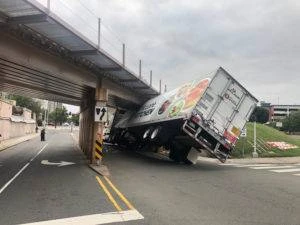 Nestled near I-287 on the edge of the New York Metropolitan Area, White Plains sees many truckers come through every day. They're an important part of the supply chain, but they're also the source for some of the worst accidents you'll see on the road.
If you've been in a wreck with a truck in White Plains, Morelli Law is are ready to help you. Our truck accident lawyers in White Plains will inspect your case to see who among the many parties in a truck accident could be responsible, then sue them to get your due compensation.
Why Are Truck Accidents So Dangerous?
Any time you increase the speed and weight of a vehicle, they will crash with more force. Commercial trucks are among the heaviest vehicles on the road. They're so dangerous that drivers have to receive special training before they can drive them on public roads.
This training only reduces the chance of an accident, and truck accidents happen all the time in busy border towns like White Plains. The City of New York is a huge transportation hub; we have to live with the trucks.
Trailer trucks have greater dangers because of the chance of a car slipping underneath the trailer. When this happens, the lower edge of the trailer can crash straight through the windshield. This is often a fatal accident.
Who Can I Sue in a Truck Accident?
Unlike a normal car accident, where you can only sue the driver, there are multiple potential parties you can use in a truck accident. This is good because truck accidents are often more expensive than similar car accidents. Some of the involved parties could include:
The truck driver
A third driver involved in the crash
The truck driver's employer
The manufacturer of the truck or a particular part that failed
The mechanic who worked on the truck or their employer
Local and state governments, if the roads were the reason for the crash
The truck accident attorneys in White Plains cases will listen to your story and do an investigation to find out all parties that could be responsible for your accident. With the whole picture, our team can build the strongest case and work to get you full compensation.
What About New York's No Fault Laws?
New York is a no-fault state for auto accidents. This means that you get paid through your own insurance first in most accidents. However, there is an exception in New York law that opens the possibility of suing other parties. This is the "serious injury" exception.
Many of the truck accidents cases we've seen meet the standards for a serious injury. The forces involved in a truck crash are so great that it's hard to escape such a crash without one. Your hospital or doctor examination can give us the evidence to show the court that we need to go above and beyond your PIP limit to truly make you whole.
Should your case not meet this standard, we can still assist you with making a claim against your own insurance under the no-fault laws. This is one of the items we will discuss with you during your free consultation.
Our White Plains Truck Accident Lawyers Get Results
Morelli Law has been helping the people of White Plains for years with all kinds of personal injury claims, including truck accidents. We have many testimonials vouching for our approach and success in law. Now it's our turn to help you.
As soon as you've been seen by a doctor, your next call should be to a White Plains truck accident attorney. You can call the number on your screen or contact us. We will schedule a free, no-obligation consultation with you about what happened.