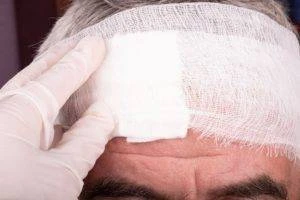 If you or your loved one are injured in an accident, you're likely contending with expensive medical bills, missed time at work, and other unforeseen expenses. Finding the right lawyer to help you with your personal injury legal claim can make a big impact on your case.
Whether you have been injured in a slip-and-fall accident or you've been hurt in a crash with a drunk driver, you don't deserve to be stuck with the expenses. The Cape Girardeau personal injury attorneys of Morelli Law Firm can be a powerful advocate and voice for your claim.
Cape Girardeau Personal Injury FAQ
Accidents can disrupt daily life and cause difficult financial situations for victims and their families. Knowing who to turn to for information and support can be confusing. Seeking compensation after an injury in Cape Girardeau can require excessive amounts of time and energy that injury victims may not have.
Many people want to hire an attorney to handle the details, but they also may question whether or not an attorney is right for their situation. Here is a list of our most frequently asked questions to help you be better informed before making a decision.
What Kind of Claims do Personal Injury Lawyers Handle?
When you are hurt in an accident that was caused by the negligence of another, you need a personal injury attorney who is knowledgeable about the various complications involved in each case.
We have recovered substantial compensation on behalf of injury victims involved in all varieties of personal injury claims. A personal injury lawyer can represent you in cases involving:
Amputation and loss of limbs
Premises liability
Tourist accidents
Uber, Lyft, and other rideshare accidents
Workplace accidents
Dog bite injuries
Birth injuries
Bicycle accidents
Taxi accidents
Defective drugs
Bus accidents
Slip and fall accidents
Defective products
When you are injured in an accident caused by another person's negligence, it is crucial that you get in touch with a personal injury lawyer with an understanding of the different complexities involved in each case.
A personal injury lawyer in Cape Girardeau will have expertise in the laws and medical aspects that pertain to your accident.
Do I Need an Attorney for My Personal Injury Claim in Cape Girardeau?
An attorney can help you in your pursuit of damages in your case and work to make the entire process easier for you. Our primary focus is to maximize the compensatory damages you receive for your claim, but we also work to reduce some of the pressure on injury victims and their families. An attorney from our firm will:
Protect Your Rights
The extent and severity of any injuries you sustained will be challenged by the insurance adjusters or the opposing counsel involved in your claim. They will try to deny the need for extended treatment or minimize the impact the injuries have had on your life.
A lawyer will defend your claim by providing evidence, documentation, legal arguments, and expert witness testimony. The losses you have endured due to your accident should be fully compensated, and a personal injury lawyer with our firm will fight for the full value of your claim.
Your right to compensation comes with a deadline though. Under RSMo § 516.120, most personal injury claims must be filed within five years of the date of the accident and injury. A lawyer will protect your right to compensation by ensuring your claim is filed on time.
Work to Establish All Sources of Liability
Several parties can share liability under Missouri law, and we work to locate every liable party to ensure that you have the best chance of recovering the most from your claim. Liable parties in accidents can vary depending upon the type of accident you had, but the typical parties may be:
A motorist

The motorist's employer

A business owner

A management company

The trucking company

The owner of a company or vehicle involved in an accident

The manufacturer of defective parts

The maintenance providers of a property or a vehicle

Municipal or government entities

A healthcare provider

A Property owner
Missouri operates on a pure comparative fault system, which means if multiple parties are liable, those parties will be responsible for your compensation based on their percentage of fault. Similarly, if you maintained any level of fault—even up to 99%—your compensation award or settlement will be reduced by that percentage of the total.
Provide an Accurate Account of Damages
Many accident victims face considerable medical bills and lost wages due to their injuries. The law allows you the legal right to pursue all damages so that you are not left with any financial burden resulting from an accident.
A Cape Girardeau personal injury attorney with our firm will provide a complete accounting of all the losses associated with your accident. These damages could include:
Medical expenses for current and future treatment of your injuries

Loss of wages

Loss of enjoyment of life

Loss of consortium

Loss of future earning capacity

Emotional distress and mental anguish

Property damage
Insurance companies will try to blame you or reduce their liability by accusing you of having part of the fault for the accident. Your personal injury lawyer will handle all communications with insurance adjusters to ensure that you are defended against allegations of liability.
Our firm will negotiate aggressively to secure the maximum settlement on your behalf. In the event that negotiations do not result in a sufficient result, we will be prepared to pursue the matter in court.
What Evidence Is Needed in a Personal Injury Claim?
It's critical to have the right evidence to have a successful outcome in your case. Contacting an attorney in the immediate aftermath of an accident may help to preserve evidence and help you to avoid being treated unfairly.
In the chaotic moments after an accident, evidence can be inadvertently or intentionally destroyed, degraded, cleaned up, repaired, or lost.
Your attorney may be able to provide you with important advice and guidance during a confusing time and may send a spoliation letter to the defendants to remind them that evidence tampering is illegal and that they should act accordingly.
Physical evidence helps your lawyer to prove who is responsible for the accident. Some common types of relevant physical evidence can be:
Broken or defective products that caused injuries

EDR or black box data from a vehicle

Broken stairs, poor lighting, or a broken handrail

Torn or bloody clothing

Physical evidence like defective vehicle parts

Tire skid marks on a road

Visual obstructions

Eyewitness reports and statements

Footage or images from traffic cams, witness photos, surveillance video, or dash cams
The evidence you have and how it is presented can transform the results of your claim. A personal injury attorney will take care to ensure evidence admissibility by cataloging the location of the stored evidence and establishing the chain of custody.
Can I Work With the Insurance Adjuster on My Own?
While you can choose to work with the insurance company on your own, it isn't without risk. The insurance adjuster is a professional whose job is to reduce liability, minimize payouts, and deny claims. They are highly trained and under extreme pressure to keep their companies profitable.
They have been known to record statements and use the words you say against you in court. They can also seek information about you on social media in order to challenge the severity of your injuries. You might also find that your calls are being ignored so that they can wait out the statute of limitations and be free of the responsibility to pay.
Proving negligence in any personal injury case comes with legal obstacles and challenges. A Cape Girardeau personal injury attorney will know to avoid potential pitfalls and have a keen understanding of tactics that insurance companies may use to reduce or deny your claim.
What If My Accident Injuries didn't Show Up Right Away?
Even if you left the scene of an accident feeling fine, you might still need help. When you are hurt in any type of accident, it's crucial to be evaluated by a doctor. Your injuries can sometimes result in the need for emergency treatment or become worse without prompt intervention.
The adrenaline your body naturally produces can mask pain and injuries after a startling event like a crash or a fall. If you haven't already done so, seek a complete medical evaluation now.
The injuries that may appear over time are called delayed onset injuries. People can sometimes walk away from an accident and later discover that they have been hurt. Delayed onset injuries can be:
Concussions

Organ damage

Ligament, tendon, or muscle damage

Internal bleeding

Whiplash

Soft tissue injuries

Disc herniation

Traumatic brain injuries

Bone fractures
It's also important to document your pain and how you feel in the days after the accident in writing so that you, your lawyer, and your healthcare professionals can understand the impact the accident has had. If you feel like something is wrong, listen to the signals your body is sending.
People often hesitate to see a doctor in the days after a crash because they worry about damaging their claim, even though that isn't usually the case. A personal injury attorney in Cape Girardeau can provide you with legal advice about how to best prove your claim.
Do I Have to Appear in Court?
In 95% of personal injury cases, you will not have to appear in court. The truth is that only 5% of personal injury claims ever see the inside of a courtroom according to the Bureau of Justice Statistics.
Much of the personal injury claim work involves analysis of evidence to develop a solid legal strategy and lots of aggressive negotiation with the insurance company, their attorneys, the defendant's legal counsel, and other pertinent parties.
It's stressful, time-consuming, and costly to the injury victim to engage in court proceedings. Your attorney understands that the work needs to be done as efficiently as possible to ensure a successful resolution in a reasonable amount of time.
However, the personal injury lawyers of Morelli Law Firm are litigators and are not intimidated by corporate legal teams or the courtroom. We will prepare you for any situation that may arise and be ready to pursue court action if necessary.
Can I Afford a Personal Injury Attorney?
Our personal injury attorneys in Cape Girardeau accept clients on a contingency fee basis. This allows victims to access the legal services they need without further financial burdens during an already difficult situation.
This means that your attorney will only collect payments if they win your case or reach a settlement. A percentage of your recovery will then be paid to the attorney. This percentage is typically 33.3% to 45% and is pre-agreed.
This benefits the victim as there is no risk and additional expenses. The client also has the assurance that the attorney is motivated to maximize the amount recovered on your behalf.
Contact a Cape Girardeau Personal Injury Law Firm Today
When you have been hurt in an accident, your injuries can have an impact on every aspect of your life. Medical costs are just a fraction of your loss. You may have lost wages, lost opportunities, and missed out on activities because of your injuries.
The overall disruption in your life is a factor most insurers don't consider, but an attorney will work to make it an important factor in your claim. If you believe negligence contributed to your injury, contact Morelli Law Firm's personal injury lawyers in Cape Girardeau to schedule a free case evaluation. Learn how we can help you today.