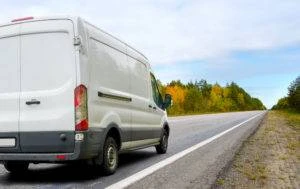 Commercial vehicles often outweigh passenger cars, causing devastating injuries in a collision. If you have suffered damages due to a commercial truck wreck, our White Plains commercial motor vehicle accident lawyers can help you secure a fair recovery.
The personal injury lawyers at Morelli Law Firm will represent your case and fight to protect your rights to a fair settlement. Commercial vehicle drivers and the companies they work for must be held liable for negligent behavior, and our legal experts will make sure that they are. Learn more about our legal strategies by scheduling a free claim review.
Types of Commercial Motor Vehicles in New York
A commercial motor vehicle (CMV) is a motor vehicle used on a highway, in interstate commerce, that:
Can transport more than eight passengers for compensation
Transports more than 16 persons (including the driver) but not for compensation
Transports hazardous material outlined by the Secretary of Transportation
Weighs 10,001 pounds or more
People who operate CMVs are responsible for obtaining up-to-date commercial driver's licenses (CDLs). Examples of commercial motor vehicles found on New York roadways can include:
Semi-trucks, tanker trucks, pickup trucks, and box trucks
Buses
Taxicabs
Shuttle vans
Coaches or tour buses
Limos
Common Causes of NY Commercial Motor Vehicle Accidents
Data reports show the number of large trucks involved in fatal collisions has increased by 16% since 2016. Truck operators have a duty to drive their vehicles in a reasonable manner. When they breach this duty, they exhibit truck driver negligence.
Examples of negligent actions that cause motor vehicle collisions in New York are:
Driving too fast for weather conditions
Intoxication
Fatigue or extreme stress
Aggressive driving and tailgating
Failing to check mirrors and blind spots when changing lanes
Driving while distracted
But commercial truck drivers are not the only ones liable for a collision. Their employers may also be at fault if they exhibited negligent business practices. This includes:
Making truckers work unreasonable hours and violating federal rest regulations
Failing to vet or train employees properly
Overloading truck cargo
Not maintaining their fleet
In addition, truck defects also contribute to a crash. For example, faulty brakes, tires, or load straps cause collisions throughout New York. When this occurs, the truck manufacturer may be held liable for your damages.
Types of Injuries After a Commercial Vehicle Collision
Commercial vehicle collisions can lead to a long list of injuries for drivers and their passengers. Even minor crashes can cause extensive injuries that require substantial medical care. Some of the most common injuries from commercial motor vehicle accidents are:
Spinal cord and nerve damage
Knee, neck, and back injuries
Shattered bones
Traumatic brain injuries (such as concussions)
Internal organ damage
Wrongful death
If you were involved in a crash, your no-fault car insurance might not cover all your medical expenses. By partnering with our qualified commercial motor vehicle accident attorneys in White Plains, we can help you seek additional financial compensation through a personal injury claim.
Why Choose Our Legal Experts to Handle Your White Plains Accident
When you choose Morelli Law Firm, you receive a team of White Plains accident lawyers dedicated to your case. Our legal experts will:
Review the details of your accident during your free consultation
Establish fault and identify liable parties (there may be multiple)
Collect evidence to prove how the at-fault party caused your injuries
Calculate a fair settlement covering all your damages
Negotiate with the insurance company for maximum compensation
Represent you during a trial (if necessary)
Our legal team is well-versed in New York commercial vehicle laws, and we will not allow insurance companies to provide a settlement that is less than you deserve. When we represent your case, we demand justice and hold all liable parties accountable for their negligent actions.
Evidence to Prove Fault in a Commercial Vehicle Crash
When building your case, our accident attorneys seek strong evidence to demonstrate liability. We gather police reports, medical documentation, and accident photos to create a clear picture of how the crash occurred. In addition, our accident lawyers also seek to obtain:
Commercial driver toxicology reports: Data demonstrating the commercial vehicle driver's mental and physical state at the time the incident occurred.
Truck driver logs: These documents allow us to ensure the driver was adhering to federal guidelines and taking adequate breaks.
Black box data: Large commercial trucks have black boxes that provide details contributing to the crash (such as the truck's speed).
Our White Plains personal injury lawyers will also contact witnesses to receive statements and prove how the liable party caused the commercial vehicle collision.
Without compelling evidence, a truck company or their insurance provider may deny fault or try to shift the blame to you. But that won't happen when our motor vehicle lawyers are on your side. We collect powerful evidence to prove how the liable party caused your damages.
Recovering Compensation for a Commercial Motor Vehicle Accident
When putting a value on a personal injury settlement, your compensation will depend on:
Relevant auto insurance policy limits
The nature and extent of your injuries and property damages
Facts about the crash and liable parties
Your involvement in the collision
Our accident attorneys demonstrate how the liable party's actions resulted in your losses. From there, we pursue compensatory damages, such as:
Lost wages
Property damages
Medical bills
Future medical expenses for ongoing care
Diminished quality of life
Pain and suffering
Emotional distress
Future loss of income
Disfigurement
Insurance companies will often offer settlements that are lower than what your damages deserve. But our traffic accident lawyers fight for maximum compensation on your behalf.
Seeking Wrongful Death Damages After a Commercial Vehicle Crash
The Federal Motor Carrier Safety Administration's (FMCSA) CMV traffic safety fact sheet reports over 34,000 fatal vehicle collisions in 2017. And, unfortunately, large trucks and buses account for 13% of those deaths.
Our White Plains personal injury lawyers can help you file a wrongful death claim if you lost a loved one due to a commercial vehicle collision. These lawsuits hold liable parties financially responsible for damages you and your family incur after your loved one's passing. We can help you obtain a recovery for:
Funeral and burial costs
Loss of future income and benefits
Loss of consortium
Remaining medical expenses for the deceased
Pain and suffering
Navigating a commercial vehicle wrongful death claim is difficult to do on your own. Instead, let our experienced legal experts take the burden off your shoulders. You can focus on healing from your trauma while our professionals pursue justice for the deceased.
Allow Our White Plains Commercial Vehicle Accident Lawyers to Represent Your Case
The commercial vehicle accident attorneys at Morelli Law Firm are ready to investigate your case and prove liability for your damages. We have recovered millions in motor vehicle settlements, and we are prepared to do the same for your claim. Contact us to schedule a free consultation with one of our White Plains commercial motor vehicle accident attorneys now.