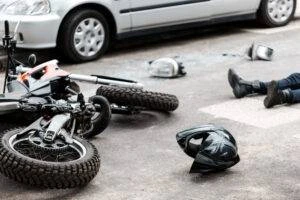 If you've been harmed or lost a loved one in a motorcycle accident in Carbondale, you may seek compensation through an insurance claim or personal injury lawsuit. Morelli Law knows how to investigate motorcycle cases and prove your accident wasn't your fault.
You may be eligible to receive compensation for being the victim of a negligent driver. Our personal injury lawyers in Carbondale offer free case reviews. Let us help you explore your legal options and help you get justice for what happened to you.
What Should I Do After a Motorcycle Accident?
The first thing you should do after a motorcycle accident is to call the police and give a report. Calling the police will also summon medical assistance for you and any other injured parties. While you wait for them to arrive, take pictures of your injuries, the vehicles, and the scene. These can help prove fault.
Next, seek medical attention even if you feel fine. Many injuries can hide for days after an accident because of adrenaline. Living your life normally after your accident without treatment can make them worse and harm your health. Also, the longer you wait to see a doctor, the more leverage an insurer has to deny your compensation.
Then, contact a motorcycle accident lawyer in Carbondale. A lawyer can determine if you can file a motorcycle accident claim. If so, they can help you get compensation for the injuries, lost wages, pain and suffering, and other damages you've suffered.
Proving Negligence After a Motorcycle Accident Case
To win compensation for you, our lawyers must prove who's negligence caused your accident. There could be several responsible people, but three are most likely.
Another Driver
The most common reason for a motorcycle accident is the negligence of a driver. If they did something dangerous to cause the accident, especially if they broke the law, we could hold them negligent. Some examples are:
Turning or changing lanes without looking

Distracted driving

Fatigue driving

Failure to yield or running a stop sign

Driving under the influence
Contacting the police after your accident creates a crash report, which may include information about broken laws or tickets issued by the officer. This report can prove the other driver was negligent.
A Mechanic or Manufacturer
Mechanical failures or a flaw in the motorcycle's manufacturing cause some accidents. You may be able to hold the mechanic or the manufacturer liable for what happened. We will examine your motorcycle to see if a part failure caused the accident.
Municipality Negligence
Governments are required to maintain safe roads. If a dangerous road condition caused you to crash that should have been repaired, you could hold them accountable. If you believe this applies to you, you must call us immediately. The deadline for filing a claim of municipal liability is far shorter than other accident claims.
There may also be multiple parties that contributed to the accident, including yourself. Morelli Law will gather all the evidence we can to learn exactly what happened and who holds what level of liability for your accident case. Put our attorneys to work for you by calling us for a consultation.
Recoverable Damages After a Motorcycle Accident
After an accident, you need money to pay for your medical care, broken motorcycle, and other economic damages. You could also demand money for your pain and suffering and other non-economic damages.
Our Carbondale motorcycle accident lawyers can help you recover these damages and more. We will need to obtain evidence showing your damages when we make our claim to the insurer. We can let you know what documentation you need to keep in order to do this.
Non-Economic damages do not have an easy price tag. We fight for these through negotiation with the insurers based on what you've suffered from because of your accident. We may also hire experts to estimate the value of these damages, especially for things like lost potential income or future medical care.
Helmet Laws in Illinois and Your Case
Illinois is one of the few states in the US that does not require riders to wear a helmet, though eye protection of some kind is required. Helmets significantly reduce the chances of fatal head injuries in motorcycle crashes, but how does it affect your case if you don't wear one?
If you were required to wear a helmet and didn't, an insurer could easily say that you were negligent in your accident, not the other driver. However, since it's optional in Illinois, it's harder for them to argue this. If you share negligence with another person in an accident, your compensation gets reduced by your percentage of fault.
An insurer may try to persuade you that you're owed less money after a motorcycle accident because you weren't wearing a helmet. Speak to our motorcycle accident lawyers in Carbondale about what the insurer is saying. We'll do the talking for you and show them that Illinois' laws are different.
When Should I Hire a Motorcycle Accident Lawyer?
Here is the order of people you should call after any motorcycle accident:
The police to report an accident

A doctor to seek medical care, even if you feel fine

A motorcycle accident lawyer in your area
Your chances of success improve the sooner you can get a lawyer on your side. You can preserve evidence by calling early and you'll give us more time to work on your case before we have to worry about the statute of limitations. Plus, the sooner you have an expert on your side the sooner you could get a reasonable settlement.
You have two years from the date of your accident to start a claim before you're barred from getting compensation, so don't delay. Call Morelli Law so we can protect your interests as soon as possible after your accident.
Contact Morelli Law Now
Speak with a Carbondale motorcycle accident lawyer now by calling the number on your screen. You'll learn your legal options and what you can do to maximize your compensation after your accident. Morelli Law has helped victims get over $1 billion in compensation and a long track record of success. Put our expertise to work by hiring our firm to represent you.