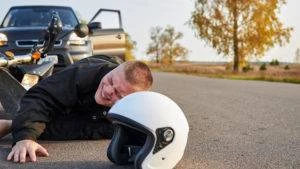 When intoxicated and reckless drivers take to the road, following New Jersey laws can only do so much to protect you from a serious accident. While helmets and special eyewear can soften the impact of a collision, accidents caused by other drivers can still leave you with severe injuries, like traumatic brain and spinal cord injuries which lead to astronomically high medical bills.
If you've been struck by another vehicle while riding your bike, you need an experienced Clifton NJ motorcycle accident lawyer on your side. The team at Morelli Law has successfully handled thousands of claims just like yours. We'll secure full compensation for your treatment bills, physical suffering, and mental distress.
Clifton Motorcycle Accident Injuries Our Attorneys Can File a Claim for
When it comes to protection from collisions, motorcyclists are at a significant disadvantage. As a result, there are a number of severe and life threatening injuries that motorcycle riders can sustain from an accident. If you've suffered any of the following injuries in a motorcycle wreck in Clifton, NJ, our attorneys can help you file a claim:
Broken ribs and limbs

Whiplash

Cuts and lacerations

Organ damage

Internal bleeding

Road rash
These are only a few types of common motorcycle accident injuries. If you don't see your injury on this list, don't worry! As long as your injury was caused by the negligent actions of another party, we'll be able to secure payment for your medical bills and other losses.
Our Lawyers Will Identify the Liable Party in Your Clifton Motorcycle Accident Case
Road accidents aren't always caused by other drivers. In fact, the party who's liable for your accident may not have even been present when the collision occurred. Here are some of the parties your lawyer will consider when assigning liability for your Clifton motorcycle accident:
A manufacturer

. Some accidents are caused by motorcycle malfunctions or defective parts. We can call on motorcycle and engineering experts to find proof that a defect in your bike caused you to veer off course and cause an accident. If they're able to find a problem with your bike, we'll have the evidence we need to hold the manufacturer liable for your injury.

Local government

. Road hazards like potholes, debris, and poorly designed intersections can cause collisions and devastating wrecks. If your motorcycle accident was caused by an unsafe road in Clifton, NJ, our lawyers can help you seek damages from the proper government authorities.

Another driver

. Sometimes, assigning liability in a motorcycle accident case is as easy as finding evidence that proves another driver was responsible for the crash. If we find that the other driver involved in your collision was intoxicated, distracted, or driving recklessly, we'll file a claim with their insurance company.
Holding another party accountable for your motorcycle crash isn't as simple as filing a claim with their insurance company. Our Clifton motorcycle accident lawyers will have to conduct a detailed investigation of your accident to find definitive proof that another driver or entity caused your crash.
Investigating a Motorcycle Accident in Clifton, NJ
The investigation is one of the most important steps in crafting a motorcycle accident claim. That's because it will allow your lawyer to identify the liable party and prove that they are responsible for your losses. Your attorney will begin by analyzing police reports and traffic footage of your collision.
Next, they'll interview witnesses and enlist the assistance of an accident reconstruction expert. Such an expert can use evidence from the scene of your collision to construct a hypothesis as to how the collision played out.
Once our team has collected and poured over all the facts and testimonies relevant to your case, they'll be able to present a convincing argument to the guilty party's insurance company. The evidence we find can also be used in court if your case ends up going to trial.
A Clifton NJ Motorcycle Accident Lawyer Can Secure Compensation for Your Accident Losses
Serious road accidents can affect victims in a number of different ways. If you've been thrown from your motorcycle in a collision in Clifton, you may be suffering from mental health problems, excruciating pain, and costly medical bills. Fortunately, an attorney from our firm can get you compensated for all the pain and expenses you've been burdened with, including:
Present and future bills for hospital visits, doctor's appointments, and prescriptions.

Lost wages from the days you took off work to recover and treat your injuries

Reduced earning capacity

PTSD

, anxiety, and other mental problems caused by the accident

Pain and suffering

Diminished quality of life

Motorcycle repair costs

Punitive damages
If you're struggling to deal with the aftermath of a motorcycle crash, these damages can make your life a whole lot easier. However, to reap the benefits of compensation, you'll have to make sure you take legal action as soon as possible. That's because there are deadlines for nearly every kind of personal injury claim.
Our Attorneys Can Meet Legal Deadlines for Motorcycle Accident Claims in Clifton
At Morelli Law, we highly recommend that you take legal action as soon as possible after a motorcycle accident. Doing so will maximize your chances of receiving ample compensation for your injuries, financial losses, and mental distress.
According to NJ Rev. Stat. § 2A:14-2, you may only have two years from the date of your accident to file a claim. While some cases have longer deadlines, it's always best to file a claim as soon as possible. Insurance companies and juries are always suspicious of delayed claims, and failure to file before your deadline could prevent you from collecting damages.
Once you hand the reins over to a motorcycle accident attorney in Clifton, they'll make sure your claim is filed properly and on time. They'll keep you updated on the status of your claim and inform you when they're close to securing your motorcycle accident settlement.
Contact Our Law Firm to Connect With a Skilled Clifton NJ Motorcycle Accident Lawyer
The compensation you receive from a claim can change your life for the better. Our team of motorcycle attorneys in Clifton at Morelli Law Firm will work hard and fight to get you the settlement you need to cover your bills and get back on your feet.We like to start the claim-filing process by offering clients a free case evaluation. During your session we'll ask questions about your injuries, the accident, and answer any queries you have about the legal process. Contact us now to schedule your free case evaluation.