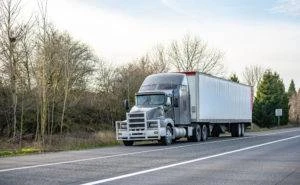 Tractor-trailers are common on New Jersey roadways, but a collision with one can lead to life-threatening injuries. If you or someone you love was involved in a crash with a commercial truck, the Wayne truck accident attorneys at Morelli Law Firm can help you pursue justice.
Our legal experts are knowledgeable in New Jersey traffic laws, and we are not afraid to be aggressive when demanding fair compensation from liable parties. We're ready to schedule your free accident claim review to help you learn more about our litigation process.
What Types of Injuries Can a Truck Accident Cause?
When passenger vehicles collide with commercial trucks that weigh as much as 80,000 pounds, the impact is devastating. Collisions involving commercial and passenger cars are more likely to cause severe injuries, such as:
Internal organ damage

Lacerations and blood loss

Loss of a limb

Spine and neck injuries

Broken and fractured bones

Head trauma and traumatic brain injuries (TBI)

Paralysis
Unfortunately, tractor-trailer collisions can also result in fatalities. In these circumstances, the deceased's spouse, child, or parent can partner with a personal injury attorney to pursue financial recovery on behalf of their loved one.
Why Do Truck Collisions Occur?
Unfortunately, there are many truck accidents in New Jersey. In most cases, a truck collision stems from driver error, truck company negligence, or manufacturer defects.
Driver Errors and Recklessness
The weight of large commercial trucks makes them more difficult to control. As a result, when truck operators fail to comply with traffic laws or drive recklessly, it can result in an accident.
However, truck drivers have a duty to operate their vehicles in a reasonable manner. When they fail to do so, they can be held liable for negligent driving. Examples of negligent behavior that leads to truck collisions include:
Driving while distracted (such as listening to music or playing with a mobile device)

Speeding

Driving under the influence of drugs or alcohol

Failing to stop at traffic lights

Making improper lane changes or forgetting to check blind spots when merging

Tailgating or driving aggressively

Operating a truck while fatigued
When motorists violate traffic laws, it places other motorists and pedestrians at risk. The Wayne truck crash lawyers at Morelli Law Firm will hold truck drivers responsible for their reckless behaviors that contributed to your motor vehicle collision.
Truck Company Negligence
Trucking companies must take proactive measures to ensure safety for their drivers and other motorists on the road. When they fail to do this, their negligence can lead to a truck collision. Truck company negligence includes:
Poor fleet maintenance

Pressuring commercial drivers to continue working without adequate rest

Failing to properly screen or train new truck drivers

Negligent cargo loading practices (such as overloading or incorrectly loading vehicles)
It can be difficult to distinguish if a company's actions contributed to your accident. But with Wayne's experienced truck accident law firm on your side, our attorneys will investigate your crash and hold every guilty party accountable.
Manufacturer Defects
Sometimes, tractor-trailer accidents are caused by defective parts, making a truck manufacturer liable for the crash. Truck manufacturer defects include:
Faulty brakes or tires

Weak loading straps

Problems with the truck's trailer coupling system

Product design flaws
If the manufacturer becomes aware of defective parts, they must issue a recall to replace the faulty systems. If they fail to do so, the manufacturer is considered negligent. When truck manufacturer negligence causes a crash, a Wayne truck accident attorney helps you recover damages from the manufacturer.
How a Wayne Truck Crash Lawyer Builds Your Accident Claim
Accidents involving trucks lead to extensive medical bills and lost income. But when our commercial vehicle accident lawyers file a personal injury lawsuit, you can seek a settlement that covers all your losses.
Our Wayne truck accident lawyers are dedicated to your claim, and we don't stop fighting until you secure maximum compensation for your injuries. Our legal experts will:
Investigate the cause of your accident

Identify all liable parties

Recover evidence to support your claim

Interview witnesses

Negotiate a fair settlement with the responsible parties or insurance providers

Argue your case at trial (if necessary)
Our legal team has secured millions for truck accident victims, and we are prepared to do the same for you.
How New Jersey No-Fault Insurance Rules Affect Your Settlement
New Jersey is a no-fault auto insurance state. Drivers carry personal injury protection (PIP), which allows them to recover medical bills and lost wages following a motor vehicle crash.
All New Jersey drivers have the right to receive PIP benefits from their insurance company, regardless of who caused their collision. But no-fault coverage may not cover all your damages after a crash with a commercial truck.
To secure compensation for all your damages, a Wayne truck accident lawyer can bring a personal injury against a truck driver, company, or insurance provider. In addition, if manufacturer defects caused your damages, our lawyers will pursue a product liability claim on your behalf.
Determining Liability in a New Jersey Truck Crash
When pursuing damages, the at-fault party may try to deny their involvement in your collision. Therefore, you will need to prove that:
The guilty party had a duty of care to operate the commercial truck safely

The guilty party breached their duty of care

The guilty party's actions caused you injuries

Your injuries resulted in

compensatory damages
To strengthen your accident claim, you need evidence. A lawyer will use police reports, medical paperwork, witness statements, accident photos, video surveillance footage, truck driver logs, and maintenance reports to establish liability for your accident.
Proving liability can be difficult without legal assistance from a Wayne truck collision lawyer, as commercial vehicles may have more insurance coverage than standard passenger vehicle policies. To ensure you receive every penny your injuries merit, partner with our skilled legal professionals.
Damages to Seek After a Passaic County Truck Collision
When our truck collision lawyers file a personal injury claim, we help you recover economic and non-economic damages. If the liable party or insurance company refuses a fair settlement, we will file a lawsuit with the necessary Passaic County court.
Economic Damages for a Truck Crash
While insurance policies reimburse economic damages, prolonged hospitalization or disabling injuries may lead to medical costs that exceed your coverage. Examples of additional economic losses you may pursue following a commercial vehicle crash include:
Rehabilitation costs

Transportation to medical appointments

Medical devices or prescription drugs for ongoing care

Diminished future earning capacity
Our Wayne truck accident attorneys will make sure you recover all economic losses caused by your crash or the injuries you sustained during the accident.
Non-Economic Damages for a Truck Accident
Our traffic accident lawyers will pursue non-economic damages for:
Pain and suffering

Mental anguish

Diminished quality of life

Loss of consortium
Non-economic damages are awarded based on how your injuries impact your daily routine and future quality of life. For example, a lawyer may base your reward on whether your injuries limit your ability to work, raise a family, or pursue an education.
Demand Justice With Our Wayne Truck Collision Lawyers Now
After a truck collision, don't wait to take legal action. Instead, allow the truck accident lawyers at Morelli Law Firm to handle your case and seek maximum compensation for your damages. We are the accident attorneys Wayne trusts, and we are ready to take on your claim. Contact our legal team now for a free case consultation.