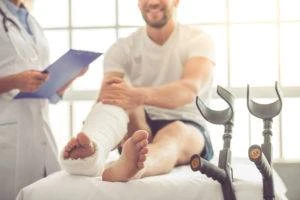 Colliding with an 18-wheeler or tractor trailer can result in life-changing injuries and medical bills that are sure to hurt your financial standing. If you've been involved in an accident with a large commercial truck, you need an attorney who can represent your best interests in the negotiating room or the courtroom.
At Morelli Law, our attorneys have an impressive amount of experience helping the wrongfully injured get the resources they need to persevere and recover from their accidents. Our truck accident attorneys in Belleville will use their expertise to hold the at-fault driver liable for your losses, so you can recover comfortably and get back on your feet sooner.
A Belleville Truck Accident Attorney Will Fight for Your Compensation
If you decide to work with a truck accident lawyer from our office in Belleville, you can rest assured that they'll fight for every last penny of compensation you're eligible for. To help you get the most out of your claim, they'll evaluate your losses and determine exactly which damages you're entitled to receive and how much you're owed for each one.
Once they've identified which damages you qualify for, they'll work tirelessly to obtain them for you. Depending on the nature of your accident and injuries, you may receive compensation for a number of different losses, including:
Medical Bills
Your truck accident injuries may require expensive medical treatment, prescriptions, assistive devices, and rehabilitative therapies. These damages can cover the cost of any current or future treatment you need to get your health back to 100%.
Vehicle Repair
Getting hit by a large 18-wheeler or tractor-trailer is sure to leave a mark on one's vehicle. If your car was damaged in the accident, your attorney can obtain compensation to cover your vehicle repair expenses.
Lost Income
Many truck accident victims have to go days or even weeks without working while they recover from their injuries. If you've had to miss work to attend medical appointments and allow your injuries to heal, these damages can make up for your lost income.
Decreased Earning Ability
Severe injuries may prevent you from performing the tasks and duties that your job requires. If your injuries are preventing you from earning money, a truck accident lawyer from our team in Belleville can add these damages to your claim. The compensation you receive will help offset your decreased earning ability.
Pain and Suffering
You shouldn't have to endure the unbearable pain of an auto accident injury without receiving compensation. An attorney can request these damages if you've been struggling with physical pain and suffering in the weeks and months following your accident.
Mental Distress
It's not uncommon for truck accident survivors to experience symptoms of anxiety, PTSD, and depression. If the accident you were injured in has caused your mental health to decline, your truck accident attorney can obtain these damages for you.
A Truck Accident Attorney from Belleville Will Determine Who Is at Fault
It's a common misconception that truck drivers are always responsible for truck accidents. In fact, there are several parties that may be held liable for the crash you were injured in. To get you the damages you need to make a full recovery, your attorney will have to determine who caused the accident.
Your Belleville truck accident attorney will conduct an investigation into the collision to find out which of the following parties is at fault:
The driver: If it's found that the truck driver was speeding, texting while driving, intoxicated, or fatigued during the time of the accident, your lawyer will likely hold them liable for your losses.
The trucking company: The trucking company can be held liable if your attorney finds that the crash was caused by improper cargo loading or excessive vehicle weight. If your lawyer finds that the truck driver was hired without a commercial driver's license or is otherwise unfit to operate a truck, they'll hold the company liable for poor hiring practices.
Maintenance company: Some accidents are caused by improper truck maintenance. If your truck accident lawyer finds that a maintenance issue caused the collision, they'll file a claim against the company responsible for maintaining the truck.
Parts manufacturer: Defective or poorly designed vehicle parts can also cause collisions. If a malfunctioning part caused your accident, your lawyer will bring a claim against the company that manufactured it.
Another driver: If another driver swerved into the truck's lane and caused it to collide with you, they may be held accountable for your injuries and monetary losses.
Common Truck Accident Injuries
Our truck accident attorneys in Belleville have helped hundreds of clients recover from a variety of serious injuries. They'll make sure you get the medical attention and financial compensation necessary to fully recuperate from any of the following truck accident injuries:
Spinal cord injury
Neck and back injury
Internal injury
Burns
Whiplash
Cuts, bruises, and lacerations
Broken bones
Soft tissue damage
Dealing with one of the above-mentioned injuries is bound to be incredibly frustrating and painful. That's why our attorneys are committed to making your recovery as comfortable and fast as possible. They'll keep you updated throughout the entirety of the claim-filing process and let you know when a settlement offer is near.
Don't Wait to Hire a Truck Accident Lawyer from Belleville
If you've been injured in a car accident, it's highly recommended that you contact an attorney as soon as possible. Taking swift legal action in response to a wrongful injury will show insurers that your claim is serious and help your lawyer meet important legal deadlines.
ILCS § 5/13-202 states that individuals injured in truck accidents have two years from the date of their collision to file a lawsuit. If you hire a truck accident lawyer from our team in Belleville today, they'll be able to work quickly to get your suit submitted before the two-year mark.
However, if you wait too long to speak with a lawyer, they might not have the time they need to investigate, build, and file your suit properly. While there are some exceptions to the deadline and time extensions that you might qualify for, it's always best to start the filing process sooner rather than later.
Our Truck Accident Attorneys in Belleville Are Here for You
Pursuing compensation for an injury caused by an auto accident can be extremely confusing and time-consuming. If you're struggling to understand your legal rights or the best course of action following a truck crash, the truck accident lawyers from our Belleville firm are here to simplify the process.
Our attorneys will investigate your accident, evaluate your losses, build a winning claim, and negotiate an insurance settlement that compensates for your suffering and monetary loss. Once our attorneys are finished with your case, you'll have the money you need to get back to your normal life. Contact Morelli Law today to get started on the path to recovery.