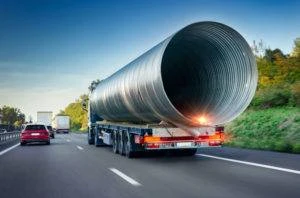 There are various types of steel trucks. Some come in the form of big rigs, construction trucks, or even tractor-trailers. Regardless of the form, steel trucks are massive vehicles that can cause catastrophic injuries upon impact.
If you have suffered severe harm from a steel truck accident, a Wayne steel truck accident lawyer from Morelli Law Firm may be able to support you through settlement negotiations or a personal injury lawsuit. If your family member died in a crash with a steel truck, we may be able to help you pursue compensation in a wrongful death lawsuit.
Compared to regular car accidents, steel truck accidents may result in more harm or damage to both the victim's body and property. While you focus on healing, Morelli Law Firm can pursue compensation for your medical bills, lost wages, pain and suffering, and other applicable damages when we represent you.
Pursuing a steel truck case can be complex, owing to the special trucking laws and the fact that the responsible party may be a large trucking corporation. Morelli Law Firm can help you get a proper understanding of the regulatory requirements and conduct your case in accordance with applicable law.
Call Morelli Law Firm today at (212) 751-9800 for a free case review with a member of our team.
Why Steel Truck Accidents Can Be Complex
The following reasons explain why steel truck accident cases can be more complex than a standard car accident case:
Victims may suffer severe harm to their bodies and may still be undergoing treatment when their case begins.
Trucking cases may involve special laws, such as the regulatory requirements imposed on commercial vehicles by the Federal Motor Carrier Safety Administration (FMCSA).
In personal injury claims such as accidents and wrongful death cases involving trucks, there may be an in-house attorney present to defend the trucking company's case.
In many accidents caused by a commercial vehicle, the liable party is the trucking company that operated the vehicle, and not the truck driver themselves. This means that you may be pursuing compensation from:
A local construction company
A major construction corporation
A government agency that operated the vehicle
Other liable parties
When a Wayne steel truck accident lawyer from Morelli Law Firm represents you, we can pursue compensation from any party whose negligence caused your injury, no matter their size.
Identifying the Responsible Party
Truck accidents may occur because of various reasons. They include:
Distraction or inattention
Speeding
Overcompensating while steering evasively
Drug and substance abuse
Fatigued driver
Mechanical problems
It is important to note that the truck driver may not be the only party that bears fault. In some cases, mechanical failure could cause a steel truck accident. This could make a negligent mechanic or vehicle component manufacturer liable for your injuries. Also, the government entity responsible for maintaining roads may share in responsibility where there is proof showing that the roads were in poor condition.
If you suffered severe harm in a steel truck accident caused by another party's negligence, Morelli Law Firm may be able to help you. For a free consultation on your case with a member of our team, call (212) 751-9800 today.
Determining Liability in a Steel Truck Accident
After a steel truck accident, you may have been rushed to the hospital for emergency treatment, or the trauma of the impact and the accident may be a blur in your memory. In such cases, it is not always clear who caused the accident or what factors resulted in the crash.
However, a Wayne steel truck accident lawyer from Morelli Law Firm can investigate your accident to identify the liable party and build a case against them when we represent you.
The following are some of the evidentiary materials we may use in the determination of liability in your truck accident case:
Police reports
The position of the steel truck and the other vehicles
Tire tread marks on the road
Data from electronic on-board recorders
Citations issued to the truck driver following the crash
Nature of the damage
Your lawyer can go to the scene of the crime and conduct a thorough investigation. We may be able to obtain access to surveillance footage, accident scene photos, and witness statements. We may also be able to hire accident reconstructions experts to testify about the responsible party's liability.
Determination of liability is an important step in civil liability cases. It is from such determination that a court can issue damages in compensation for the victim.
Time May Be Limited in Your Case
If you are considering legal action for a steel truck accident, you must be mindful of the statute of limitations. In New Jersey, there is generally a two-year statute of limitations on personal injury lawsuits, per New Jersey Statute (NJ Stat) §2A:14-2. A general two-year statute of limitations also exists for wrongful death lawsuits, per NJ Stat §2A:31-3.
Certain circumstances in a case, such as suing a government entity, could alter these deadlines and require you to take legal action sooner. A representative of Morelli Law Firm can discuss what specific deadlines pertain to your case when you call.
Get a Free Consultation from Morelli Law Firm
If you sustained injuries from a steel truck accident, a Wayne steel truck accident lawyer from Morelli Law Firm may be able to handle your case while you focus on recovering from your injuries.
Contact Morelli Law Firm today at (212) 751-9800 for a free, no-obligation consultation on your case with a member of our team.
We handle steel truck cases on a contingency-fee-basis, meaning you pay us nothing unless and until you receive a payout in the form of a settlement offer or court awards.