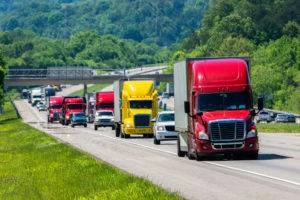 A crash with an 18-wheeler can lead to life-changing injuries. While nobody plans to experience an accident, and most are unintentional, the impact they can have on your physical, emotional, and financial health is severe. But our 18-wheeler accident lawyers in Wayne are here to help you obtain financial recovery for your accident damages.
At Morelli Law Firm, our litigation specialists can provide a free case consultation to review your accident claim. From there, we determine what legal action you need to take to obtain maximum compensation for your injuries. With our qualified personal injury lawyers, you can trust that all liable parties will be held accountable for their negligence.
What Makes 18-Wheelers So Dangerous?
Semi trucks and 18-wheelers are massive motor vehicles, which is why a crash with one can be catastrophic. Their engines are six times larger than passenger vehicles, and they can be up to 80 feet long. When transporting cargo, an 18-wheeler may weigh as much as 80,000 pounds.
Since they are the largest vehicles on New Jersey roadways, these massive trucks require more time and space to stop. In fact, commercial trucks take 40% longer than passenger vehicles to come to a complete halt. If a driver misjudges this, it can cause them to run a traffic light and collide with a pedestrian, bicyclist, or another motor vehicle.
Finally, 18-wheelers have large blind spots. They do not have a rear window, so commercial drivers must rely on their mirrors. Failing to check blind spots can cause a tractor-trailer to collide with other vehicles when merging or switching lanes, causing an accident.
Injuries You May Sustain in an 18-Wheeler Collision
Some of the most common injuries sustained in 18-wheeler crashes include:
Cognitive impairments and traumatic brain injuries (TBI)

Loss of limbs

Disfigurement and scarring

Mobility impairments

Spinal cord damage

Broken and fractured bones

Paralysis
Catastrophic injuries result in disabling injuries, which impact your future earning capacity. But a track accident law firm can help you recover compensatory damages by pursuing a personal injury lawsuit against the liable truck driver, company, or insurance provider.
Causes of New Jersey 18-Wheeler Accidents
New Jersey truck accidents can have a variety of causes, such as:
Distracted driving

Insomnia

Defective parts

Intoxication

Speeding

Aggressive driving

Truck company negligence
Truck drivers require specialized training to ensure they maintain proper control of their vehicles. Since 18-wheelers are so dangerous, truck operators must remain attentive and follow all traffic laws. Actions like speeding or improperly changing lanes place other drivers at risk.
If you are unsure of what contributed to your truck collision, let our Wayne, NJ, 18-wheeler accident attorneys help. We will review your accident details, consult with witnesses, and evaluate police reports to distinguish the specific cause of your crash.
Our Accident Lawyers Prove Liability for Your Collision
When an individual or entity fails to act prudently, it can lead to injuries. When truck drivers violate traffic laws, they break their duty of reasonable care, making their conduct tortious. A Wayne 18-wheeler accident lawyer will identify all liable parties when pursuing a personal injury claim.
The circumstances of your accident dictate liability. For example, suppose the driver had a history of reckless driving or prior convictions for driving while intoxicated. In that case, the trucking company may be liable for your damages because of negligent hiring practices.
It can be challenging to determine all liable parties on your own. But with the truck accident lawyers at Morelli Law Firm in your corner, you can feel confident that every guilty party is held accountable for their negligence. Once we identify the at-fault parties, our lawyers will demand a fair settlement from their insurance companies.
How New Jersey No-Fault Insurance Policies Affect Your Claim
Accidents involving trucks can involve multiple insurance policies. For example, if a business owned the vehicle and the employer acted negligently, the company's auto insurance and business insurance policy may be liable for damages.
Additionally, you can receive benefits from your New Jersey auto insurance policy. Since New Jersey is a no-fault state, all drivers must carry personal injury protection (PIP) coverage. After a collision, your insurance provider must compensate you for medical bills and lost income up to your policy's limit.
However, no-fault insurance may not cover all the losses your truck collision caused. In this case, you need to take legal action by filing a personal injury lawsuit against the liable truck driver, company, or insurance provider. To check that you are receiving maximum compensation for your accident injuries, consult with our expert truck accident lawyers.
Damages to Collect in an 18-Wheeler Personal Injury Claim
After an 18-wheeler accident, you may be entitled to collect compensation to cover:
Property damages

Medical bills

Transportation costs to medical appointments

Ongoing care costs (such as physical therapy)

Lost income

Pain and suffering

Loss of consortium

Funeral and burial costs (if the accident resulted in wrongful death)
A personal injury attorney in Wayne can file a claim against the parties responsible for your accident. The lawsuit allows injury lawyers to pursue economic and non-economic damages covering all the losses you incurred from the 18-wheeler collision.
Economic Damages
Economic losses include any financial costs you sustained as a result of your accident. Our lawyers use medical receipts, pay stubs, and vehicle repair appraisals to prove the extent of your economic losses. If your insurance provider partially covered your damages, our attorneys will seek a settlement that compensates you for any remaining financial costs.
Non-Economic Damages
An attorney can pursue non-economic damages to compensate for unactualized and future losses. These types of damages consider how the emotional impact of your collision affects your future income and quality of life.
PIP insurance does not cover non-economic damages, so you will need to pursue a personal injury claim to recover these types of damages.
Discuss Your 18-Wheeler Accident With Our Wayne Attorneys
When accidents involve commercial trucks, the Wayne, NJ, 18-wheeler lawyers at Morelli Law Firm will demand a fair settlement for your losses. We are the accident attorneys that have helped New Jersey residents recover millions, and our legal experts are ready to take on your claim. Contact our team now for a free 18-wheeler accident case review.