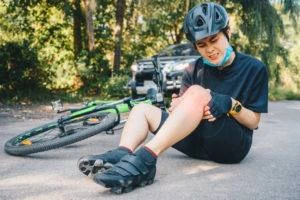 Following New Jersey's bicycle safety tips can help you stay safe while riding on the road. However, when reckless drivers are near, there's little you can do to prevent a collision. If you've been hit by a car, truck, or bus while riding your bike in Wayne, NJ, you'll need the help of a skilled bicycle accident attorney.
You could attempt to take legal action without a lawyer, but your case will probably be ineffective if you don't have experience in personal injury law. A seasoned attorney will know how to properly construct a claim, negotiate with insurers, and ensure all your losses are remedied. Contact Morelli Law for the counsel you need to make your claim successful.
Types of Bicycle Accident Injuries Our Attorneys in Wayne Win Handle
Bike accidents often leave victims with more than just a few scrapes and bruises. In some cases, we've seen cyclists with severe spinal issues and brain trauma. That being said, you can still receive compensation for minor injuries.
Our lawyers in Wayne can help you recover losses for any type of bicycle accident injury, including:
Spinal injury
Facial and dental fracture
Broken bones
Lacerations
Organ damage
Bowel contusion
Hernia
Concussion
Neck injury
If you've been forced to endure one of the injuries listed above, you deserve to receive compensation. The money you get from a bicycle accident claim can cover a number of losses, some that you might not be aware of.
Damages You Might Receive After a Bicycle Accident in Wayne
There are a number of different damages available to bicycle accident victims in Wayne. An attorney will be able to assess your case and determine which ones you are eligible to receive. Depending on the financial loss, physical pain, and emotional suffering you've experienced, you could benefit from several of the following damages:
Medical Bills
Some bicycle accident injuries require extensive medical treatment, including hospital visits, doctor's appointments, assistive devices, rehabilitation, and prescription medication. These damages can cover any medical expenses you're saddled with in the aftermath of your incident.
Lost Wages
If your injuries are keeping you from going to work, you might be wondering how you'll make up for the paychecks you've been unable to collect. There's no need to worry, as a bicycle accident lawyer in Wayne can use your pay stubs to get you payment for lost wages.
Decreased Earning Capacity
Long-term injuries and disabilities can prevent you from performing hard labor and working at the same capacity that you have in the past. If your condition has reduced your ability to earn a living, a lawyer from our firm can help you win compensation.
Pain and Suffering
The money you get from a bicycle accident claim in Wayne can also make up for hardships unrelated to financial loss. If your injuries have caused you an excessive amount of pain and have started to affect your quality of life, your attorney can add pain and suffering damages to your claim.
Mental Distress
Getting thrown from your bike in an accident can be incredibly traumatic. In fact, it wouldn't be surprising if you started to develop mental health problems in the weeks and months following your collision. If you notice any symptoms of accident-induced PTSD or anxiety after a bicycle accident in Wayne, NJ, it's important that you see a psychologist.
An attorney from our firm can use records from your counseling session to get you compensated for the mental distress you're experiencing. We understand that incidents like these can be emotionally intense, which is why our team will work tirelessly to get you the compensation you need to cope with your trauma.
How a Bicycle Accident Attorney in Wayne Will Secure Damages
In order to get the money you need to pay off your medical bills, afford to take time off from work, and deal with the psychological impacts of your bicycle accident injuries, your Wayne attorney will take the following steps:
Collect evidence related to your accident
Analyze the documents and testimonies they gather
Use evidence to prove that the driver who hit you is liable for your injuries
Take your claim to the driver's insurance company
Negotiate a settlement with insurance company representatives
Take your claim to court if insurers fail to offer enough compensation
This process can take a considerable amount of time to complete, so we suggest contacting a lawyer as soon as you can. Doing so will ensure that your claim is filed within the time frame outlined in New Jersey's statute of limitations.
Statute of Limitations for Wayne Bicycle Accident Claims
If you've been injured in a bicycle accident in Wayne, NJ, and need restitution for your financial and emotional losses, time is of the essence. That's because New Jersey's statute of limitations includes a legal deadline that all personal injury claims must be filed before.
According to NJ Rev. Stat. § 2A:14-2, you only have two years from the date of your accident to file a claim. If you wait too long to get in touch with an attorney, you could risk forfeiting your right to compensation. If you contact a lawyer from our firm now, they'll do their best to ensure that your claim is filed before its due date.
Reach Out to a Bicycle Accident Attorney from Our Firm
The attorneys at our firm believe the wrongfully injured deserve first-rate legal counsel with no upfront costs. That's why they offer effective representation on a contingency fee basis. A contingency fee is a portion of your settlement or court-awarded payment that an attorney takes in exchange for their services.
Get the affordable advocacy you need to recover from your injuries by contacting a bicycle accident attorney in Wayne. We'll schedule a free consultation to learn more about your accident and the injuries you've been burdened with. If we think you have a legitimate case, we'll get started on building your claim. Contact us today.