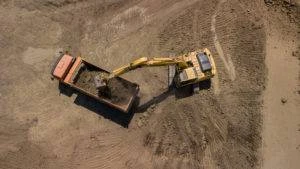 Construction trucks come in different shapes and forms. Their main goal in a construction site is to move heavy debris and materials, such as cement, lumber, gravel, sand concrete, and steel. Common types of construction site trucks include:
Dump trucks
Backhoes
Graders
Excavators
Cement mixers
Cherry pickers
Cranes
Construction trucks are large and are considered heavy equipment and machinery. So it may not be a surprise that these trucks can also cause serious injuries if they get involved in an accident.
According to the U.S. Bureau of Labor Statistics (BLS), from 2011 to 2015, about 46 percent of construction site workers who died in work zone areas were killed in "pedestrian-vehicle incidents." These incidents include getting struck by a vehicle or heavy mobile equipment, such as a construction site truck.
If you or a loved one was injured in a construction site accident in Wayne, New Jersey, you can call Morelli Law Firm to have a Wayne construction truck accident lawyer work on your case. Call our law firm at (212) 751-9800 now.
A Lawyer May Determine the Cause of Your Construction Truck Accident
Construction site accidents do not only occur when the truck is at the site. In many cases, accidents take place while the truck transits to and from the site. Various factors may be considered when determining whether a construction site operator handled the truck properly to avoid an accident.
When determining the cause of the construction accident, your lawyer may want to know if:
The driver and their crew had safety concerns before the accident
All safety equipment, including warning and backing signals, functioned properly
All safety structures (e.g., warning, braking, and steering) were in full operation or sound condition
All safety systems had undergone routine maintenance checks
The area surrounding the truck was safe to maneuver
The driver was verified
The driver received proper equipment and safety training before handling the truck
A Wayne construction truck lawyer may be able to determine if your construction site accident involved multiple parties. Having more than one liable party might complicate your case, but your lawyer can help you navigate the claims or lawsuit process against each potentially liable party.
If you or a family member sustained injures in a construction truck accident, you can contact our legal team at Morelli Law Firm. We dedicate our time and resources to handle personal injury claims and lawsuits for victims like you. To have your case reviewed at no cost, call us today at (212) 751-9800.
Proving Negligence in a Construction Truck Accident May Uncover Multiple Liable Parties
Construction trucks classify as commercial vehicles. The Federal Motor Carrier Safety Administration (FMCSA) is responsible for enforcing regulations for these kinds of vehicles. The administration also makes the trucking regulations for commercial trucks.
Some of the requirements drivers must meet to operate a construction truck include:
Construction truck drivers should receive adequate training before they drive commercial trucks
Drivers should have commercial driver licenses (CDLs) for operating commercial trucks
Commercial trucks should be properly maintained and inspected for faults before they hit the road
The total truck weight should be within the recommendations
These rules may set the basis of your argument that the construction company and/or truck driver was negligent and caused your accident. Your lawyer will work hard to prove that the defendants knowingly failed to adhere to these rules before causing the accident that harmed you.
The following parties might be legally obliged to pay you in case of a construction truck accident:
The construction truck company if the truck is a rental
The construction company if they have direct ownership over the truck
The construction truck driver
The insurance company for the construction truck company or the driver
A lawyer may help you identify who might be held liable for your damages.
Trucking Companies Can Share Liability
It is possible that trucking companies might share liability for an accident. Courts may hold the trucking company vicariously liable if there is evidence showing that the company let an incompetent driver operate the construction truck. As a result, the trucking company may also compensate you for your damages and losses.
A Wayne construction truck lawyer may help you seek legal recourse from any party who may be involved in your case. If you or a family member sustained injuries in a construction site accident, seek the services of a personal injury attorney at Morelli Law Firm.
An Attorney May Offer Several Services to Help Your Case
After a construction truck accident, you can call a law firm to get immediate help on your case and be assigned an attorney. Your attorney may help you by:
Negotiating with the insurance company
Conducting an investigation to collect supporting evidence
Filing your case within the requirements of the statute of limitations in New Jersey
Taking your case to trial if negotiations with the insurance company fail to reach a settlement
Helping you fight for compensation in court and protecting your rights
Additionally, you may want to speak with your legal team before speaking with the insurance company. Do not make any statements to the insurance company, as that may work to your disadvantage. Let your lawyer handle communications with other parties for you.
Start Working with a Wayne Construction Truck Lawyer Today
Construction truck accidents can be catastrophic, as they often result in serious injuries or even death. You can choose to handle the case on your own or seek the counsel of a lawyer.
If you or a loved one sustained severe injuries from a construction truck accident, contact our legal team at Morelli Law Firm. We have a dedicated team of personal injury lawyers who are ready to help. To have your case reviewed for free, call us today at (212) 751-9800.