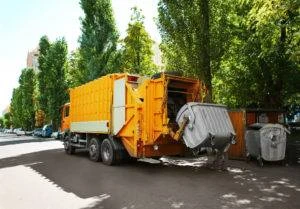 Garbage trucks are also called waste collection vehicles. Such vehicles serve one specific task; carrying waste. Garbage trucks travel the streets and in neighborhoods collecting garbage and recycling from households and other locations in the city.
It is sometimes challenging to foresee garbage truck accidents because they move at a slow speed while collecting garbage. While speeding can be a cause of garbage truck accidents, there are numerous more common reasons. They include:
Garbage or other Debris Falling from the Truck
Motorists Traveling in the Truck's Blind Spots
Truck Rollovers
Garbage Truck Driver Not Seeing Pedestrians or Bicyclists
Motorists Trying to Pass a Garbage Truck
Garbage Trucks Running into Other Vehicles
Garbage trucks are much larger than most other vehicles. For that reason, when a garbage truck is involved in an accident, the consequences can cause serious fatalities. The accident can be between a garbage truck and a car or involve a motorcycle, a pedestrian, or another garbage truck.
Garbage trucks have strong outward materials such that even a small impact can result in serious injuries or death of those in other vehicles. Occasionally, the truck can fall on the car causing damage to the car and also injuring the people inside the car.
Injuries from a Garbage Truck Accident
Some of the most common injuries that a person can sustain from a garbage truck accident include:
Spinal cord damage as described by the Mayo Clinic
Orthopedic trauma
Lacerations
Internal trauma
Traumatic brain injury (TBI)
Skull fractures
Loss of limb
Nerve damage
Concussion
Burns
Broken bones
When the victim sustains spinal cord injuries, there is a possibility that they may lose function, sensation, and motor control below the level of the injury. Skull fractures can result in other cognitive incapacities such as loss of memory. Nerve damage, on the other hand, can lead to paralysis and even death in rare situations.
A Wayne garbage truck lawyer will tell you to retain an attorney as soon as possible to help you with the recovery process. If you or a family member sustained injuries in a garbage truck accident, contact our legal team at Morelli Law Firm today. We have experience in personal injury claims, and we can help you. Call us today at (212) 751-9800 to have your case reviewed at no cost.
Causes of Accidents with Garbage Trucks
Aside from receiving bodily injuries, a garbage truck accident can cause serious damage to property. If the accident occurs on a busy commercial or residential road, then the accident can even affect even those not directly involved.
Below are some of the common causes of garbage truck accidents:
Loads over the weight capacity
Inattentive or distracted drivers
Failing reverse alarms
Improper braking methods
Failure to follow traffic laws
Poorly maintained trucks
Poor visibility or blind spots
Old or failing parts
Fatigued drivers
Depending on the size of the truck, each truck has a required garbage capacity. When the truck carries more than the limit, the truck becomes too heavy, and because of that, accidents become more likely. Further, inattentive and distracted driving can be a major cause of garbage truck accidents. This may include driving while texting or driving while eating.
Fatigued drivers also pose a risk to themselves and other road users. In the US, there are strict time limits set for how long and how often truck drivers can work, according to the Federal Motor Carrier Safety Administration (FMCSA). Notwithstanding, truck drivers are not supposed to surpass the limit. However, many of them do, and as a result, accidents occur because the drivers fall asleep behind the wheel.
Additionally, garbage truck drivers may fail to follow traffic rules. Some common examples include failing to give right of way, failing to stop at a stop sign, or wrongly overtaking another vehicle. Improper braking methods also fall under this category. This could occur when the garbage truck driver halts suddenly, causing unforeseen stress to other road users.
Furthermore, poor maintenance of the truck can result in accidents, lost parts, or other issues that could cause an accident or injure those nearby.
Hiring an Attorney for Your Wayne Garbage Truck Accident Case
As a layperson, it may be overwhelming to understand the complexities of the legal procedure. You may want to partner with a lawyer for the following reasons:
Conducting Negotiations with the Insurance company
Skilled Case Presentation
Meticulous Case Preparation
Strong Ethical Practice
Easy Case Communication
Negotiations with the insurance company can prove challenging, especially if the insurance company refuses to settle. A lawyer may be able to help you get the compensation you deserve. Your attorney can handle all the legal procedures on your behalf while you recuperate.
If you sustained injuries from a truck accident, you likely want to seek legal recourse. A Wayne garbage truck lawyer can help you negotiate with the insurance company or take the case to trial if negotiations fail. A lawyer can also help you to demonstrate how the accident occurred by explaining any of the above causes and supporting it with evidence.
Our legal team at Morelli Law Firm can help you with your case. Call us today at (212) 751-9800 for a free case evaluation.
Call a Wayne Garbage Truck Lawyer Today
There are various causes of garbage truck accidents. It could be because of poor maintenance or because of the recklessness of the driver. In any case, our team believes it is important to talk to an attorney who may be able to help you with the legal procedures following the accident. You may benefit from a person well-versed in personal injury law to help you conduct negotiations with the insurance company.
Contact our team of representatives at Morelli Law Firm today. For a free case evaluation, call us at (212) 751-9800.