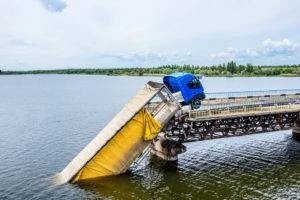 Construction sites are common areas that feature a flurry of activities happening at the same time. It is on construction trucks to make sure that people have the supplies that they need. These trucks carry materials to and from the construction site and lift heavy materials when necessary for such jobs as constructing high rise buildings.
These trucks, however, pose a risk to the individuals passing by. Victims of a construction truck accident can experience severe injuries. Contact us today to see if a New York truck accident lawyer can help you. Call Morelli Law Firm today if you or someone you care for was injured in such an accident.
Various Types of Construction Trucks
There are various types of construction trucks that serve specific functions at a construction site. The vehicles are commonly used for moving heavy loads, whether it is excavation, dumping, or lifting.
The many types of constructions trucks used today include:
Dump trucks. These trucks are mostly used to carry rubble away from the building site.
Bulldozers. This vehicle is a tractor that features a large blade in front. It is used to move large amounts of sand, dirt, and debris.
Grader. This vehicle is used to scrub away soil and form smooth surfaces. The grader is used primarily for road construction, gravel road maintenance, and dirt road maintenance.
Backhoes. This type of truck is used for digging trenches and ditches at a construction site for laying cables, pipes, and foundations.
Cranes. This construction vehicle uses pulleys and cables that allow them to raise and lower heavy loads. It is mostly used to move heavy materials around sites that human workers cannot move.
Loaders. This vehicle seems more like a mobile shovel that helps transfer and transport materials from stockpiles on the ground to trucks.
Excavators. This vehicle excavates holes, trenches, and foundations.
Steps to Take Following a Construction Truck Accident
Construction is an inherently dangerous occupation, but most fatal injuries resulting from truck accidents are pedestrians or those in passenger vehicles. After a construction truck accident, the actions you take will make a huge difference in your ability to pursue justice and seek a fair settlement.
If you were injured in a construction truck accident, there are a series of steps you should take according to our NY personal injury lawyers. This process should include:
Medical treatment. You need to visit a medical center and be properly diagnosed. Not only is this important for your health, but it is important that you document all your injuries that occurred in your accident.
Contact the police. It is important to secure documentation of the accident in the form of a police report.
Gather information from witnesses. Write down the names, addresses, phone numbers of workers, or those who witnessed your accident. This represents potentially vital information for building your case.
File a claim. You have three years from the time of the injury to file a claim, according to New York Civil Practice Law & Rules (CVP) §214. Failure to lodge a claim within the time limit may result in the loss of the right to compensation.
Seek help from legal representation. It can help to retain a construction truck accident lawyer in severe cases to handle your claim's complexities.
Aim to conduct a full investigation. It could be important for the outcome of your case to collect information about the incident.
Receiving Compensation in Construction Truck Accidents
The trucks used in construction are often massive collections of steel, fuel, and glass. They require care in their operation and a high level of training for their drivers. Unfortunately, accidents do happen for a variety of reasons. Many of these accidents occur at construction sites, but these vehicles also cause serious accidents while traveling on roads and highways when leaving or entering the site.
According to CVP §1411, damages are recoverable when contributory negligence is established. Therefore, no matter how an accident happened, you may be entitled to compensation from multiple parties. A New York construction truck accident lawyer will investigate your injuries, decide who is liable, gather facts, and prosecute the responsible party and their insurance provider for damages.
New York construction truck accident victims can qualify for a long list of damages, including compensation for economic and non-economic damages. For items that do not include direct monetary harm, our lawyers will help you collect monetary damages. We strive to get the compensation you deserve. Your settlement may provide compensation for items that include:
Medical expenses. You may be able to recover costs associated with prescription drugs, hospitalization, rehabilitation expenses, hospital visits, therapy, and other medical-related expenses.
Lost wages. After the accident, you may lack the opportunity to get back to work immediately. As a result, you may be able to recover your lost wages that resulted from your accident.
Pain and suffering. Severe accidents and injuries are accompanied by pain and suffering. This represents an area that you can pursue compensation.
Property and vehicular damages. Because of the size and weight of large construction trucks, they can cause serious vehicle and property damage when involved in accidents with personal vehicles.
The insurance agent of a construction company may contact you soon after the accident. They may intend to give you an early settlement. If you accept such a settlement, you may be foregoing your right to pursue a further claim in your accident. Before signing any arrangement, consult with a lawyer to make sure your rights are protected.
Call Us Today a Free Case Evaluation with a New York Construction Truck Accident Lawyer
If you have suffered injuries due to a construction truck accident, you may be entitled to recover your losses. Call Morelli Law Firm today at (212) 751-9800 for a free case evaluation.