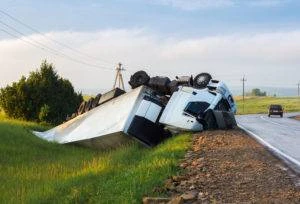 Just a few seconds can change the course of your life forever—your hopes, dreams, and plans are altered instantly. Your life now feels unfamiliar to you.
Have you been in a construction truck accident? Are you struggling to adapt to a new normal after being seriously injured? Help is available for you.
Morelli Law Firm is here to serve victims and their families after truck accidents. Our construction truck accident lawyers in Chesterfield are dedicated to getting you justice. We will fight for you and your loved ones.
Why Do You Need to Hire a Construction Truck Accident Lawyer?
Truck accident claims can be complex. Cases involving large trucks can be tricky without guidance. A Chesterfield construction truck accident lawyer is the best person to help you.
If you're seeking money after your accident, it is best to hire a personal injury lawyer. We can assist you with important steps along the way, including:
Investigating the cause of the accident
Calculating damages and approximate compensation
Speaking to other parties and insurance agents on your behalf
Submitting a claim to hold guilty parties liable
You don't have to do it alone. It is time to hire a construction truck accident lawyer in Chesterfield if you:
Have been injured
A family member has passed away
You are unable to return to work
One or more parties are uninsured
Fault has not been determined
You're suffering from depression or PTSD
Your claim has been denied or rejected
You're unsure of your legal rights after a truck accident
Truck Accident Claims & Results
Because of their size, weight, and onboard cargo, trucks can cause severe harm or death. Many factors can lead to a truck accident. It is not always clear what caused the crash. Lawyers for construction truck accidents in Chesterfield represent lots of truck accident claims, including:
Speeding
Texting while driving
Reckless or distracted driving
Aggressive driving
Driving under the influence
Equipment issues
Driver fatigue
Mechanical failure
Dangerous weather
Results
Damages from truck accidents can be very bad. Payouts are huge to cover injuries and medical bills. Our construction truck accident lawyers have won over $1 billion for clients.
$2.65 million awarded after a client was hit by a moving truck and seriously injured.
$7.4 million awarded after a delivery man was hit by a moving truck on his bicycle.
$11.2 million awarded after a 76-year-old woman was hit by a speeding truck attempting to make an illegal turn.
Talk to a Chesterfield personal injury lawyer if you believe you have a claim. Not all claims or results will look the same. Every truck accident case is unique.
Truck Accidents & Wrongful Death
The death of a loved one is hard–especially when it could have been prevented. Have you lost a relative in a commercial truck accident?
If you're grieving the loss of a relative, we acknowledge your pain. We're here to hold the guilty party responsible. In Missouri, immediate family members can file a wrongful death lawsuit.
Spouses
Children
Parents
Siblings
Wrongful Death Compensation
If you have a successful claim, you will receive compensation for the death of your family member. The payout will be awarded to the living spouse of the deceased. Compensation after wrongful death attempts to make up for the long-term effects of losing a spouse or child in a motor vehicle crash, and includes:
Funeral expenses
Medical & repair bills
Child care
Loss of companionship
Out-of-pocket expenses
Loss of instruction from parent to child
Who Could Be Liable for Construction Truck Accidents?
While it is easy to blame truck drivers, it is not always their fault. One or more companies could have caused the crash. A construction truck accident lawyer in Chesterfield will investigate other parties, including:
Truck drivers
Trucking companies
Shipping companies
Truck & parts manufacturers
Tire manufacturers
Cargo loaders
Auto technicians
Third-party vendors
Trailer owners
How Long Can You Wait to File a Lawsuit?
While construction truck accident lawyers in Chesterfield recommend filing a claim right away, you don't have to. According to the Missouri car accident statute of limitations, you can file up to five years after the crash.
However, the sooner, the better. Insurance companies rely on evidence from police reports to determine who is at fault. The longer that you wait after your accident, the harder it is to prove who is guilty.
How Much Money Could You Win After a Chesterfield Truck Accident?
Construction truck accident payouts are often huge. This is because there are a lot of expenses to cover, including medical bills and loss of income. While there is no fixed rate for compensation, you could be looking at a massive payout if you have a successful claim.
Your compensation will be based on damages from the crash. A Chesterfield construction truck lawyer will help determine fault and the amount of payment you could get.
What Could You Receive Compensation For?
After a truck accident, life will look different. You may not be able to work for an extended period or permanently. An attorney will consider damages for reimbursement, including:
Medical bills
Past, current, and future medical procedures
Lost wages
Inability to return to work
Property damages
Physical injuries
Mental anguish
Lower quality of life
Depression, PTSD, or trauma
You may not have a claim. Your payout will be based on damages investigated by a lawyer.
Talk to a Chesterfield Construction Truck Accident Lawyer
As you recover from a truck accident, managing work, bills, and day-to-day life may be challenging without assistance. That is where we come in. Morelli Law Firm will handle your construction truck accident claim, so you don't have to.
This shouldn't have happened to you. We see your hurt and acknowledge your frustration. We will fight to get you justice for serious injuries or the death of a loved one.
If you've been in a truck accident, it is time to call a construction truck accident lawyer in Chesterfield for help.