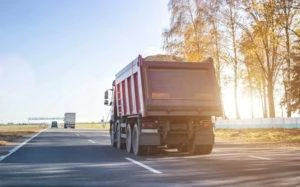 Heavy-duty construction vehicles like dump trucks, cement mixers, and excavators are commonplace on construction sites. But you will also see them on Jefferson County roads as they travel from one job site to another. This is when they are more likely to collide with smaller cars or pedestrians, causing devastating damage.
If you or someone you love has been injured because of a negligent construction truck operator, you may be entitled to compensation. Our Mt. Vernon construction truck accident attorneys at Morelli Law Firm can estimate the value of your case during a free consultation. Keep reading to find out how we can help you recover financially and put this horrible accident behind you.
Construction Truck Accident Victims Deserve Fair Compensation
Whenever someone gets injured in a construction truck collision, the construction companies and their insurers will often deny they are at fault. Their main concern after an accident is limiting how much they will have to pay, and they are actively working against you.
That's where experienced truck accident lawyers come in. Our attorneys are used to going up against large trucking companies and construction companies and will fight for the maximum recovery possible. Some types of compensation we help victims recover are:
Medical costs
Lost wages
Diminished earning capacity
Pain and suffering
Mental anguish
Scarring and disfigurement
Reduced quality of life
Future medical treatments
Wrongful death
What to Do Immediately Following a Construction Truck Collision
The injuries associated with truck accidents are often severe, so it is vital to seek medical attention after a crash. Keep in mind that the damages you receive are largely reliant on the documentation of medical expenses and other costs stemming from the accident. So, if you or someone else in your vehicle suffered from even minor injuries, that documentation is critical.
When someone is severely injured or even killed in a truck wreck, it's important to prove liability and negligence. What were the circumstances surrounding the accident? It's always best to file a claim as soon as possible while evidence is still available and the accident is fresh in people's minds. Our attorneys can help you file a new claim or follow through on an existing one.
After a collision, it is important to gather any information you can. The at-fault party's insurance information, eyewitness statements, and other documentation are helpful. Medical records and autopsies are extremely important. One of your first steps after an accident should be to contact a Mt. Vernon construction truck accident attorney with whatever information you already have.
Filing a Claim and Proving Your Truck Accident Case in Illinois
Most motor vehicle accidents, including those involving construction trucks, are caused by driver negligence. The evidence you present in your claim must prove that the truck driver or another party was negligent and caused your accident. From the moment the crash takes place, and throughout your recovery, you should be documenting everything.
Pictures taken at the accident scene, witness statements, police reports, and medical records can all be vital evidence to help build your case. Don't forget to keep a journal documenting your medical treatments and the pain and suffering you experience.
If you or a family member has been an unfortunate victim of an Illinois construction truck accident, you should consider enlisting the help of a qualified lawyer to handle your claim. Continue reading to learn more about the claims process in Illinois.
The Statute of Limitations in Illinois Personal Injury Cases
If you or someone close to you has been seriously injured in a truck wreck, it's important to know the legal deadline for filing a claim. Under 735 ILCS § 5/13-202 in the State of Illinois, you generally have only two years from the accident date to file a lawsuit.
If you don't settle with the insurance company or file a lawsuit within that time frame, you will lose your chance of getting compensation for your damages. In some situations, the amount of time you have is even less.
The two-year Illinois statute of limitations is important to note because it's relatively short compared to other states. A couple of years can go by fast with everything that needs to be done in the months following a truck accident. Avoid losing precious time, and contact our Mt. Vernon construct truck accident lawyers right away to discuss your legal options.
Challenging Construction Truck Accident Claims
If you or a family member is a victim of a construction accident, you deserve monetary compensation. If a construction truck driver drove recklessly, the construction company and its driver might be liable for the accident. In cases of equipment failure, a third party, such as a mechanic or parts manufacturer, may be to blame.
Dump Trucks
Construction truck accidents can be more complex than other motor vehicle accidents. For example, an accident involving a dump truck has its own unique challenges. Dump truck operators may work for public entities, which can be challenging to take on.
Trucks Working for Government Agencies
In many cases, the companies that employ construction truck drivers for the state hold sovereign immunity. This term refers to a legal doctrine that states that the government cannot be sued without its consent. Our accident attorneys know how to work around sovereign immunity laws used by construction companies.
We fight for the compensation our clients are owed, even if the liable party is a government agency. Our lawyers have handled dump truck accidents before and know how to get justice for our clients. If you are suffering from the results of a construction truck accident, we want to hear from you.
Construction Truck Accident Attorney in Mt. Vernon, IL
Being harmed in a construction truck accident can upend your life. Protect your future and the future of your family by contacting a qualified truck accident injury lawyer as soon as possible after the crash. Our Mt. Vernon construction truck accident attorneys will work hard on your claim while you receive the medical treatments you need to heal.
The Morelli Law Firm has worked with countless others who were seriously injured in these kinds of accidents, so we know how to prepare for and execute an effective strategy for your case. The sooner you bring us on to represent you, the sooner we can start protecting your interests. Contact us today for a free case evaluation.