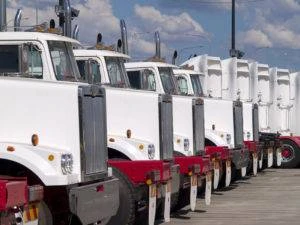 Walmart trucks are on the move 24 hours a day, seven days a week. With over 12,000 drivers on the road, Walmart logistics have also been the cause of deadly truck accidents. If you are hit by a semi-truck, the physical and financial costs can be devastating.
The Morelli Law firm has built a reputation for fighting corporate giants who don't want to pay for the tragedies they cause. We have taken Walmart on and held them accountable in past cases, and we'll continue to do so when injury victims need our assistance.
If you were injured in a Walmart truck accident, a New York truck accident lawyer may be able to help you.
Morelli Law Takes On Big Businesses and Wins
Our New York personal injury lawyers have a track record of successfully navigating the complexities of tractor-trailer accident lawsuits with Walmart. Our involvement with Tracy Morgan's high-profile Walmart truck crash case thrust Walmart's fleet and driver safety practices into the spotlight.
While they initially attempted to blame Mr. Morgan for his own injuries, we were able to secure a substantial settlement on his behalf. We've represented victims in headline-making cases. We have pursued litigation against multinational corporations, Fortune 500 businesses, and countless insurance companies and won.
While pursuing compensation through negotiation is usually the first step, we prepare every case as though it is bound for trial. If negotiations fail to meet the financial requirements of our clients, we will pursue the matter in court.
While many lawyers prefer to take settlements and shy away from courtroom battle, we live for it.
Our Lawyers Get Results in NY Truck Accident Cases
We have spent our careers pursuing justice for injury victims. We've recovered over $1 billion for our clients and we're the firm people turn to when corporate misdeeds cause harm. Morelli Law Firm is the trusted advocate for people who have been injured by negligent behaviors of big businesses.
Our firm is composed of a team of litigation attorneys who fight for their clients, and will not back down in the courtroom. A few of our previous results include:
$11.2 million for a woman who suffered injuries due to a speeding truck

$22.5 million verdict was the largest vaccine verdict in U.S. history, for a polio vaccine case

$3 million for victims of a highway collision

$41 million verdict for a wrongful death case against the State of New York

$5.4 million for a delivery driver who suffered traumatic injuries in a collision

$62 million verdict for a 20-year-old worker hurt in a construction accident

$95 million verdict against a large company, the largest single-plaintiff sexual harassment verdict ever

$102 million verdict for a worker who fell from height at Live Nation's Jones Beach Theater
Benedict Morelli is our founding partner and has built his career representing individual plaintiffs against mega-corporations. His powerful litigation skills are among his greatest assets, and he uses that gift to prevent injury victims from being exploited.
Our team of Walmart truck accident attorneys in New York is led by Mr. Morelli, who personally negotiated the settlement in Mr. Morgan's case against Walmart.
Why You Shouldn't Deal With the Insurance Companies Alone
While it may seem tempting to accept a settlement check from Walmart's insurance company as soon as it is offered, you may want to reconsider. The insurance adjusters have one job: to save money by avoiding big payouts.

The amount they offer you will grossly undervalue the damages in your case, and conducting negotiations by yourself can result in a big financial loss. The adjusters of Walmart's insurance companies are trained to extract statements from you that can make you appear liable.
Since New York follows the comparative negligence doctrine, accepting even a small amount of liability can cost you thousands of dollars. If they can place more than half of the blame at your feet they can avoid paying your claim altogether.
Engaging the services of a Walmart truck accident lawyer in New York can help protect you from liability and preserve your right to pursue full compensation.
How a New York Walmart Truck Accident Attorney Can Help Your Case
Our attorneys can take the pressure off of injury victims allowing them the time and space they need to heal. Other services our firm provides are designed to build your case to obtain the optimal result.
Our firm's services include:
A complete investigation of the details and evidence surrounding your accident

A comprehensive analysis of your economic and non-economic damages

Gathering all pertinent information, documents, and evidence

Identification and location of all potentially liable parties involved

Timely completion and submission of legal documents and insurance information

Conduct all contact and negotiations with the insurance company and opposing counsel

Aggressive representation in court
It's important to avoid pitfalls such as missing deadlines and improperly filed paperwork in order to preserve your right to damages. Having legal representation can help you to avoid costly mistakes.
Common Causes of Truck Accidents in New York
While the cause of your accident may seem to be clear, many factors and other parties can come into play. Discovering the circumstances that lead to the crash is critical. Your New York Walmart truck accident attorney can conduct a comprehensive investigation to determine all the factors at play.
The factors in truck accidents in New York that we commonly see can involve:
Driver Fatigue
Freight company drivers and long-distance truck drivers are often pushed to exceed safe driving time limits. The amount of time a driver spends on the road, as well as the time a driver is required to rest, is federally regulated. If drivers fail to take breaks and rest, driver fatigue can cause serious accidents.
Reckless Driving
Commercial drivers have a special responsibility to maintain safe driving habits. Driving under the influence or taking drugs to stay awake are common causes of big rig truck accidents. Failing to maintain safe following distances is a particular hazard due to the weight and size of fully loaded trucks.
Lack of Driver Training
Recently, Walmart began a new hiring program for their fleet distribution team. The company is facing the same shortage of truck drivers that many transportation companies have suffered, so they are hiring at a rapid pace and paying higher wages. The qualifications and training of the drivers remain to be seen, but lack of training has been the cause of many commercial trucking accidents in the past.
Speed
Using excessive speed to reach destinations faster and to meet strict pickup and delivery times can be to blame. Drivers can also cause crashes by failing to compensate for:
Inclement weather, slippery roads

Poor road conditions, potholes, obstructions in the road, construction

Congested roads, traffic jams, crowded streets

Speed limit changes
Stopping a massive truck in time to avoid a car slamming on the brakes or an errant child in the road is almost impossible. When accidents happen due to excessive speeding, the driver and Walmart may be held liable.
Violation of Weight Standards
Heavily loaded trucks are a danger to other motorists on the road. The increased stopping time and added weight can easily lead to truck wrecks. The weight of a commercial hauling truck is regulated, and if the company has violated these standards, an experienced Walmart truck accident attorney can seek the documentation as proof of liability.
Unsafe Trucks
Poorly maintained trucks can cause accidents. The tire tread must be within regulated limits, the brake lights need to be in working order, steering components must be functional and dozens of other moving parts must be functioning properly to ensure the safe operation of a Walmart truck.
If mechanics fail to perform maintenance or trucks are operated without regular safety inspections, the consequences can be extreme. Failing brakes or tires have been cited in many truck crash cases where other motorists have been injured or killed.
Defective Parts
Sometimes, a parts manufacturer can be to blame. If the vehicle's parts were not manufactured properly or poorly designed, nothing a driver or mechanic could have done would have prevented the crash. In these circumstances, the liability will fall on the manufacturer or distributor of the parts.
This investigation can point to several sources of liability and ultimately serve to maximize your financial recovery. The New York Walmart truck accident lawyers of our firm have ample resources available to locate proof of these failures to build your case.
What to Do After an Accident With a Walmart Truck in New York
From the moment an accident with a commercial truck takes place, the lawyers go to work. Reducing liability, instructing the driver to avoid missteps, and avoiding bad press is key. The driver of the Walmart truck has his legal interests covered, but what about you?
After seeking medical attention, consult with a New York Walmart truck crash lawyer. They can begin to gather information immediately in order to ensure that crucial documentation takes place.
Evidence on the scene can disappear, witnesses can change phone numbers, and documents can even be tampered with or hidden. Having the immediate advice of a lawyer can preserve the proof you need to place liability on the guilty party and direct it away from you.
Here are the steps to take after a truck wreck:
Breathe

. Take a moment to have a deep breath. Being in a crash is traumatic and you can risk further harm to yourself and others if you panic.

Check on passengers and call for help

. Assuming you aren't too hurt to do so, check on your passengers for immediate injuries and call for emergency help from the police. Call 911 and make sure they are aware of the accident and any injuries that you are aware of. Move to safety and get out of the road if possible.

Seek medical attention

. Whether you feel hurt or not, your adrenaline is pumping and can mask the pain. Internal organ damage, internal bleeding, and traumatic brain injuries may not be obvious at first and can lead to the need for emergency intervention later. Get an examination immediately to protect your health.

Look for witnesses

. If you are able, get the contact information from any witnesses and physically point witnesses out to the police. This is a source of evidence that can be used later on to build your case, and having the officer's documentation will support it.

Document with pictures

. Ask if anyone has a dash cam device and get their contact information. Take pictures of the scene, the cars, the road, the traffic cameras in the area, and anything else you can that pertains to the crash. Call a friend or call your attorney if you aren't able to take pictures and ask to enlist their help.

Be mindful of what you say

. It can be harrowing to be in an accident. While you are there, try to remain calm, and keep the talk to a minimum. Do not apologize or admit fault. Don't get angry or hostile. Simply try to remain as calm as possible and collect the evidence you need.

Call a New York Walmart truck accident lawyer

. If you have not already done so, immediately contact an attorney to let them know you have been in a crash with a big truck. They can let you know what to do next.
Do Not Post Anything on Social Media
Anything you put on your social media, no matter how insignificant it seems, can and will likely be used against you to invalidate your claims. Do not post about injuries, pictures of the crash, or any other information.
Instead, call the people who are close to you and let them know what happened. Instruct them to refrain from posting anything on their social media and ask them instead to text or call.
It isn't uncommon for clients to receive friend requests from unfamiliar people after a truck accident. These requests can be from people working for the opposing counsel or the insurance company so it is best to decline these requests.
Contact Us Today for a Consultation at No Charge
Cases involving Walmart truck accidents can be extremely complex. Multiple defendants, numerous lawyers, and several insurance companies can be engaged in the process. The Morelli Law Firm knows how to proceed in these situations to best defend its clients.
There is no need to face these giant companies and legal armies alone. Contact the Morelli Law firm to arrange a free case evaluation today. There is no obligation and no out-of-pocket costs to learn your legal options. If we accept your case, we work on a contingent fee structure. This means that you don't pay anything unless we win or successfully settle your case.