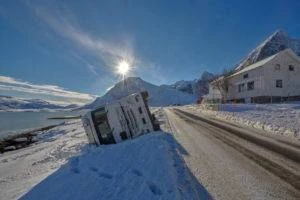 Being involved in a big rig accident can leave you injured, temporarily unable to work, and in financial insecurity.
If another party's negligence caused your accident, a New York big rig accident lawyer from Morelli Law Firm may be able to help you pursue compensation for your damages in an insurance claim or personal injury lawsuit. Our truck accident lawyers in New York handle all communications, evidence gathering, and paperwork on behalf of our clients.
For a free consultation on your case with a member of our team, call Morelli Law Firm today at (212) 751-9800. We may be able to represent you on a contingency-fee-basis with no up-front payments required.
Who is Liability for Big Rig Accidents in NYC?
If another party's negligence caused your big rig accident, they may be liable for your damages in a personal injury insurance claim or lawsuit.
There are many ways that a negligent big rig operator can cause a crash. This may include:
Any violation of traffic law
Traveling too fast for conditions
Being distracted
Drunk driving
Intoxication from prescription and/or over-the-counter drug use
Failing to comply with the hour-of-service limits mandated by the Federal Motor Carrier Safety Administration (FMCSA)
If the driver of an independently owned and operated big rig caused your crash, they may be personally liable for your damages. However, if the big rig driver is an employee of a company, their employer may be liable for the accident due to the legal principle of vicarious liability.
A trucking or shipping company may also be liable for an accident caused by their:
Failure to hire licensed drivers and provide sufficient training
Failure to maintain their vehicles
Failure to correctly load and secure cargo
An injury attorney in NYC from Morelli Law Firm can investigate your accident to establish who may be liable for your injuries when we represent you.
Possible Injuries in a Big Rig Truck Accident
The size and weight difference between a big rig truck and a passenger vehicle may lead to severe accident injuries, such as:
Burn injury as a result of an accident due to a crash-related fire or explosion
Orthopedic injuries
Organ damage
Post-traumatic stress disorder (PTSD)
Neurological injuries
Neck and back injuries
Blunt force trauma
Broken bones
If you were hurt in a big rig accident, it is important to see a doctor as soon as possible. A doctor can diagnose and begin treating any accident-related injuries you may have, which can protect your health. In addition, this visit can create evidence in your medical record that your injuries were caused by the big rig accident and not something else. This evidence may be useful in your personal injury case.
Potentially Recoverable Damages in a Big Rig Accident
Big rig accident injuries can take a toll on you physically and mentally in terms of the pain, extensive hospital stays, and rehabilitation process. The cost for this type of care can be high and may lead to serious amounts of medical debt. Accident victims may need to miss work during their recovery, adding to their losses.
Accordingly, depending on the details of the accident and the victim's injuries, the following damages may be recoverable in a big rig accident case:
Past and future medical costs
Lost wages
Property damages
Reduced earning capability
Pain and suffering
Supporting Evidence in Your Case
A New York big rig accident lawyer from Morelli Law Firm can collect all available evidence in your case when we represent you. Evidence of the responsible party's liability may include:
A police report documenting the circumstances and cause of the accident
Photographs from the accident scene
Eyewitness statements
Testimony from accident reconstruction experts
Evidence obtained from the truck driver or trucking company
Your medical records
In addition, we can collect evidence of your damages and their value. This may include:
Bills related to medical care
Receipts and estimates for property damage or repair
Documentation from your employer regarding lost wages
Testimony from medical experts on your future costs of care
To learn more about our service in a free case evaluation with a member of our team, call Morelli Law Firm today at (212) 751-9800.
We Can Help You Deal with the Insurance Companies
A New York truck accident lawyer from Morelli Law Firm can communicate with the responsible party's insurance company on your behalf when we represent you. We can also file your insurance claim and/or personal injury lawsuit against them.
Once we have submitted your claim, we may engage in a back-and-forth settlement negotiation process with the insurance company. If they refuse to make you a fair offer, we can take your case to trial and present our evidence to a judge or jury instead.
The Deadline to Sue in New York
Per New York Civil Practice Law & Rules (CVP) §214, there is a general three-year statute of limitations on personal injury lawsuits in New York. If you wait too long and let this deadline pass before you take legal action, your lawsuit may be dismissed.
There could be some circumstances that change the legal deadlines in your case. For information on what specific deadlines apply to you, call Morelli Law Firm today.
Receive a Free Case Review Today
You do not need to face the aftermath of a big rig accident on your own. A New York big rig accident lawyer from Morelli Law Firm may be able to fight for compensation on your behalf.
Call Morelli Law Firm today at (212) 751-9800 for a free case with a member of our team. If you qualify, we may be able to offer you representation on a contingency-fee-basis, with no attorney fees due unless and until you win your case and recover compensation via a settlement offer or court award.