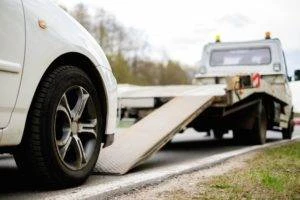 Tow trucks are undoubtedly essential to our society and provide a great service to keep roads safe and traffic moving. That, however, does not mean that they never cause accidents. Driver negligence, improper loading, or improper maintenance can lead to tragic collisions with other motorists on the road.
If you were injured in a tow truck accident, you may be able to recover compensation for your losses through a personal injury claim or lawsuit. Potentially recoverable damages may include your medical bills, lost wages, and more.
A New York truck accident lawyer from Morelli Law Firm may be able to pursue compensation on your behalf when we represent you.
For a free consultation on your case with a member of our team, contact Morelli Law Firm today. We offer representation on a contingency-fee-basis with no up-front payments required.
Negligence May Cause Tow Truck Accidents
There are many ways in which the tow truck driver can act negligently, resulting in a serious accident. According to our New York personal injury lawyers, this may include:
Distracted Driving
Distracted driving is a common cause of motor vehicle accidents throughout the U.S. When a driver engages in other activity that shifts their attention from the road, it constitutes distracted driving. Common ways in which a driver may be distracted include texting, eating, or using the GPS while driving.
To prove the tow truck driver was distracted, our attorneys may be able to look at cell phone records to determine if the driver was using their phones at the time the accident occurred.
Driving Under the Influence
Driving under the influence of impairing substances can be dangerous. If a tow truck driver is intoxicated due to the consumption of alcohol or drugs, they may cause an accident.
Improperly Secured Loads
Tow truck loads must be safely loaded and secured to ensure that they do not slip off from the truck. Uneven or insecure loads may cause the tow truck to overturn or jackknife. Or, the vehicle a tow truck is hauling may fall into the road, causing an accident.
Driver Fatigue
Tow truck operators may be required to possess a commercial driver license and oblige to the hours of service limitations enforced by the Federal Motor Carrier Safety Administration (FMCSA). Violation of these regulations may be found to constitute negligence on the part of a driver who caused an accident through fatigue or by falling asleep behind the wheel.
Careless Driving
Even though tow truck operators are professional drivers, the fact remains that they are still capable of taking negligent actions that could cause an accident. A tow truck driver who fails to maintain safe driving practices while behind the wheel may be considered negligent. Such actions may include:
Speeding
Failing to check blind spots
Driving faster than is safe for road or weather conditions
Running red lights or stop signs
Making an illegal turn or lane change
Following too closely
Not using lights at night
Any of the above instances of tow truck driver negligence may result in the liability of the driver or of the driver's employer due to the legal principle of vicarious liability.
Mechanical Failure Can Also Cause Tow Truck Accidents
Tow trucks have several mechanisms that are critical to their safety. If any of these mechanisms fail, an accident can occur. Mechanical failure may occur in the engine, tow truck cables or chains, hydraulic systems, or faulty brake systems.
It is the duty of the trucking company to ensure that its tow trucks are well-maintained and serviced. However, some mechanical failures may be the responsibility of a negligent mechanic or the manufacturer of a defective component.
Whether the cause was driver negligence, mechanical failure, or something else, Morelli Law Firm can investigate your accident to identify the responsible party.
If you believe another party's negligence caused your accident, call Morelli Law Firm today at (212) 751-9800. A member of our team is standing by to provide you with a free, no-obligation case review.
Working with Morelli Law Firm on Your Case
If you choose to work with a New York tow truck accident lawyer from Morelli Law Firm on your case, we may be able to:
Answer your questions and give you legal advice
Identify the responsible party and collect evidence of their liability
Identify your damages and collect evidence of their value
File your personal injury insurance claim and/or lawsuit
Manage all communications, deadlines, and paperwork in your case
Negotiate with the responsible party's insurance company
Take your case to trial, if necessary
The Statute of Limitations in New York
New York imposes a general three-year statute of limitations on personal injury lawsuits, per New York Civil Practice Law & Rules (CVP) §214.
Although we are often able to settle personal injury cases out-of-court, protecting your right to sue is important in case the responsible party's insurance company refuses to make you a fair settlement offer.
Accordingly, Morelli Law Firm encourages all prospective clients to call us as soon as possible after their accident. We can help you understand the specific deadlines that apply to your case during your free initial consultation with our team.
Contact Morelli Law Firm Today
A New York tow truck accident lawyer from Morelli Law Firm may be able to manage all aspects of your case while you focus on recovering from your injuries.
Depending on the nature of your accident and your injuries, your potentially recoverable damages may include:
Current and future medical bills
Lost wages
Property damages
Pain and suffering
For a free case review with our car accident team, call Morelli Law Firm today at (212) 751-9800.
We may be able to take your case on a contingency-fee-basis, where you are not required to pay us attorney fees unless and until you win your case and recover compensation via a court award or settlement offer.