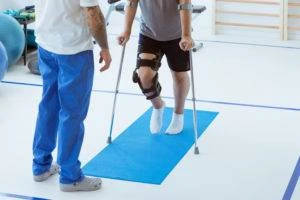 If you were involved in an accident in St. Louis, Missouri, and suffered significant injuries as a result of someone's carelessness or negligence, you might be eligible for compensation. This compensation is designed to cover your losses.
And the best way to get the max amount is with the help of an experienced personal injury lawyer. No matter the type of accident, as long as another person caused your injuries, you can collect some money for your medical bills and suffering.
Learn how Morelli Law Firm's seasoned personal injury lawyers in St. Louis, MO, can help you.
How Do You Know You Can File a Personal Injury Claim?
Not everyone can file a personal injury claim because they were injured. Injuries are only a part of the condition. There are other factors to consider including the following:
Negligence

: If there's solid proof that the at-fault party was negligent or acted without consideration for the safety of others, and this action led to your accident and ensuing injuries, you can file a personal injury lawsuit on the grounds of negligence. For example, a cleaner doesn't put up wet floor signs, causing you to slip and suffer broken bones.

Strict liability

: This usually applies to product liability cases where manufacturers are held liable for any injury or harm arising from the use of their product. For example, a product causes an explosion because of a defect.

Intentional wrongdoing

: This applies where it's clear that the defendant intentionally acted in a manner that caused you harm. For example, assault and battery of another individual.
What Is My Personal Injury Claim Worth?
Every personal injury case is different. Therefore, how much you'll get as compensation depends on a number of factors. These are:

How bad your injuries are

: A mild bruise is likely to attract a far lower payout than broken bones or paralysis.

Your medical expenses

: How much you spent or are spending on medical treatment is a major factor in the determination of your settlement.

Income lost due to the accident and the injuries

: If you are unable to work for a while because you are receiving treatment, the court can ensure that you're compensated with your full or partial wages while in the hospital and during recovery.

The likelihood of becoming disabled

: For example, if you're a salesperson and the accident affected your ability to speak, your claim might cover the potential remuneration that you would have gotten if you'd worked as a salesperson for the rest of your career.

Property damage

: If your car or other important property was damaged in an accident, this can contribute to the settlement amount.



Your St. Louis personal injury lawyer will not only help you determine the worth of your case and how much you can get out of the claim, but they will also start the claims process quickly.
How Long Do I Have to File a Personal Injury Claim?
If you want to increase your chances of getting maximum compensation for your injuries, you have to file the claim as quickly as possible. According to the Revised Statutes of Missouri § 516.120, you typically have five years to file your claim. However, some cases will have much shorter deadlines.
Even if it seems like you have a lot of time, you don't. These cases take time to build, plus delays in filing can lead to missing evidence, flawed witness memories, and poor recall on your part. Also, insurance companies are likely to take your case less seriously if you file the claim long after the accident and injuries.
This is why you should talk to an experienced personal injury attorney, even when there's no obvious injury symptoms.
What Compensation Can I Get From a Personal Injury Claim in St. Louis, MO?
Injured victims looking to file a personal injury claim in Missouri can expect to recover the following damages:
Economic Damages
These are awarded so that you can recover financially after you've unexpectedly lost property or sustained injuries in an accident due to someone else's negligence, carelessness, or recklessness.
They typically cover the monetary side of the resulting expenses. Common economic damages you can get from a St. Louis personal injury claim include:

Medical expenses or costs

Loss of income or wages

Property damages

Rehabilitative therapy

Temporary or permanent disability

Funeral and burial expenses if the victim succumbed to their injuries
To receive some or all of these, you'll need to show proof such as receipts, invoices, bills from the hospital, payment slips, and repair payments where necessary.
Non-Economic Damages
These are damages that cover non-tangible but real mental or emotional health issues arising from the injuries sustained in the accident. These include:

Pain and suffering

Mental anguish

Emotional anxiety

PTSD, depression, and other anxiety attacks

Reduced quality of life

Loss of enjoyment of life

Loss of consortium

Scarring and disfigurement



Our St. Louis personal injury attorneys are dedicated to helping you get the maximum amount of money possible. This way, you can recover your losses and try to get back to the state that you were before the accident. We will file the insurance claims and provide legal guidance, representation, and helpful resources where necessary.
What if I'm Partly Responsible for the Accident and Injuries?
In Missouri, you can be 99% at fault and still get some compensation. This is possible because of the state's pure comparative negligence rule. So, don't let your partial liability prevent you from seeking compensation.
We understand that people make mistakes, and these can lead to accidents and injuries. Our personal injury lawyers will do everything possible to ensure that you get whatever compensation is due to you.
This way, even when the court establishes your degree of fault, you'll still have the right legal representation necessary to get you your rights.
What Cases Qualify as Personal Injuries?
Personal injury covers a wide range of accidents and claim types. At Morelli Law Firm, we specialize in the following areas of personal injury law:

Defective drugs

Slip and fall

Premises liability



If your injuries were caused by one of these incidents, we may be able to collect compensation on your behalf. Even if your case type isn't listed here, it's worth reaching out to us for a consultation to learn if your case qualifies for a personal injury claim or lawsuit.
Talk to an Experienced St. Louis Personal Injury Lawyer in Missouri
Personal injury cases can be tricky in the sense that even the simplest and seemingly straightforward cases can quickly turn complex. When this happens, you need a lawyer who can handle all types of injury cases.
And if you're thinking of representing yourself, you still need legal guidance. Otherwise, you could lose your case or forfeit sizable compensation amounts just because of a simple mistake.
At Morelli Law Firm, our personal injury attorneys in St. Louis are skilled, experienced, knowledgeable, and talented. We know how to win, which is why we've recovered over $1 billion in compensation for our clients.
Talk to us today if someone's actions or negligence have caused you injuries or pain. Please fill out our free case evaluation form, and one of our injury lawyers will be in touch shortly.