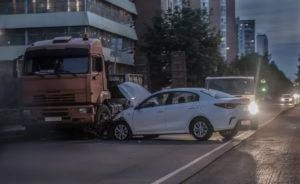 When a truck accident occurs in New York City, the financial stakes are usually very high. For the accident victim, verdicts and settlements may be higher due to the fact that injuries are typically more severe, if not deadly.
Compared to personal auto insurance, commercial trucking accident coverage limits are typically much larger. As a result of these factors, insurers are more likely to deny payment. You cannot rely on the insurance adjusters to make you whole again.
A Mount Vernon big rig accident lawyer with Morelli Law helps truck accident injury victims all over New York. We have helped people like you recover substantial compensation after a car accident with a big rig in Mount Vernon, NY, and we may be able to assist you.
How a Mount Vernon Big Rig Accident Attorney Can Help
If you have been involved in an accident with a large truck in Mount Vernon, you are not dealing with a typical automobile collision. You are dealing with the truck driver's employer, an insurance company attempting to persuade you to settle for as little as possible, and severe injuries.
Working with an attorney helps ease some of the strain and expedite the financial recovery process. Your lawyer will work to build your case, handle the insurance companies, and negotiate on your behalf.
Some of the services a lawyer will provide you with include:
Collect evidence, including police reports and witness statements

Manage all contact with insurance adjusters and opposing lawyers

File all legal documentation on time and in accordance with the law

Come up with a detailed estimate of the total compensation we should pursue

Negotiate aggressively to obtain the maximum amount of compensation possible

Be prepared to take the claim to court
How Long Do I Have to File a Lawsuit in Mount Vernon Following a Big Rig Truck Accident?
According to New York CVP § 214, you have 3 years to file a personal injury claim from the date of an incident. There are exceptions, but the earlier you file your claim, the greater your chances of success.
It may seem like three years is plenty of time to get everything in order, but evidence might deteriorate as time passes. In addition, within hours of the collision, the attorneys for the trucking firm and the insurance company started crafting their claims to minimize their liability.
You can avoid missing your window of opportunity to file and have competent counsel on your side. A big rig accident lawyer in Mount Vernon, NY, can work to preserve valuable evidence and ensure that legal deadlines are met.
What Does a Big Rig Accident Attorney in Mount Vernon, NY Cost?
You likely recognize the value of a lawyer in general, but you may be concerned about the costs. However, Morelli Law operates on a contingency basis, which means that there are no upfront fees, and we only collect payment if we collect a judgment or settlement on your behalf.
Personal injury attorneys will generally charge between 33-45% depending on how complex the case is. The attorneys' fees are deducted from your settlement, so there is no financial risk to you.
Common Injuries Seen in Big Rig Accident Claims
A semi weighs about 80,000 pounds on average. Considering the fact that a typical passenger vehicle is just 4,000 pounds, a collision can result in serious injuries to the occupant of a car. In these types of cases, it's not uncommon to have injuries including:

Broken bones

Significant lacerations

Spinal cord damage

Internal bleeding

Organ damage
Sometimes, the full extent of your injuries is not apparent for months. That's why it is absolutely vital not to accept the first offer from an insurance company and instead contact a lawyer right away.
Typical Mount Vernon Big Rig Accident Compensation
We wish we could tell you exactly how much you can expect to win in a big rig accident case, but every case is different. Your injuries may be more serious than others. You may have lost more income as a result of an accident than others who have also gone through this ordeal.
Factors that cause accidents also differ. For example, the vehicle could have had defective parts or the big rig driver's employer may have engaged in negligent behavior.
The truth is, you must consult with a lawyer for a good idea of the compensation that is possible in your individual case. We know everything the court may be willing to provide compensation for and how to seek it. This can include:
Medical bills

Property damage

Lost income

Loss of consortium

Loss of enjoyment of life

Scarring and disfigurement

Punitive damages in some cases
Contact a Big Rig Accident Law Firm in Mount Vernon Today
When you're recovering, you don't need bills, insurance adjusters, and paperwork clouding your mind. You shouldn't have to endure the additional worry on top of all of your injuries. A Mount Vernon big rig accident lawyer from Morelli Law Firm may be able to ease this burden.
Contact our team today to request a free case evaluation to learn more about how we can assist you with your claim.
Our team is here to help if you or a loved one has been hurt because of a truck driver's or trucking company's carelessness or negligence. If you were injured in a truck accident in Mount Vernon, our lawyers can help you to get things back on track and pursue the compensation you are owed.