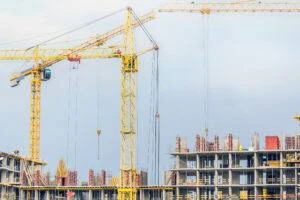 According to the U.S. Bureau of Labor Statistics, about 44 people die in crane-related accidents every year. Crane collapses and other accidents cause serious injury or death to workers and people around the job site. Victims of negligent crane use deserve justice.
Call our crane accident attorneys in Mt. Vernon to learn your legal options after a crane accident. You may be eligible for workers' compensation, a personal injury lawsuit, or a wrongful death lawsuit. Morelli Law can help you get compensation through any of these routes.
Causes of Crane Accidents
There are many things that can go wrong when a crew installs, removes, or uses a crane. Some causes of crane accidents we've seen include:
Crane collapsing because of improper installation or removal procedures

Collisions with other cranes on the job site

Failure of the boom or rigging gear due to wear or overloading

Mechanical failure leading to a collapse

Contact with electrical lines

Severe weather conditions

Incompetent use
If you intend to sue someone for a crane accident, we have to prove that the cause of the crane accident was because of negligent behavior by someone. If your Mt. Vernon personal injury lawyer can prove that caused the accident that caused your injuries, you may be eligible for compensation.
If you are a worker on a job site and get hurt by a crane, another way to get compensation is through workers' comp. This is a faster and easier way to get compensation, but you may not get as much as you could through a personal injury lawsuit.
Crane Accidents and Workers' Compensation
Most crane accident victims get injured while they are on the job, which makes them eligible for workers' compensation. This system gives workers speedy payouts, but there are certain limitations on your legal rights.
Notably, you cannot sue your employer directly for the harm you've suffered and you cannot claim certain damages. Under workers' compensation, you can get money for your medical care, some of your lost wages, vocational rehabilitation, and disability payments. There are also survivor's benefits after fatal accidents.
For minor accidents, this may be enough to compensate for your losses. For long-term injuries that keep you out of work or involve incredible pain and suffering speak with a crane accident attorney in Mt. Vernon to see if there is a possibility for a lawsuit.
Can You Help Me With Workers' Compensation After a Crane Accident?
One advantage of workers' compensation is that you do not need a lawyer's help to pursue a claim like with a lawsuit. However, we can still help you get the most money possible from your claim. You may be owed for more than you think.
First, if you come to us before you file your claim, we can help you create a strong application for benefits and ensure that you're claiming all the money you're entitled to receive for your accident. A strong application will make it less likely your claim is rejected.
If you've received a rejection letter or you're approved for less money than you need, that's the time you must get a lawyer. You have a short amount of time to prepare for your hearing, and you can be sure the insurer will have a lawyer on their side when your case is heard by the Illinois Workers' Compensation Commission.
When Can I Sue for a Crane Accident?
If you weren't on the job and got involved in a crane accident, you can sue the responsible party just like in any other personal injury claim. Prove that the defendant was negligent with the help of a Mt. Vernon crane accident attorney.
You may also have a route to sue even if you take workers' compensation. If the cause of the crane accident was someone who doesn't work for your employer, or if the cause of the accident was a manufacturing defect, then you can sue them for damages.
It doesn't matter if they are a subcontractor. As long as the responsible party was not your direct employer, you may have a chance at a lawsuit. That's why you should speak with one of our lawyers even if you're already getting workers' compensation. It will be more work, but you could get more money on top of workers' comp.
What Additional Compensation Could I Get with a Lawsuit?
Any damages that weren't covered by workers' compensation are possible to receive in a lawsuit. We just have to prove that you're eligible, and this is done by proving that the defendant's negligence caused your injuries.
First, you can claim the rest of your lost wages and potential future wages if you cannot work in the future. If what you should receive is more than what workers' comp will provide, we will fight for the rest.
Second, you can claim non-economic damages through a lawsuit. Things like pain and suffering don't have a dollar amount, but could be worth much more than you think. Our lawyers will argue that you should receive these and try to gain you the maximum amount possible.
My Loved One Died in a Crane Accident. What Now?
If you have lost a loved one after a crane accident, our heart goes out to you. We can help you with pursuing survivor benefits and potentially a wrongful death claim to cover the costs of losing your loved one.
These benefits can help you pay for final expenses and medical bills, lost wages your family would have received had your loved one lived, and much more. Please, reach out to us as soon as possible so we can help you.
Contact a Crane Accident Lawyer in Mt. Vernon, IL
Crane accidents are serious. You could be out of work for weeks, and some victims never make it out of an accident alive. You deserve to know your routes for compensation. Morelli Law can tell you and get you justice.
We've helped victims get over $1 billion dollars in personal injury claims. Find out how we can help you by requesting a free case evaluation to discuss your options for financial recovery. Our firm has the resources to take your case as far as necessary to get you the money you deserve. Call today.