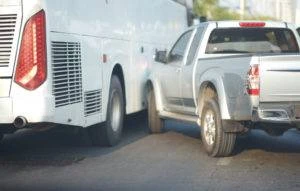 Bus accidents are unique because of how many people can suffer injuries at the same time. In addition, passengers and occupants in other vehicles can seek compensation if the driver causes a collision. These accidents can also be highly complex because it is not always clear who is liable for the injuries.
If you got hurt in an accident involving a Mount Vernon bus, you do not need to seek damages on your own. A lawyer with Morelli Law Firm may be able to help you establish liability, build a case, and negotiate a fair settlement for your injuries. We can review your case for free.
What Damages Can You Recover After a Mount Vernon Bus Accident?
There are many types of damages you may be able to recover after a bus accident in Mount Vernon. The value and type of damages available depend on the details of your case, including the severity of your injuries and the extent of your financial losses.
Some common examples of recoverable damages include:
Treatment for injuries

Follow-up medical care

Ambulance rides

Surgical procedures

Walkers, wheelchairs, and other assistive devices

Lost wages

Loss of earning potential

Pain and suffering

Property damage
Wrongful Death Damages
If your loved one passed away after being in an accident that a Mount Vernon bus caused, you may be able to recover additional damages in a wrongful death case, as well. While New York State law limits who can file this type of action, the surviving family members may be able to recover:
Burial and funeral costs

Loss of consortium

Loss of support

Lost household income and benefits

Hospital bills

Other accident-related damages
At Morelli Law Firm, our team handles wrongful death lawsuits for families in and around Mount Vernon, N.Y. We can help you:
Identify the personal representative who can file your claim

Investigate the accident

Pursue the damages your family needs to cover the expenses incurred because of your loved one's death
Our team can assess your options today during a free case review.
How You Can Get Help with a Bus Accident Claim
When we represent you, we can handle your case from beginning to end. This strategy allows you to focus your time on healing from your injuries. You can count on our bus accident team to help you gather evidence, including:
Police reports

Eyewitness statements

Accident reconstructions

Physical evidence

Survey of the accident scene

Video of the accident, if available

Evidence from the bus company, such as data from the bus computer and driver's employment records
We will take steps to calculate your damages, including:
Talking to your doctors

Evaluating bills and receipts

Working with experts

Valuing the cost of your pain and suffering
We can determine what ultimately caused the bus crash, how much your claim may be worth, and who is liable. This evidence may allow us to negotiate with the responsible party's insurance company for a settlement offer. If they are not willing to make a fair offer, we can take your case to trial.
How Long do You Have to Claim Compensation After a Bus Accident?
We generally have up to three years to file a lawsuit in an injury case under CPLR § 214. However, there may be significantly less time when the liable party is a government agency, such as a school district, municipality, or regional bus system.
After the statute of limitations runs out on your claim, you no longer have the chance to file a claim. However, your lawyer can monitor all the critical deadlines for your case, ensuring that everything progresses appropriately.
Why Hire a Mount Vernon Bus Accident Attorney?
Working with a Mount Vernon bus accident attorney gives you a chance to build a claim and pursue compensation following your collision. In addition, our team provides support throughout each step of your legal battle.
When you decide to work with us, you get help from a firm with:
Decades of combined experience

A history of handling high-profile cases

A track record of success

An understanding of the importance of personal legal care
We focus on all aspects of your claim, answering your questions and responding promptly when you reach out to us for assistance. We believe our track record with bus accident claims speaks for itself.
Our team has helped secure:
$12 million in damages after an MTA bus accident

$3.5 million in damages after an accident involving a New York City Transit Authority bus

$2.2775 million in damages for seven bus passengers in the same vehicle

$1.873 million in damages for 11 bus passengers on a trip through Florida
We provide personalized care for each bus accident claim we take on, assessing the unique aspects of your situation to help you move forward.
How New York's Negligence Law Could Impact Your Case
New York is a pure comparative negligence state under CPLR § 1411, meaning that even if you are partially responsible for an accident, you can still recover damages. This factor does, however, affect how much you can recover. For example, if the court determines you are 25 percent responsible for an accident, you can only receive 75 percent of the total damages awarded.
Sometimes lawyers use comparative negligence as a defense tactic to place a greater degree of blame on the claimant. They may accuse you of being more responsible than you were for the crash to reduce or eliminate their client's liability. We can help defend your right to compensation when we represent you.
We also recommend you avoid discussing your accident with other parties to protect your claim. Apologizing or admitting fault to other drivers or over social media can make it more difficult to secure compensation. Insurance agents may also try to get you to take responsibility for an accident.
What Causes Mount Vernon Bus Accidents?
Many circumstances could lead to a serious bus accident. Some of the top causes include:
Drowsy Driving
According to the Centers for Disease Control and Prevention (CDC), commercial bus drivers are among those most likely to drive while drowsy. These drivers often work in the early morning or late into the night on long shifts.
Sleep deprivation and driving are a dangerous combination. Drowsiness makes it hard to focus, making it difficult to react quickly if you need to avoid an accident. Sleepiness can also impact a driver's ability to make good decisions.
Distracted Driving
Distracted driving includes activities like using a navigation system, talking to passengers, being distracted by unruly passengers, eating and drinking when behind the wheel, changing the radio, or using a cell phone.
Though texting and driving remain illegal in New York and most bus companies forbid drivers from partaking in other distracting activities, too many drivers still take the risk.
Distractions can also be mental. A driver with a lot on their mind may not drive with the same careful attention they usually would, and mistakes can happen.
Speeding
Unfortunately, because they must meet tight schedules impacted by traffic and weather, many bus drivers may feel compelled to speed. Speeding can make it hard for the driver to react fast enough to avoid an accident, mainly because a bus requires more time to slow down or stop.
Poor Maintenance
Poor maintenance can also be a contributing factor to accidents. If the bus did not receive maintenance regularly or the mechanic who performed the maintenance did not complete the job adequately, an accident can occur. The liability in these accidents could fall on the garage, the bus operator, or other parties.
These are just a few of the possible causes of bus accidents. Your accident could have been caused by:
Negligence on the driver's behalf

A problem at a repair shop

The manufacturer of a defective part

Another driver or another party
The bus company is likely legally responsible in many of these cases. When a bus driver causes a crash, their employer is usually vicariously liable because of the doctrine of respondeat superior.
The team from Morelli Law Firm may be able to investigate your bus crash case to determine who is liable for your injuries. Then, we can help you build a claim against the responsible party and pursue damages on your behalf.
Speak with Our Team Serving Mount Vernon Today
Call Morelli Law Firm today for a free, no-risk review of your case. You can also contact us by completing our online contact form. We want to discuss your Mount Vernon bus accident with you and determine how we may be able to help.
We represent clients based on a contingency basis.