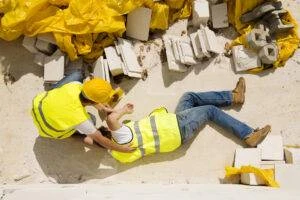 When construction companies, site managers, and contractors fail to provide a safe environment for workers, serious accidents can occur. If you've been hurt in a construction or scaffold accident, you'll need a skilled attorney by your side to help you seek fair compensation.
At Morelli Law, our attorneys have represented and recovered millions of dollars for countless injured workers. A Mt. Vernon construction accident lawyer can help you pursue damages by filing a workers' compensation claim or a personal injury lawsuit against a third party.
Construction Accidents We Can Help You Recover From
Construction sites play host to a number of tools, pieces of heavy machinery, and other features that can pose a significant safety risk when certain measures aren't taken. Fortunately, our team of construction accident lawyers in Mt. Vernon, IL, can pursue compensation for losses and injuries sustained in incidents involving:
Falls from heights, including roofs, scaffolding, ladders, and cranes

Falling objects

Electrical shocks or burns caused by contact with live wires

Getting caught in or between equipment or machinery

Slips, trips, and falls on uneven, wet, or cluttered work surfaces

Fires and explosions, including those caused by flammable materials or electrical malfunctions

Collapse of structures or excavation sites

Vehicle accidents, including collisions between construction vehicles

And more
The accidents listed above are just a few examples of what can go wrong at a work site. If you've suffered injuries in one of the abovementioned incidents or a different one, an attorney from our firm can help you on your road to financial and physical recovery.
How a Mt. Vernon Construction Accident Attorney Can Win Your Case
When you work with an attorney from our firm, they'll do everything they can to obtain the results you need to cover your medical bills, make up for missed paychecks, and deal with the other negative effects of your accident. Here's what they'll do to make your case a winning case:
Collect and Analyze Evidence
Evidence collection is essential to the success of any workers' comp or personal injury claim. A construction accident attorney in Mt. Vernon can gather and analyze the following pieces of evidence to build a strong claim:
Medical records that document your injuries and ongoing medical treatment

Witness statements from coworkers or supervisors who saw the accident occur or were aware of the unsafe working conditions that caused the incident

Photographs or video footage of the accident scene

Inspection reports that detail violations of safety regulations or guidelines by the employer or contractor

Maintenance records or inspection reports showing that equipment was improperly maintained or defective

Training records showing that a worker was not adequately trained or informed about safety procedures

Testimony from medical or safety professionals who can provide insight into the cause and extent of the worker's injuries
Once your attorney has collected all the available evidence, they'll use it to craft a winning workers' compensation claim or personal injury lawsuit on your behalf.
Calculate Your Claim's Value
When it comes to construction accident cases, building a robust claim is only half the battle. Your attorney must also determine how much your claim is worth, so they can negotiate a settlement or fight for a court verdict that meets your unique needs as an injured worker.
To calculate how much you're owed, our Mt. Vernon construction accident lawyers will refer to your medical bills, anticipated future treatment costs, previous pay stubs, and any other records that speak to the losses you've incurred.
They'll also ask you to provide information on the non-monetary challenges you've faced as a result of your accident. Make sure to inform your attorney about any physical pain, emotional distress, or quality of life issues you've pierced in the days and weeks following your accident.
Negotiate With Insurers
Once your lawyer knows how much your claim is worth and has the evidence to back it up, they'll be able to file a workers' compensation claim on your behalf. They can also help you file an appeal if your claim has been rejected and even negotiate with the insurance company to get an insufficient settlement offer raised.
Take Your Case to Trial
In some cases, you may be eligible to file a lawsuit against a third party for violating OSHA standards. Although it's rare for an injured worker to take legal action against their employer, you may file a lawsuit against your employer if they weren't carrying workers' comp insurance at the time of your accident or if they intentionally caused the incident you were injured in.
Whether you're advised to sue your employer or another party, our construction accident attorneys from Mt. Vernon, IL, will represent your best interests in the courtroom and call for the jury to award a payment that reflects the financial, physical, and emotional struggles you've been burdened with.
We'll Fight for the Damages You Deserve
At Morelli Law, we're committed to obtaining the compensatory damages you need to regain control of your life and get back to work. Depending on the financial setbacks and other obstacles you've had to deal with because of your construction accident, our lawyers may request several or more of the following damages:
Current, ongoing, and future medical expenses

Cost of prescription medications, assistive devices, and rehabilitative therapy sessions

A portion or all of your lost wages

Temporary or permanent disability benefits

Disfigurement

Pain and suffering

Emotional distress

Loss of enjoyment of life

Death benefits, if your family member dies in a construction incident
If your spouse or family member has passed away due to injuries suffered in a workplace accident, contact our attorneys to find out if you're eligible to file a wrongful death claim. A successful claim could yield compensation for loss of financial support, funeral costs, loss of consortium, and other challenges.
Schedule a Free Consultation With a Construction Accident Attorney
Recovering from a workplace accident can be a long, painful, and frustrating process. Fortunately, the team at Morelli Law can help you get the compensation you need to make your life much easier after a construction injury.
Contact our firm to schedule a free, no-obligation consultation with an experienced Mt. Vernon construction accident lawyer. If they agree to take on your case, they'll represent you for a contingency fee, which means they'll take a portion of your settlement or court verdict instead of charging you out-of-pocket.